'America's Got Talent' 2019 Finalists List: Detroit Youth Choir, Kodi Lee, Benicio Bryant and Other Top Ten Contestants
After 16 entertaining and exciting weeks of performances, America's Got Talent narrowed down the top 10 finalists of the competition.
Contestants wowed judges Simon Cowell, Howie Mandel, Gabrielle Union, Julianne Hough and guest judge Queen Latifah during the first two-hour round of finals on Tuesday. Although AGT co-creator and producer Cowell is typically tough-as-nails on performers, he was full of praise on Tuesday, calling the show the "best final we've ever had."
"Every one of them, literally, tonight has the ability to win this show, and it's all going to come down to the next two hours live," Cowell said at the beginning of the show.
Despite all the standing ovations and thrilling moments throughout the finale, the show didn't end without fans having to say their final farewells to a few eliminated contestants. After performances by 11 acts, magician Dom Chambers, artist Alex Dowis, trainer and dog duo Lukas & Falco, singer Chris Klafford and guitarist Marcin Patrzalek learned they would not advance on to the top 10.
Newsweek subscription offers >
With so much talent in the running, it's anyone's guess who will be deemed the most talented and take home the $1 million grand prize and get a show on the Las Vegas strip.
Luckily, fans and contestants won't have to wait too much longer before a winner is crowned. One act will walk away as AGT champion during the finale's two-hour episode on Wednesday.
See who all is still in the running to win America's Got Talent below.
Detroit Youth Choir
Newsweek subscription offers >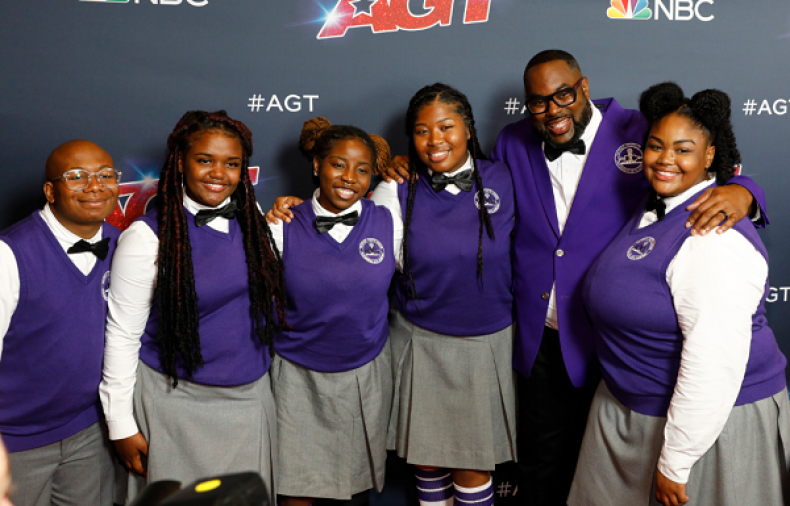 For the second time, the Detroit Youth Choir moved audiences and judges to tears with Macklemore & Ryan Lewis' hit song, Can't Hold Us. However, the young choir delivered choreography this time around.
Emanne Beasha
Although she started the night eligible for the week's Dunkin' Save, opera singer Beasha — who celebrated her 11th birthday on Tuesday — blew the judges away with her rendition of an Italian opera classic. Hough was particularly moved by Beasha's performance, telling her, "You just took us all to another planet, because that was other-worldly."
Ryan Niemiller
Viewers were doubled over with laughter by the 36-year-old comedian, who was also eligible for Dunkin' Save. While his pre-packaged tape included bits of the Indiana native goofing around with his family, his performance of the night was full of brand new jokes — mostly his unapologetic and authentic riffs about his disability.
Voices of Service
The inspirational choir opened their performance reading letters from soldiers struggling with depression before delivering a powerful version of Leona Lewis' Footprints in the Sand. The group received a standing ovation following their performance, while Hough and Union held back tears.
V. Unbeatable
Throwing dancers off a balcony, tons of backflips, tosses and stunts, the dance troupe didn't miss a beat in their impressively exciting choreography, which left the judges utterly stunned. Cowell thought the performance was worthy of a Golden Buzzer while Hough couldn't believe what she had seen. "I mean, my mind is exploding," she said. "You guys absolutely crushed it...you can fly, you can float, you can do it all. It's unbelievable."
Ndlovu Youth Choir
Decked out in yellow attire, the South-African youth choir delivered a bright and bubbly performance of Toto's Africa that energized the crowd and the judges.
Kodi Lee
There wasn't a dry eye in sight following the 22-year-old's impeccable performance. Taking to the piano, Lee sang Freya Ridings' Lost Without You, leading Cowell to call his set "one of the most beautiful things I've ever, ever heard."
Benicio Bryant
The 15-year-old singer took a major risk by performing an original song — an aspect Mandel was sure to note — but his clean delivery and drive were enough for Bryant to land praise from not only the audience but the rest of the judges too, including Cowell who said the song was "brilliant."
Light Balance Kids Shine Bright
The Ukrainian dance crew pulled off an exhilarating neon dance performance in which they appeared to shrink in size and light up as fast food.
Tyler Butler-Figueroa
Drawing from his experience of overcoming hardship, the 11-year-old violinist and cancer survivor performed a rendition of the Destiny's Child hit Survivor, that had judges feeling like the best was saved for last.
'America's Got Talent' 2019 Finalists List: Detroit Youth Choir, Kodi Lee, Benicio Bryant and Other Top Ten Contestants | Culture