Before 'America's Got Talent' Season 15 Premiere Remember Last Year's Winner Kodi Lee
Calling all singers and dancers and magicians—a new season of America's Got Talent is officially underway.
The NBC talent competition's 15th season is set to premiere on Tuesday, reuniting judges Simon Cowell, Howie Mandel, Heidi Klum and newcomer Sofia Vergara as they search for a new champion to whom they might bestow the America's Got Talent [AGT] crown.
Similar to Season 14's big winner, Kodi Lee, the Season 15 winner of AGT will take home the coveted $1 million grand prize as well as a chance to headline their own show in Las Vegas.
Lee, a singer and pianist, stunned judges from the first moment he appeared on the show during the 2019 auditions. The 23-year-old, who is blind and autistic, performed a heart-melting rendition of Leon Russell's "A Song For You," that resulted in former judge Gabrielle Union banging her famous AGT golden buzzer for him almost instantly.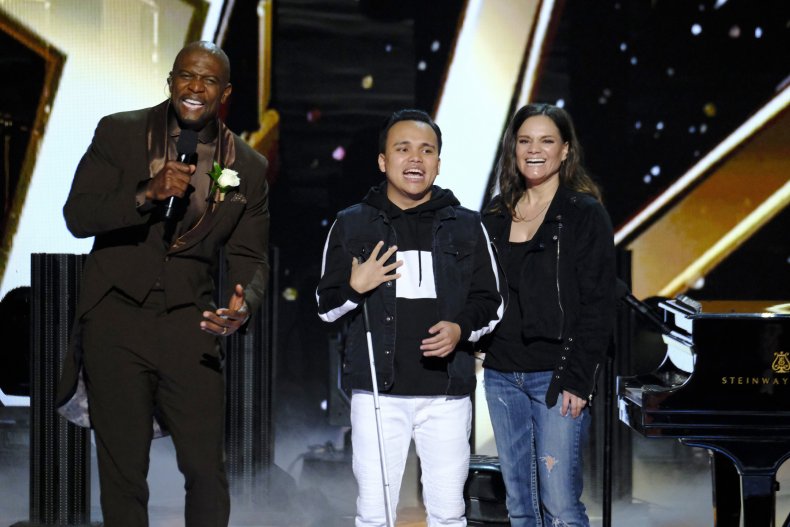 At the time, the singer's mother, Tina Lee, who was often seen on the show guiding her son to his post at the piano, credited her son's love of music and performing for helping him manage his disabilities.
"Through music and performing, [Kodi] was able to withstand living in this world because when you're autistic it's really hard to do what everybody else does," Tina Lee said, adding, "It actually saved his life, playing music."
Lee continued to soar past his competition and brought on the waterworks as judges and fans shed tears while watching his beautiful cover of "Lost Without You" by Freya Ridings during his final performance. The gripping number helped Kodi edge ahead of the competition including Voices of Service, Detroit Youth Choir, Tyler Butler-Figueroa, Bencio Bryant, Emanne Besha, Light Balance Kids, V. Unbeatable, Ndlovu Youth Choir and Light Balance Kids.
"One of the most beautiful things I've ever, ever heard," Cowell said following Kodi Lee's final performance. "That was as good as I've ever heard."
Two months following Kodi Lee's big win, he headed to Las Vegas where he headlined a week of sold-out concerts in 2019 along with a few of his fellow Season 14 contestants, Ryan Niemiller, dance group V. Unbeatable and violinist Tyler Butler-Figueroa.
More recently, Kodi Lee made a pit stop on the show that launched his musical career. He delivered an awe-inspiring cover of Harry Styles' "Sign of the Times," during his appearance on AGT: The Champions in February, which landed him a standing ovation from then-judged Cowell, Mandell, Union and Julianne Hough.
Kodi Lee's also used his talent to spark a little joy in the lives of fans who are grappling with stay-home orders in the midst of the coronavirus pandemic. In effort to spread some love to his followers and honor servicemen and women on Memorial Day, Kodi Lee performed some of his favorite songs with a special concert shared on Instagram and Facebook Live.
Soon, Kodi Lee will pass his winner-title over to a new champion when AGT makes its grand return on Tuesday. The first of the audition episodes are set to air on NBC at 8 p.m. ET.