'America's Got Talent': What Nightbirde Said About Dropping Out of the Finals
America's Got Talent Season 16 touched many viewers' hearts when it told the story of singer Nightbirde (real name Jane Marczewski).
When the performer appeared during the auditions of the NBC show, she told the judges she had cancer in her liver, lungs and spine that gave her a two percent chance of survival.
Nightbirde moved the judges with original song "It's OK" and her positive attitude so much that Simon Cowell pressed his Golden Buzzer, giving her an automatic place in the quarterfinals.
However, the singer has revealed on her Instagram account that she is unable to compete in that stage of the competition, which is due to start on August 10.
What Nightbirde Said About Dropping Out of America's Got Talent
The singer wrote on her Instagram, alongside an image of her with no hair: "Sharing my heart with the world on AGT has been an honor and a dream come true. My point of view this summer has been astounding. What a miracle that the pain I've walked through can be reworked into beauty that makes people all over the world open their eyes wider.
"Since my audition, my health has taken a turn for the worse and the fight with cancer is demanding all of my energy and attention. I am so sad to announce that I won't be able to continue forward on this season of AGT. Life doesn't always give breaks to those that deserve it—but we knew that already.
"Thank you for all your support, it means the world to me. Stay with me, I'll be better soon. I'm planning my future, not my legacy. Pretty beat up, but I've still got dreams."
Among those to reply to her message was the official America's Got Talent Instagram account, which wrote, "we're keeping you in our thoughts for a full recovery!"
In July, the singer detailed some of her treatment in a Popcrush interview. She told the outlet,"I did chemo earlier in the year—the cancer treatment that I do now is alternative and like, functional-holistic. I did a form of chemotherapy that's not very intense, hence why I still have hair. I should have lost it by now but I didn't, praise God.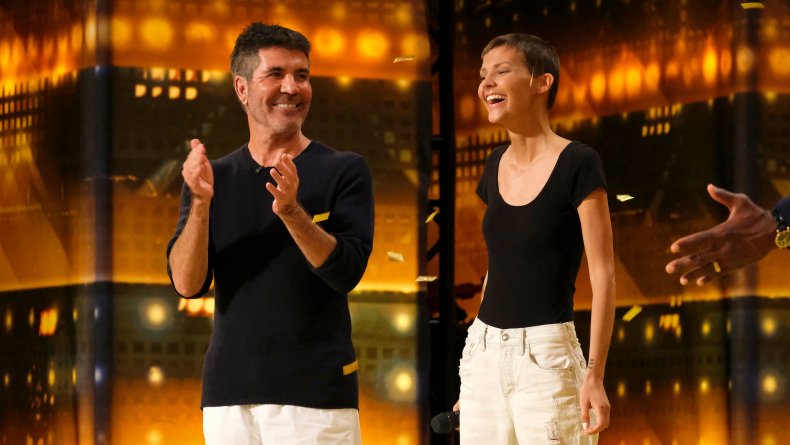 "But I did some functional holistic treatments about two weeks ago and there's very little showing it [the cancer] active in my body. So with what we just did, we're pretty sure it's all gonna be gone next time. We [will] check in a few months. Yeah, so, I'm feeling amazing. With the treatment that I'm on, there are very few side effects because it's holistic, so I can work on all the music I want."
Cowell had previously paid tribute to the singer after awarding her the Golden Buzzer. He wrote on his Instagram, "Hello Everyone, I want you all to meet @_nightbirde. She's my Golden Buzzer act on @AGT this year. She is a true inspiration, this was a very special moment."
Newsweek has reached out to America's Got Talent and to representatives of Cowell and will update this article when we get a response.
America's Got Talent 2021 airs Tuesdays and Wednesdays on NBC.