Watch Gospel Trio Get a Standing Ovation From Simon Cowell on 'America's Got Talent' Sneak Peek
Gospel Trio Resound knows exactly what the America's Got Talent judges need: an uplifting moment of joy and love courtesy of their harmonizing vocals.
The Richmond, Virginia singers—comprised of friends Mariah Hargrove, Joseph Clarke and Jessica Fox—are set to make their way onto the big stage on the upcoming Season 15 episode. Despite their growing fandom on social media and long history of live performance, the group admits their a little bit nervous when they finally audition in front of AGT judges Simon Cowell, Sofia Vergara, Heidi Klum and Howie Mandel in the episode 3 sneak peek. After all, there is a $1 million grand prize on the line.
"My nerves are shot," Joseph said in a backstage video. "This is a moment that can change our careers and change our lives."
An equally nervous Mariah compares the audition to climbing a roller coaster. "I feel like we're right at the top of that first drop," she said.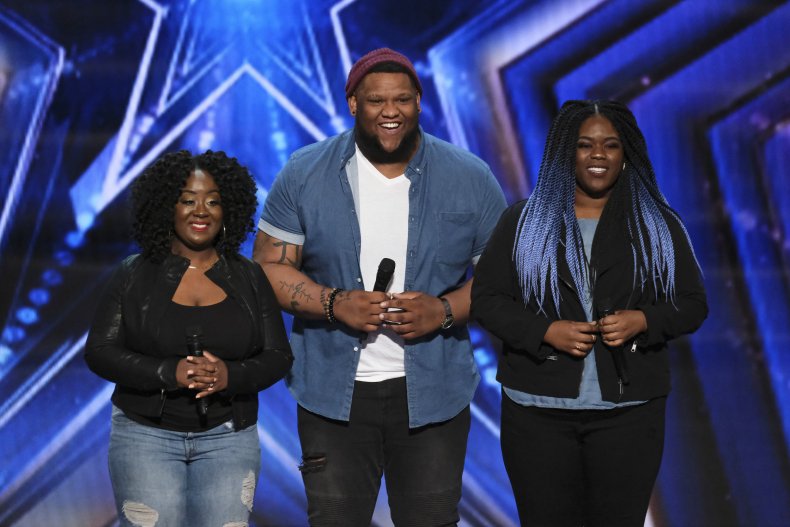 With a little encouragement from show host Terry Crews, the trio—who quit their jobs to become professional singers—make their way on stage where they meet the judges for the first time, and much to Resound's delight, Simon, Sofia, Heidi and Howie are eager to discover more about their talent.
"Jo and I have known each other since we were in diapers. We met Mariah in high school singing background for a play, and now we're still here together," Jessica explained.
Meanwhile, Mariah explains why they want to compete on the show. "Honestly we just want to use our gifts to spread love, hope and joy to the world. We think the world needs a little bit more of that," she said.
When Howie asks the group if their nervous, Joseph says they just "want to hit every note"—that is, every note except for the harrowing sound of the red buzzer, which a judge can use to automatically disqualify a competitor on AGT. Luckily for Resound, they've actually got the skills to justify their desire to win.
They belt out a beautiful cover of Jackie DeShannon's classic hit, "What the World Needs Now," earning them thunderous applause from the audience and—believe it or not—a standing ovation from Simon, which AGT viewers know is a rarity.
Although Simon is obviously pleased with the group's performance, that doesn't necessarily mean they're headed to the next round of the competition.
Find out what the rest of the judges' panel thinks about Resounds performance when America's Got Talent airs on NBC on Tuesday at 8 p.m. ET.