'America's Got Talent' 2020 Recap and Results: Which Contestants Made it Through Auditions Night 3?
America's Got Talent Season 15 airs on Tuesday evenings at 8 p.m. ET. Find out everything you need to know about tonight's show including a live-blogged recap and results for which performers advanced so far.
Another wave of contestants will do their best to impress judges Simon Cowell, Sofia Vergara, Heidi Klum and Howie Mandel when America's Got Talent continues with the third night of Season 15 auditions on Tuesday.
They've got their work cut out for them if they plan to out-perform some of the contestants that have already advanced in the competition, including the three talented acts who get to move straight on to the live shows after securing a golden buzzer from judges. So far show host Terry Crews has advanced the San Diego based Voices of Our City Choir on to the live shows when he used his golden buzzer in the NBC competitions Season 15 premiere. Then Sofia pushed her golden buzzer for 10-year-old Canadian singer Roberta Battaglia during last week's show.
Howie, Simon and Heidi are still capable of helping one lucky contestant skip ahead straight to the live shows, but first, contestants have to hit the big stage and perform their hearts out during the third round of auditions. We'll be on hand with live blog coverage of each fact during the show on Tuesday night and will provide the results of each of the contestants' performance once AGT starts. If you missed any of the previous episodes of AGT Season 15, catch up here.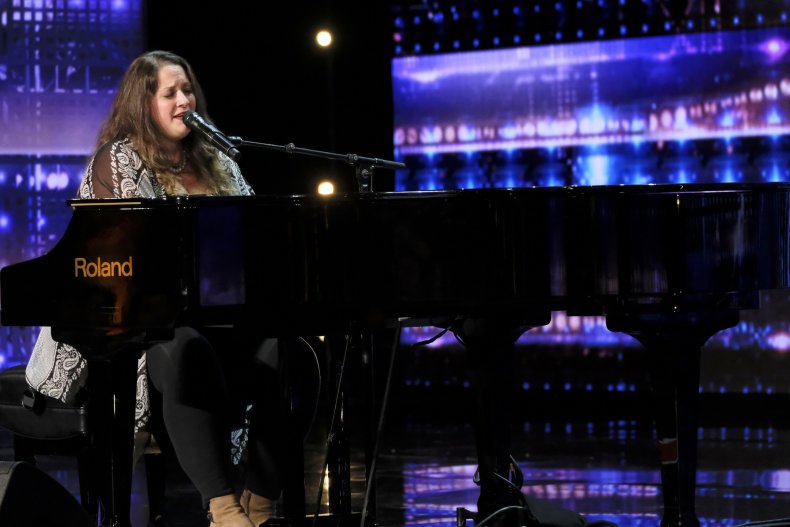 America's Got Talent Season 15, Episode 3 Live Blog
8:00:
It's showtime folks, and we're ready for a night of talent! Terry's backstage. The judges are seated. It's time for the first act.
8:03:
Simon, Heidi, Sofia and Howie are a little perplexed when the first contestant's act begins with the AGT crew wheeling a vanity out on the stage. But they're even more shocked when a young girl in a pink leotard opens the drawer, revealing her hiding spot. She goes on to perform a contortionist act like we've never seen before, bending forwards and backward as if she doesn't have a bone in her body.
8:07
The flexibility queen's act ends with her bending over backward and bursting a balloon by shooting an arrow with her foot before finally revealing her identity. She's 13-year-old Emerald Gordon Wulf, a contortionist from San Deigo, and the judges are thoroughly impressed with her. She gets a number of compliments from the judges, including hard-to-please Simon, who calls her a "professional."
"If you're going to progress in this competition, Emerald, you have to do something that we've never seen before," he warns.
8:09:
The judges make their decision, and it's a "definite yes" from Heidi. Sofia wants to her do more crazy things with her body and Howie and Simon are on board with Emerald as well. With four yes votes in the bag, she's moving on in the competition.
8:11:
Up next is the quartet Bank of Harmony from Temecula Valley in California. Sofia asks what they plan to do with the $1 million prize if they win and the group is certain that they'll use the money to "do this forever."
8:12:
The group begins their a capella performance of Lizzo's "Juice." Simon is first to bang his elimination buzzer, followed by Heidi.
"Look, unfortunately, it's just was very dated, something we've seen a million times before," Simon said. "I think other people in this area are doing it much better if I'm being honest with you."
Howie gave the group credit for their exceptional harmony but felt they needed more pizzaz to make it on the show. Sofia agreed, and with 4 no votes, Bank of Harmony's AGT run is over.
8:15:
Resound, a gospel trio from Richmond, Virginia hit the stage next. They begin to serenade the judges with a beautiful cover of "What the World Needs Now" by Jackie DeShannon.
8:17:
The audience certainly enjoyed Resound's performance, and apparently Simon did too. He even gave the group a standing ovation.
"Your, just, joy of performing was very infectious," Simon said.
Sofia said she wants to get married again just so Resound can sing as she walks down the aisle while Heidi calls their performance "flawless."
8:20
With four yes votes in the bag, Resound is on to the next round of the competition.
8:26:
We're back from break, and next up is Amanda LaCount, who is set to perform a dance routine. A prerecorded video of Amanda's journey reveals that she's been dancing since she was 2 years old, and although it's her life's passion, her time on the dance floor hasn't been particularly easy especially after years of bullying by fellow dancers and classmates over her size.
8:29:
Simon asks Amanda what made her want to come on AGT and she says she's here to help the people who feel like they haven't been heard or seen that they can do anything.
"I've been told my whole life that I'm too big to dance, and I don't have the right body type to do this professionally," Amanda explained.
8:30:
Her hip-hop dance begins and Amanda glides across the stage with energy and grace. However, Heidi's not all that impressed and is the first and only judge to bang her elimination buzzer.
8:32:
Heidi may have not been a fan of Amanda's performance, but the crowd certainly is. The audience erupts into applause after she finishes, and Sofia is first to flood the young dancer with compliments.
"Amanda, you gave it all. Your face—you were like so happy and excited. I couldn't take my eyes off of you," Sofia gushed.
Howie thought Amanda's performance was "wonderful," but he's uncertain if it was good enough to move on in the competition.
"You can move and you're athletic, and you inspire people who maybe don't fit the mold. You're great, but I don't know that I would go see a whole show of you doing that. I don't know that it's spectacular enough to make it on this show," Howie said.
Heidi doesn't think it's a million-dollar act either, while Simon admits that he loved every minute of her performance. He wants to see how Amanda progresses.
8:34:
Amanda gets a yes vote from Sofia and Simon, and after some encouragement from the crowd, Howie caves and gives the dancer a yes vote too. She's headed to the next round.
8:37:
A montage audition clip depicts a wave of contestants who didn't make it forward in the competition, including a singer named Barbara who performed a cover of The Weeknd's "Call Out My Name" and a country-singing trio.
8:42:
Finally, the judges are greeted by someone they are instantly interested in when 13-year-old Daneilya from Kazakhstan hits the stage. She's traveled very far to be here right now. The audience is also intrigued by her when she begins to belt out Faouzia's "Tears of Gold" with vocals that sound a lot more mature than her age would suggest.
8:44:
Daneilya gets a thunderous applause from the audience. Heidi is first to share her thoughts on the teenager's performance and says she thought Daneilya did really great.
"You seem so shy and then the music starts and boom, you transform into this different performance," Heidi said.
The rest of the judges agree that Daneilya gave a stunning performance.
"I can't wait to hear you sing again," Sofia said.
8:46:
Howie gives Daneilya a yes, as does Heidi, Sofia and Simon. She's moving forward in the competition.
8:50:
Next up is 80-year-old Marty Ross from Santa Clarita, California. He's a retired clothing salesman but he's here today to perform standup comedy. He certainly knows how to make a joke or two about being old, and the audience eats it up.
8:55:
Marty has won over the judges too.
"I laughed out loud, and I loved it. You are likable and there is a place for you in the world of comedy," Howie said.
Sofia loves his story and his energy, while Heidi says the comedy was a little naughty but she loves it.
"You really make me laugh. Can I be the first to say yes, please," Simon said.
No surprise—Marty earns three more yes votes from the judges, so he's headed to the next round of the competition.
9:00:
Next up is Celina. She's here to show off her powerhouse vocals with a cover performance of Shawn Mendes' "Mercy on My Heart."
9:07:
Heidi has a good feeling about Celina, and Howie thinks she is a great inspiration for young people. He's the first to give Celina a yes vote and the rest of the judges follow his lead.
9:13:
It was only a matter of time before magicians hit the AGT stage, and finally, two arrive. It's the Demented Brothers. They won't answer any of Simon's questions, but begin to perform a magic show with a red scarf that's interesting, to say the least. Simon says he's "so confused," and honestly, so are we. But Heidi's definitely enjoying this performance.
9:17:
Simon is the first to speak.
"I have to be honest with you, I haven't got a clue what just happened up there," he said. "I got lost."
Heidi says it's the "best magic I've ever seen," and Sofia is also strangely interested.
"I kind of enjoyed it in a very fun way. Like this could be very fun in between meals on a cruise ship," Sofia said.
9:19:
The Demented Brothers' performance wasn't "good enough" for Simon, so it's a no for him. Howie and Heidi are on board with the magicians, so it's up to Sofia to determine their fate. After some pressure from the audience, she decides to give the brothers a yes vote. They're moving on.
9:24:
Next up is the Indian dancing duo, cousins Shakir and Rihan. It's their first time in America, and they've flown many miles to showcase their talents. And boy, do they have plenty. Their performance is loaded with tons of flips and jumps and exciting acrobatic tricks that earns them a standing ovation from all four judges.
9:29:
The judges are full of praise for the dancing cousins.
"It really is amazing how much talent is coming from India," Heidi said. "It's amazing what you guys can do. You throw him around like a rag doll."
Howie said their performance "epitomized what this show is about."
"It's about family and love and acceptance and talent," Howie said.
Sofia was also moved by their performance, saying that she loved how synchronized the cousins were.
"You are so likable. You have fantastic chemistry together. People are going to root for you," Simon says before giving the dancers their first yes vote.
Howie, Heidi and Sofia also give the guys a yes vote, which means they'll be back for the next round of the competition.
9:36:
David Rush, a world record-breaker is next to hit the stage. He's going to break the record for the most t-shirts worn and ripped off a human body in one minute. Show host Terry Crews signs on to be David's competitor in the challenge, and they soon begin tearing t-shirts off of their bodies with extreme speed. The current world record is 28 t-shirts ripped in a minute, so they have to tear up at least 29 to beat the record. And surprisingly, David knocks out 30 t-shirts before time is up.
9:40:
Howie says David looks like he got caught in a hurricane inside Simon's closet, and while that's amusing, he doesn't think the contestant's performance is a talent. So it's a no for Howie. Simon and Heidi, on the other hand, want to see more of David. Unfortunately, Sofia doesn't, and with two no votes and two yes votes, David's time on AGT comes to an end.
9:47:
Next up is Christina Rae from Nashville, Tennessee. She's a single mom and explains that she was living out of her car before she gave birth to her son. She came on the show in effort to change her life and says if she wins the million-dollar prize, she'll use it to buy a home for her family.
She begins to sing a cover of Phil Collins' "In The Air Tonight" that brings the audience to their feet instantly. Her voice is so soulful and powerful. She certainly has the chops for the stage.
9:51:
Leave it to Simon to need more. He asks her if she can sing another song before giving the judges a chance to comment, but we'll have to wait until after a quick break first.
9:55:
And we're back. Simon says he wants Christina to perform as if she's just finished the concert and is back on stage for the encore performance. She's up for the challenge and belts out an equally powerful rendition of The Rolling Stones' "Gimme Shelter." Simply put, she knocks it out of the park and gets a standing ovation from all four judges.
9:58:
Sofia says Christina's performance gave her goosebumps, while Simon and Howie call the singer's voice "insane." Heidi was so moved by the performance that she makes a grand gesture by banging her golden buzzer for Christina, sending her straight on to the live shows.
America's Got Talent Season 15 Episode 3 Results
After a night of interesting acts the contestants to move forward in the competition including the following:
Emerald Gordon Wulf—Contortionist
Resound—Gospel group
Amanda LaCount—Dancer
Daneilya—Singer
Marty Ross—Comedian
Celina—Singer
The Demented Brothers—Magicians
Shakir and Rihan—Dancers
Christina Rae—Golden Buzzer Singer