Sofia Vergara and Eric Stonestreet Reunite on 'America's Got Talent' Season 15
While the aerialists, magicians, dancers and more are sure to bring the energy with their acts on tonight's episode of America's Got Talent, down on the ground on the judge's panel there will also be an extra wave of electric entertainment thanks to a certain someone. That's right—there's a guest judge bringing his talent-observing expertise to AGT on Tuesday, and it's none other than actor Eric Stonestreet.
His appearance should result in one feisty show considering it will mark his first big reunion with Sofia Vergara since they wrapped the final season of Modern Family.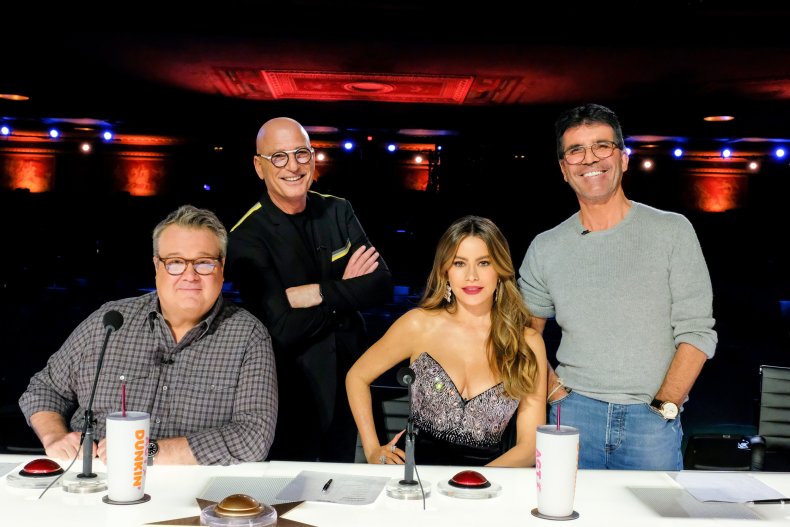 Back during the former castmates heyday on the award-winning ABC sitcom, their characters Gloria and Cam engaged in witty banter, and that same humor often trickled over into their real lives—like for instance, the various times Stonestreet trolled Vergara on social media by photoshopping his face onto her body in Instagram swimsuit posts.
More than likely, viewers will get a dose of their comical antics when Stonestreet joins Vergara on the judges panel along with Howie Mandel and Simon Cowell on AGT. Season 15 judge Heidi Klum is off for the night.
But on to the main event—the actual talent that will be on display during the fifth night of Season 15 auditions and the many contestants vying for that lofty $1 million grand prize.
So far this season, we've been blown away by the body-bending performance from a 13-year-old contortionist and serenaded by the sweet voice of a 10-year-old. The adults have also set the stage for a highly exciting season 15, pulling off magic tricks, deadly stunts and comedy routines that had audience members and judges doubled over in laughter. Viewers should expect to see even more of that on Season 15, episode 5 on Tuesday.
A sneak peek of the upcoming show teased a stunning aerial performance by Brazilian-American contestant Alan Silva, who just so happens to be the brother of Alfredo Silva, the knife-throwing acrobat who made it all the way to the AGT semifinals during Season 11.
"I come from a circus family, so I love to perform. But people always told me that I should just be a clown because of my size. I've been bullied my entire life and people judge me for my appearance, so I'm a little nervous about that too," Alan Silva admitted.
Cowell assures him that he doesn't have to worry about his size while standing in front of them, because they are all thrilled to see him perform. And, boy, does he put on a show full of twists, turns and flips high up in the air that lands him a standing ovation from all the judges.
America's Got Talent two-hour episode kicks off on NBC on Tuesday at 8 p.m. ET.