'America's Got Talent' 2020 Recap and Results: Which Contestants Made it Through Auditions Night 5?
America's Got Talent Season 15 airs on Tuesday evenings at 8 p.m. ET. Find out everything you need to know about tonight's show including a live-blogged recap and results for which performers advanced so far.
Auditions will continue on the fifth episode of America's Got Talent Season 15 on Tuesday, and this time around the judges will have a special guest on hand to help them determine which contestants should move along in the competition.
Heidi Klum will be missing in action from the judges' panel, but Sofia Vergara's pal and former Modern Family co-star will be on hand to take Klum's place. Howie Mandel and Simon Cowell will be in their usual seat in the judges' arena.
We'll be on here with our handy-dandy live blog, tracking performances and the judges' response to each contestant as the show airs. And, of course, we'll provide the results of all the contestants that are moving on to the next round at the end of the show. If you missed any of the previous acts on AGT, catch up here.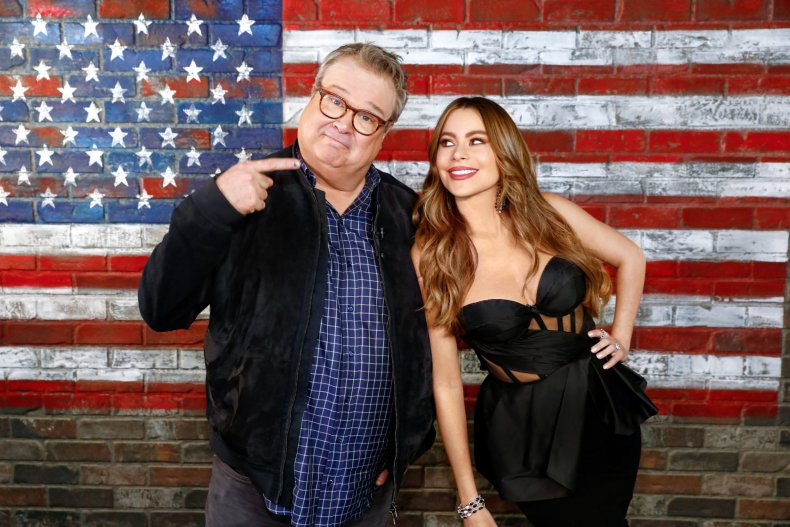 America's Got Talent Season 15, Episode 5 Live Blog
8:00:
It's showtime folks! Terry Crews is up on the stage, and he's full of energy as he introduces our judges Simon Cowell, Sofia Vergara and and Howie Mandell. Heidi Klum is off for the night, so that means contestants will need to get at least two yes votes to move forward in the competition.
8:03:
First to the stage is 12-year-old Annie Jones. She's come all the way from Australia to show off her golden pipes. She says she's been singing since she was about 7 years old, and the judges are anxious to hear her belt out a cover of Tones and I "Dance Monkey." For her to be such a young girl, her voice is full of maturity and energy. And boy, can she hold a high note.
8:06:
Annie's performance earns her a standing ovation from all of the judges.
"I thought you were so confident, and I think this is what you're meant to do in your life," Sofia gushed.
Howie was equally impressed with her performance, while Simon thought Annie's confidence shined through. No surprise, she gets three yes votes from the judges. She's moving on to the next round.
8:10:
Up next is comedian Ty Barnett from Chicago. The father-of-three gave up his comedy dreams to raise his children, but now that his girls are all grown-up, he's turning his attention back on to his craft. He's pretty funny too. He goes through a round of jokes mostly aimed at his age and the fact that he's getting older.
8:14:
Ty's bit earns him a standing ovation from the judges, and two thumbs up from Simon, who thought the 40-something comedian's routine was "just so funny."
"I kind of related to you in a big way Ty," Simon said.
Sofia also thought Ty was funny, but she was mostly happy to actually see Simon enjoying Ty's set.
"I enjoyed that Simon was laughing. He usually doesn't laugh from comedy," Sofia said.
Howie is a fan of the comedian too, and in the end, Ty receives yes votes from all three judges.
8:20:
We're back from commercials, and the next person to hit the stage is Forrest Mead. Dressed in a blue tuxedo, he begins a snapping performance that ends quickly with three no votes.
Simon says he's "disappointed," and off Forrest goes.
8:22:
Shaquira McGrath rom Kennesaw, Georgia, who is here to sing. Before hitting the stage, she reveals to Terry that she's been singing for more than 20 years, but has never actually attempted to do it professionally out of fear she would be judged. She won't have to worry about that here on the AGT stage. She gets the audience and judges up on their feet as she belts out a rocking country performance of Gretchen Wilson's "Red Neck Woman."
8:26:
The audience for sure loved Shaquira's performance, and so did the judges.
"I am not an expert on music but I know what I like and this is something that I loved!" Sofia said.
Simon added: "You've got a genuinely great, great voice, a great personality. People are going to root for you."
Howie was happy to see Shaquira finally stepping into her passion despite the criticism she may have received from spectators in the past.
"You've kept it bottled up inside and the problem that you had is that you listened to what other people are saying and you overthink it. I think that's everybody's problem in life. But tonight, you just popped that cork and you just crushed it," he said. "So I'm going to start off the voting with a yes."
Sofia votes yes. Simon votes yes. That's three yes votes for Shaquira!
8:33:
Leave it to Sofia to fill an empty seat. Her Modern Family castmate Eric Stonestreet is here to fill in for Heidi, who is still under the weather. So now the judging will resume as usual with contestants needing at least three yes votes to move forward in the competition.
8:34:
Next up to the stage is the group Xtreme Dance Force, a group of guys who have been dancing together for the last four years. Their hard work and dedication to their craft shows in their high-energy performance. We think they totally killed it.
8:38:
Sofia was certainly a fan.
"I was dancing from the beginning and I know about dance," she said.
Howie, on the other hand, isn't so amused. He thought the performance was sloppy and wasn't as precise as it could have been. Meanwhile, Simon agrees with Sofia and is the first judge to give the group a yes vote. It's up to Eric, who delivers the group his first yes vote of the night.
Sorry Howie, Xtreme is moving on to the next round of the competition.
8:45:
Chef Boy Bonez is next to perform. After years of rapping in California and honing in on his craft, he's here to show off his lyrical skills on the world's biggest stage. He delivers an eye-popping performance, to say the least. He's running around the arena nearly buldging his eyeballs out of the sockets. It's hard to focus on what he's actually saying, but he definitely knows how to bug-out.
8:50:
Sofia is completely freaked out by the performance and literally falls into a crowd of people as she tries to get away from the rapper, who keeps approaching the judges' panel during his performance and popping his eyeballs. She gives a quick bang of her red buzzer, solidifying her no vote.
But Simon thinks it's these types of mind-boggling performances that makes AGT what it is. He gives Chef Boy Bonez a yes, and so does Howie, leaving the final vote to Eric. Despite the pleading of his old castmate Sofia, Eric gives Chef Boy Bonez a yes vote too, sending him to the next round of the competition.
8:55:
Finally, it's time for some magic! Winston, a 21-year-old from Venezuela is here to bring his talents to the big stage.
"This is a huge opportunity to show America my love of magic," he says.
8:57:
He begins his performance sitting in a chair. The music is a creepy mashup of Beethoven's "Fur Elise," which is just perfect for his fascinating card magic. It's like he's pulling cards out of thin air and they're sticking to his hands.
9:00
Sofia loved the creativity of Winson's performance, and Eric thought the young magician was as good as any magician that has ever excelled on the show.
"The key is it's all in the presentation, and you are all about presentation. It's so dramatic it looked like you were amazed by your own—whatever was happening. I wanted to get up there and help you," Howie said.
Simon says Winston was "just born to do this."
In the end, Winston ends up with a yes vote from each judge. Let's see what tricks he'll pull out his sleeves in the next round of the competition.
9:06:
Lewis Shilvock from Australia is up next, and he's here to dance. He's been dancing since he was a little kid, and it's his dream to become the world's greatest dancer.
9:06:
After a bit of a back-and-forth with Simon, Lewis rips off his black pants—revealing gold ones underneath—and begins his energy and upbeat performance. The audience eats it right on up.
9:11:
Sofia thought Lewis delivered a fantastic performance. Howie thought it was more of a musical theater-type of performance, and Eric agree but thought "it was that and a whole lot more."
"Your charisma, your charm is infectious. It was a great performance," Eric said.
Simon compared Lewis' energy to Billy Elliot.
Howie gives Lewis a no vote, while Sofia and Eric give Lewis a yes.
"We have to encourage this kind of determination and ambition. So I'm going to take a leap and say yes," Simon said.
Lewis is moving on to the next round.
9:18:
Next up is Guinea contortion crew, The Bonebreakers. The way the break and bend their bodies is incredible—jarring, but impossible to turn away from.
9:23:
The judges are totally blown away from what they just watched—and frankly so are we.
"What I loved was it looked so painful and the more painful it looked, the happier you were getting," Simon said. "I mean I've seen this kind of act with one person but never a group. And I think apart from the talent your likability factor is a 10."
Howie is first to scream a yes vote. Eric, Sofia and Simon follow suit, sending The Bonebreakers to the next round of AGT.
9:29:
Jessie Kramer from Nashville is next to rock the stage. He performs a slamming cover of Lady Gaga's "Poker Face" like we've never heard before.
9:31:
Simon is first to give his opinion of Jessie's performance, and he says he "actually really really enjoyed the audition."
Sofia says she loved it but she was confused about why he chose to cover a Lady Gaga song. Howie thought Jessie's performance was boring, and Eric says he wants to hear the singer hit the stage with a rock song.
Despite the minor criticisms, all four judges give Jessie a yes vote. We wonder what song he'll choose to perform the next time he's in front of the judges.
9:33:
Serban Cioca from "Simon's favorite country," Romania, is up next. He says he's here because he wants to give out love and make people happy. He performs an original song, which he ends up apparently forgetting the words to. The energy was there, and Sherban as a person seems entertaining but this may not be the competition for him.
"I think Conga Bonga is honestly the worst song I ever heard on this show," Simon said. "I couldn't listen to another 30 seconds of that."
Unfortunately, all the judges give Serban a no vote. That's the end of the AGT rope for him.
9:42:
Up next is Josefina Monasterio, a 73-year-old bodybuilder who immigrated from Venezuela to America in 1973. After getting her education, settling down and raising her daughters, she's finally started focusing on her dream of performing by taking up bodybuilding at age 59.
Her performance begins and Josefina parades around the stage showing off her incredibly-sculpted muscles. Even Terry comes out to flex his muscles with Josefina.
9:46:
"You are actually amazing I just don't quite know what the act is," a stumped Simon says.
All the judges agree that Josefina was an inspiring woman, but her act just wasn't enough to keep her in the competition. All four judges give her no votes, stopping her time on AGT right here.
9:53:
It's time for the last act of the night. It's none other than Alan Silva, an aerialist who suffers from dwarfism. He also happens to be the brother Season 11 semifinalist Alfredo Silva of Deadly Games. From the moment he hits the silks, it's clear that talent just runs in the Silva family. Alan delivers a captivating performance full of spirals, turns and flips as he glides through the air.
9:57:
No surprise here—Alan lands a standing ovation from the audience and all four judges. Everyone loves him.
"You're entertaining and you're talented but it's thrilling and scary and graceful. Every possible human emotion that can be elicited from one act, you have it all," Howie said.
Eric said Alan made the hair on the back of his neck stand up and tears come out of his eyes.
"How many people get to come on the show and also inspire people that don't look like everyone else to pursue and follow their dreams?" Eric asked.
Sofia says Alan gave the performance of a giant, while Simon said it was clear that he had a natural talent.
"You are without question the best act we've seen all day long," Simon says.
Alan receives yes votes from each of the judges.
America's Got Talent Season 15, Episode 5 Results
It was a thrilling night of performances, but not everybody made the cut. The list below includes all the acts the judges voted through to the next round.
Annie Jones - Singer
Ty Barnett - Comedian
Shaquira McGrath - Singer
Xtreme Dance Force - Dancers
Chef Boy Bonez - Rapper
Winston - Magician
Lewis Shilvock - Dancer
The Bonebreakers - Contortionists
Jessie Kramer - Musician
Alan Silva - Aerialist
'America's Got Talent' 2020 Recap and Results: Which Contestants Made it Through Auditions Night 5? | Culture