'America's Got Talent': Where You've Seen The Sklar Brothers Before
America's Got Talent featured a pair of stand-up comedy twins in its latest round of auditions. The June 29 edition of the NBC featured the twin duo Randy and Jason Sklar, performing as The Sklar Brothers.
The pair's set, which saw them discuss the differences between having children and earning pets, got four yes votes from the judges, with even the usual stand-up comedy-averse Heidi Klum sending them through to the next round.
Though AGT 2021 may be the first time that many viewers have seen the pair perform comedy together, the pair have actually appeared separately and together in a number of TV shows and films over the years that entertainment fans may recognize them from.
Where You Have Seen The Sklar Brothers Before
According to IMDB, the pair have appeared together in over 50 projects. Though many of these are fairly obscure, there are a number of big projects that Randy and Jason have starred together in.
Perhaps most famously, they played Earl and Buck Dooble in the Tim Allen comedy Wild Hogs. The Dooble Brothers are the deputies to the sheriff in one of the towns the main characters visit on their tour around America, one of whom had his ear shot off in a gun accident.
Other films the brothers have appeared in include the Jake Gyllenhaal movie Bubble Boy, the Keegan-Michael Key comedy Teacher of the Year and the fourth Toxic Avenger sequel, Citizen Toxie.
The pair has also had guest spots on a number of big TV shows. In a 2006 episode of Grey's Anatomy, they played conjoined twins, and the following year they played twin DJs DJ Fat Michael & Squirrely D on It's Always Sunny in Philadelphia. Their more recent TV credits include Better Call Saul, GLOW and CSI.
They have also sometimes starred separately in shows. Jason played a salesman in an episode of Curb Your Enthusiasm, while Randy appeared in two episodes of Agent Carter.
Sports fans may recognize the pair as the hosts of ESPN's Cheap Seats, a comedy show that saw the brothers play workers at the network's tape archive who would make fun of campy clips from sports events past.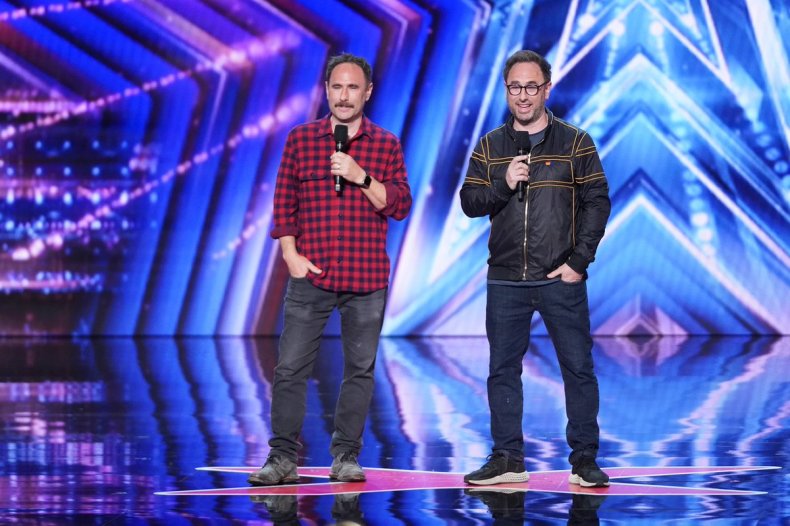 Before doing stand-up on America's Got Talent, the pair made three comedy specials: Two for Comedy Central in 2001 and 2009 and the What Are We Talking About, an hour-long set for Netflix in 2014. The pair are also known for podcasts Sklarbro Country, View From the Cheap Seats, and Dumb People Town.
In a LifeHacker interview in 2019, the pair discussed how they got into comedy. They said: "We grew up in St. Louis, MO. As kids we were huge fans of comedy: Airplane, Blazing Saddles, Letterman, and then comics like Seinfeld, Shandling, SNL. We were sponges who took it all in, memorized obscure comedians' acts and would just spout them off to our parents' friends when they'd be over at our house playing bridge in our basement. As twins, we got a lot of attention and we thought, how great would it be if we used that attention to make people laugh."
America's Got Talent Season 16 airs Tuesdays at 8 p.m. ET / 7 p.m. CT.