America's Republican Governors Face the DeSantis Standard | Opinion
Greetings from Texas, where we have enjoyed the warm glow of conservative admiration for nearly 30 years of sustained one-party rule. Since George W. Bush succeeded Ann Richards as governor in 1994, no Democrat has occupied a statewide office. During that stretch, Texas has stood as America's boldest and most iconic Republican state.
Until, that is, a couple of years ago. In 2019, as all political views were strained through a filter of what one thought of the Trump presidency, Ron DeSantis of Florida began to amass points as America's most Trump-like governor.
He filled three state supreme court vacancies with conservative justices. He directed Florida sheriffs to partner with federal officials to improve immigration enforcement while also signing a bill to prohibit sanctuary cities. When North Carolina balked at hosting the 2020 Republican National Convention, DeSantis was initially successful in luring it to Jacksonville. As millions of Trump voters questioned the November result, DeSantis consistently supported the legal challenges to the vote count. Other governors demonstrated considerable Trump support, but DeSantis stood out—not just with words, but in his own policies.
Most notable was his navigation of COVID, as Florida posted enviable public health statistics without the lockdowns that crippled Andrew Cuomo's New York and Gavin Newsom's California. As the COVID stigma subsides, headlines have more recently filled with a series of DeSantis moves that seem designed to draw loud conservative applause—from an initiative to stem censorship of conservatives on social media to a law preventing even private businesses from inquiring as to vaccine status.
An indicator of his resiliency is that those two items actually draw even some conservative pushback, from skeptics who question telling private entities what they can and cannot do. If those issues evoke some ripple of debate, his latest signing ceremony is a hands-down conservative priority—a law preventing biological males from competing in women's sports.
In Texas, Governor Greg Abbott has said he would sign such a bill, but the legislature has failed to pass it. In South Dakota, Governor Kristi Noem fumbled through a few days of excuses about NCAA pressure before issuing protections in the form of an executive order. As Republican voter attention focuses with increasing sharpness on both 2022 and 2024, it is DeSantis who has become the gold standard for conservative boldness.
This is not likely to rankle governors of small- or even medium-sized states, who understand that Florida derives importance both from its size and its history as a political bellwether.
But in Texas, Abbott is now in the unfamiliar role of second fiddle—and he faces the additional complication of primary challengers, to boot. The state's most vocal grassroots conservatives took aim at him during the COVID summer of 2020 for issuing orders far less constrictive than blue states, but not as free as Florida and some smaller states that did not shut down at all.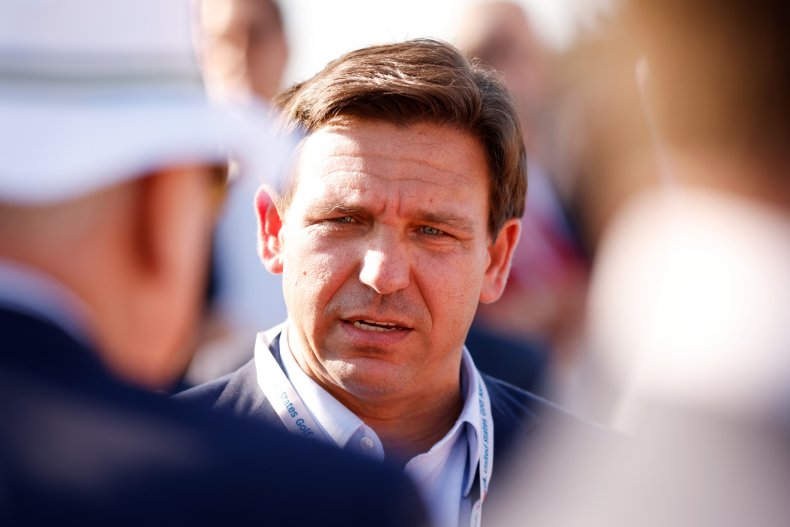 At the beginning of March, Abbott proudly announced an end to mask mandates and the "100 percent" opening of Texas. Some critics were unmoved, continuing to wonder why it took so long. The recently completed legislative session featured a "heartbeat bill" that has been the goal of the most ardent pro-lifers, as well as "constitutional carry"—permitless gun rights that reflect the wish of the strongest Second Amendment passions. Still, because other states had these first, Abbott is criticized because he "did not lead."
To be sure, there is no evidence that this disapproval extends broadly across the Texas Republican landscape. Most observers expect Abbott to prevail in the March 2022 primary and to earn a third gubernatorial term next November. A freshly announced Trump endorsement doesn't hurt.
Running America's biggest red state generates automatic presidential buzz, and Abbott responds with a wait-and-see approach that seeks to get 2022 wrapped up before addressing any future aspirations. Interestingly, when Bush ran for re-election in 1998, every Texas Republican knew he was assembling a 2000 presidential run in the limo home from his second inaugural ball in Austin. But Bush faced no competing gubernatorial star, and no chorus of critics in his own state professing preference for a specific alternative.
As Abbott marches toward another re-election, he hears from the wings that he has not been "DeSantis enough." Those reviews come from some voices who not long ago were glad to boast of years of Abbott support.
So what happened? DeSantis happened. Just as many national Republican leaders saw their images shrink as the juggernaut of Trump set a new standard, the stardom of Ron DeSantis is a force to be reckoned with two and a half years before the 2024 Iowa caucuses.
Can that be sustained? His Florida re-election bid next year may involve a tasty tangle with Democratic Congressman Charlie Crist, who was the Republican governor of the Sunshine State from 2007 to 2011. Defeating the party-hopping Crist would further crystallize distinctions between the rock-ribbed DeSantis and other Republicans past and present who have famously wobbled.
If DeSantis and Abbott both win comfortably in 2022, they can be expected on lists of possible hopefuls to succeed Joe Biden. Abbott's 2024 plans, along with the decisions of many other potential candidates, may hinge on a vigil kept by DeSantis fans and critics alike—a watchful eye in search of any misstep that may shake him from a front-runner status that, from today's admittedly early perspective, shows no sign of fading.
Mark Davis is a talk show host for the Salem Media Group on 660AM The Answer in Dallas-Ft. Worth, and a columnist for The Dallas Morning News and Townhall.
The views expressed in this article are the writer's own.