America's Space Strategy Comes of Age | Opinion
The past few days have been momentous ones for America's approach to space.
On July 23, the White House released its deep space exploration strategy, formally entitled "A New Era for Space Exploration and Development"—a high-level policy document that lays out both a strategy and a rationale for the development of a space-based industrial economy. On the heels of that report, earlier this week saw the release of "The Space Industrial Base 2020" (SIB2020), a study co-developed by the U.S. Space Force (USSF), the Pentagon's Defense Innovation Unit (DIU) and the Air Force Research Laboratory (AFRL), which lays out a comprehensive series of steps designed to maintain America's global leadership in space.
The combined importance of these two studies cannot be understated. They make new and fundamental contributions to how the country sees its national security, and its future, in the space domain.
The White House white paper marks the first time that a national strategy document truly discusses our interests in, and plans for, the economic and industrial development of space—and what might be needed in order to make that a reality. As such, it is the first example of a coherent strategy and peacetime strategic offensive on the part of the United States to truly counter China's ongoing—and ambitious—bid for space dominance.
The USSF-AFRL-DIU report is similarly forward-looking. It represents a rare example of inter-agency and inter-sectoral collaboration, and is the product of a summit of 120 thought leaders from across industry, academia and government. These entrepreneurs, scholars and professionals were asked to gauge the current state of our space industrial base and its challenges, and brainstorm ways to get to the "Star Trek Future" that has been envisioned by some strategic planners.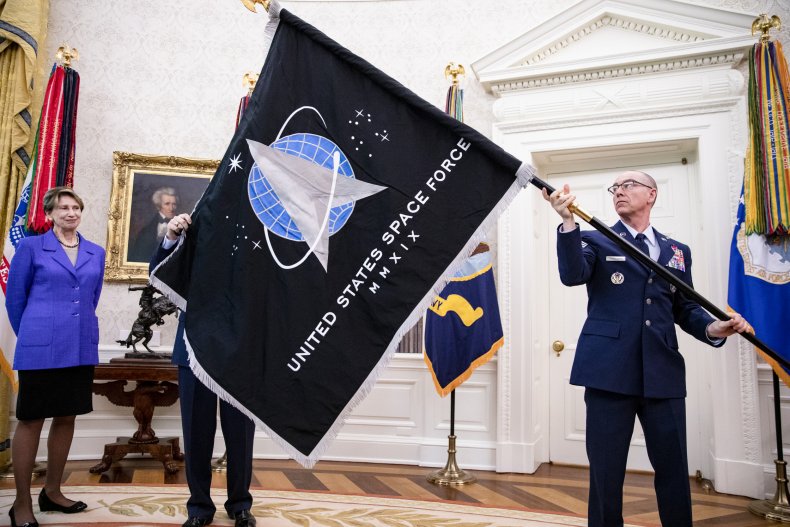 As such, the report is something of a net assessment of our competitive strategic position vis-à-vis all sectors of space, from civilian to military to commercial. It focuses, in particular, on the six areas thought most likely to decide the great power competition: namely, space policy and finance, space information services, space transport and logistics, human presence, power for space systems, and space manufacturing and resource extraction. In these areas, it offers an action plan of more than 40 recommendations cumulatively designed to give America an undeniable qualitative edge in future space development.
Importantly, that edge requires a coordinated team effort—and a more robust role for America's newest military command. A central component of each study is a focus on the proper place and function of the new U.S. Space Force. The White House planning document calls on the Force to advance space transportation, logistics, power, communication, navigation and space domain awareness, while the SIB2020 study foresees an expanded cislunar economy that will require an expanded role of the USSF to both enable and protect commerce. The basic idea is that the Space Force should play the same role for space that the U.S. Navy does in the maritime domain, protecting civil infrastructure and providing security for expanded commerce and trade.
The two approaches are synergistic—and complementary. The White House strategy maps out a long-term path for the U.S. to establish itself in space. The USSF-AFRL-DIU document, meanwhile, explains what the country needs to do today to begin heading in that direction. Together, they provide something that so far has been sorely absent: a roadmap for America to compete—and persevere—in space. All that is left now is to put that plan into motion.
Peter Garretson is a senior fellow in Defense Studies at the American Foreign Policy Council and a strategy consultant who focuses on space and defense. He was a participant in the USSF-AFRL-DIU workshop and a contributor to the SIB2020 report.
The views expressed in this article are the writer's own.