Joe Arpaio Sues 'New York Times' for $147.5 Million Over Op-Ed
Joe Arpaio, the controversial former sheriff of Maricopa County, Arizona and self-described "America's Toughest Sheriff," has filed a libel suit against The New York Times over an op-ed it published in August.
Arpaio is seeking $147.5 million in damages from the Times and the article's author, Michelle Cottle, a member of the Times's editorial board. Cottle's opinion piece—titled "Well, at Least Sheriff Joe Isn't Going to Congress: Arpaio's loss in Arizona's Senate Republican primary is a fitting end to the public life of a truly sadistic man"—was published on August 29.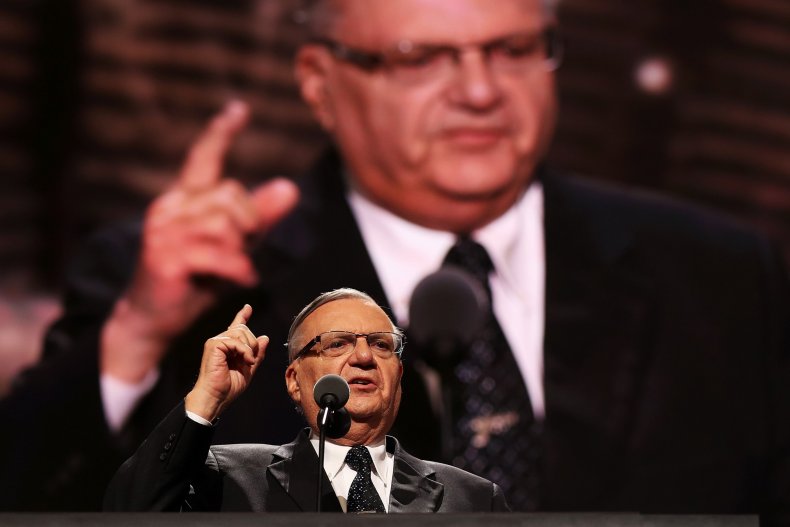 Cottle's article focused on Arpaio's stance on immigration and law enforcement, criticizing his heavy-handed approach with a long list of widely reported allegations. She also described him as "the proto-Trumpian embodiment of fearmongering ethnonationalism" and said his "his 24-year reign of terror was medieval in its brutality."
Arpaio alleges that Cottle's article is defamatory.
In his court filing, Arpaio argued that "while the Defamatory Article is strategically titled as an opinion piece, it contains several false, defamatory factual assertions" (via Politico). These assertions, he stated, were "carefully and maliciously calculated to damage and injure" his reputation.
Arpaio was Sheriff of Maricopa for 24 years until 2017, when he lost a runoff to Democrat Paul Penzone. During his tenure he styled himself as "America's Toughest Sheriff," faced several allegations of abuse of power and was responsible for a range of controversial policies, including deliberately targeting Latino neighborhoods with immigration patrols.
Arpaio has also continuously peddled the false claim that former President Barack Obama's birth certificate is forged.
In July 2017, after repeated warnings, Arpaio was convicted for contempt of court, having ignored court orders to end his county's racial profiling practices in law enforcement. In August, President Donald Trump pardoned Arpaio, announcing on Twitter that he was an "85 year old American patriot" who had "kept Arizona safe."
Cottle's opinion piece was in response to Arpaio's unsuccessful candidacy in Arizona's Republican primary election for the Senate in 2018.
Since then, Arpaio has remained a staunch advocate of the Trump administration and recently became a columnist for conservative news outlet The Western Journal. His latest piece, published on October 14, expressed his regret at Ben & Jerry's releasing ice-cream flavors that celebrate Democrats.
A New York Times spokesperson told Politico that: "We intend to vigorously defend against the lawsuit."