America's Vaccine Diplomacy Should Start in its Backyard | Opinion
The United States is finally beating COVID-19. According to CDC data, a majority of adults received at least one vaccine dose and over a quarter of the entire population is fully vaccinated. While the fight is far from over and the U.S. isn't quite ready for a full return to normalcy, compared to the rest of the world, America is in an enviable position: vaccine supply is beginning to outpace demand.
As the domestic situation improves, the Biden administration needs to play a much bigger role in the global fight against COVID. While some analysts argued that the U.S. should use "vaccine diplomacy" as a tool of great power competition, targeting various countries, particularly in Southeast Asia—to keep them out of China's orbit—the administration would be wiser to look closer to home. The U.S. should put North America first and prioritize vaccinations for Mexico and Canada. A focus on regional health and stability will be a better long-term strategic victory—reopening our biggest export destinations' economies and advancing our citizens' health security.
Both Canada and Mexico are currently in the midst of COVID disaster. In Canada, a variant-fueled surge in cases has strained hospitals across the country. The government of Ontario, Canada's most populous province, announced its strictest public health measures to date and extended its province-wide stay-at-home order until late May. In Mexico, a reliance on opaque and ineffective Chinese vaccines sparked counterfeiting. Furthermore, the Mexican government recently announced that the country's death toll is much higher than previously reported.
Yet the same or worse could be said for the world's developing countries—most of which have yet to vaccinate a single person—and for countries on the frontlines of U.S.-Chinese competition, whether in Southeast Asia or Latin America. With so many countries overwhelmed, why focus on Canada and Mexico?
First, because the Biden administration's focus on a "foreign policy for the middle class" demands it. Temporary strategic gratitude from distant countries is not worth prioritizing over Americans' health and economic recovery. The unchecked spread of new COVID variants in North America risks more American deaths and hospitalizations, prolonging the U.S. pandemic while China and other countries reopen. Canada and Mexico represent one-third of U.S. exports, and failing to restart their economies and our enormous cross-border trade will cause needless financial hardship for American small businesses, farmers and consumers. The emotional strain will be immense too: cross-border families and entire communities will remain cut off so long as regional travel remains dangerous.
Already, U.S. authorities recognized the importance of helping their neighbors. North Dakota is now vaccinating truck drivers who cross the border from Manitoba, Canada. The U.S. already sent our neighbors 4 million doses of the AstraZeneca vaccine, which is unlikely to be approved here soon.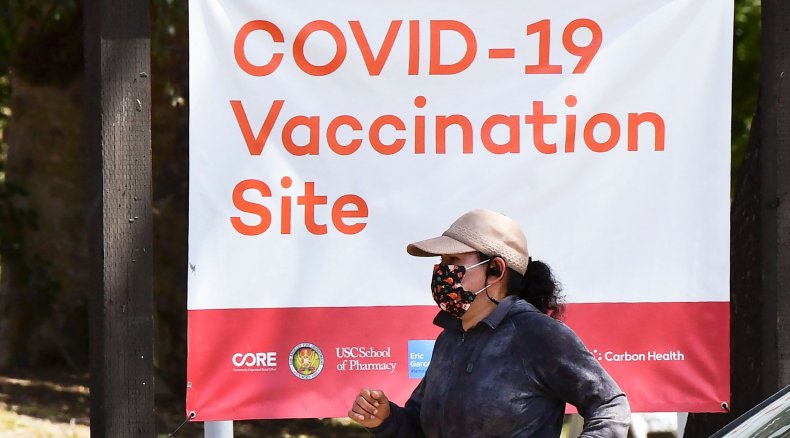 Beyond helping Americans, prioritizing Canada and Mexico for our vaccine diplomacy would also be a better strategic move. American fiscal and monetary power in the world increased as a result of COVID-19. We are in place to drive the West's economic recovery—the most important component of strategic competition with China. But doing so requires helping our friends first. A North America-focused COVID strategy will lay the foundations for a regional economic boom, empowering our allies and reversing narratives of decline. In other words, strengthening our allies' economies will tangibly empower U.S. leadership.
Helping Mexico, and in particular Canada, need not detract from our drive to vaccinate the world's neediest. Specifically, the U.S. could sell vaccines to Canada at cost and use the unexpected windfall to further fund COVAX or subsidize vaccine manufacturing and distribution in less-developed countries. America's global efforts should not be limited to physical shots. President Biden could, for example, vastly expand vaccine production by temporarily waiving WTO intellectual property rules.
The U.S., Mexico and Canada have deeply intertwined societies. While many countries are in dire need of vaccines, the U.S. should not focus its diplomacy on distant countries in a great power competition far removed from most Americans' daily lives. As Secretary of State Antony Blinken recently argued, foreign policy begins at home, and the U.S. should use its vaccine diplomacy in ways that best advance Americans' interests.
Preston Lim is a JD candidate at Yale Law School. He previously represented Canada as a Schwarzman Scholar at Tsinghua University, where he received a master's degree in global affairs.
Ryan Dukeman is a fellow at fp21 and PhD candidate at Princeton University, where he researches U.S. foreign policy. He previously helped found the U.S. State Department's Center for Analytics.
The views expressed in this article are the writers' own.