Amid AstraZeneca Suspension, Dr. Fauci Says There's No 'Red Flags' With U.S. Vaccines
Dr. Anthony Fauci emphasized the safety of coronavirus vaccines in the United States as an increasing number of European countries halt use of AstraZeneca's vaccine over reports of dangerous blood clots in some recipients.
AstraZeneca, which has not yet been approved for use in America, is one of three available COVID-19 vaccines on the continent. Out of more than 17 million people vaccinated with the shot in the European Union and Britain, there have been 37 reports of blood clots. The drugmaker has defended its vaccine, saying there's "no evidence" of increased risk of clots or hemorrhages.
The top World Health Organization (WHO) scientist said Monday there's been no association, so far, between the thromboembolic events reported in some countries and COVID-19 shots.
The European Medicines Agency (EMA) also said on Monday that it "remains of the view that the benefits of the AstraZeneca vaccine in preventing COVID-19, with its associated risk of hospitalization and death, outweigh the risks of side effects."
But more than a dozen countries have halted use of the vaccine for now, including Austria, Germany, France, Italy, Ireland and Spain.
When asked Tuesday about the AstraZeneca suspension and safety of U.S. vaccines on MSNBC's Morning Joe, Fauci said there have been no major issues reported. More than 135.8 million vaccine doses have been distributed in the U.S. and nearly 110 million have been administered, according to the Center for Disease Control and Prevention (CDC).
"Thus far — you have to keep following these things very carefully — there are no safety signals that turn out to be red flags," Fauci said.
The nation's top infectious disease expert noted that there have been some allergic and anaphylactic reactions to the Moderna and Pfizer shots. But those adverse effects, he said, only occur in two to four per million of vaccinations.
"Other than that, there doesn't appear to be anything that is what we call a red flag. But this is something that is followed very carefully by the CDC and the FDA," Fauci said. "But so far, so good."
The results of the AstraZeneca U.S. COVID-19 vaccine trial are currently being reviewed by independent monitors. A top U.S. official told Reuters on Monday that emergency authorization of the drug could come in April.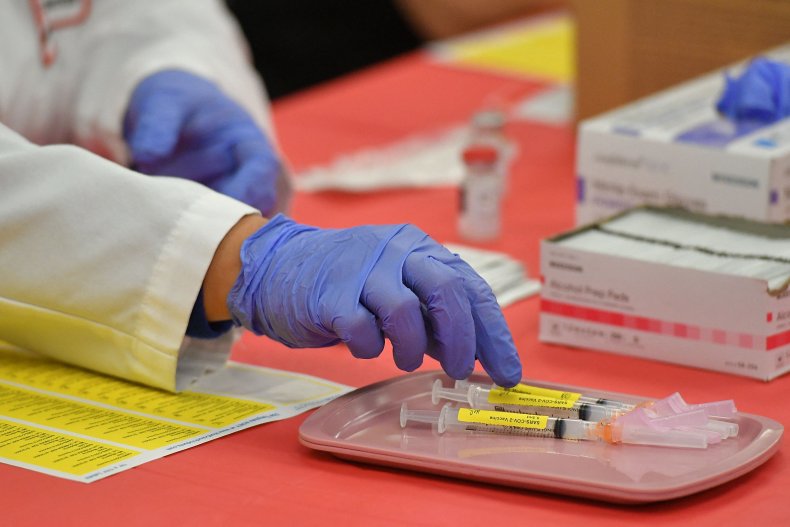 In a recent poll from NPR/PBS NewsHour/Marist, about 1 in 5 survey respondents say they have gotten at least one shot and 45 percent said they will receive one if it is made available to them.
Still, a significant portion of Americans — 30 percent — said they would not get the vaccine if it became available to them. Forty-nine percent of white men said they would not get vaccinated and 47 percent of those who supported Donald Trump in the 2020 election reported they would not get the vaccine.
Fauci stressed to MSNBC on Tuesday that if you don't get an "overwhelming proportion" of the population vaccinated, the virus will have the capability to continue circulating in the country.
"The approach we would like to take and we are taking is to try to reach out and explain to people and ask what are the issues that make them hesitant about getting vaccinated and try to address them with good, solid scientific facts," he said.