Amid the Bright and Noisy E3 Convention, a Mental Health Clinic Provides Quiet Refuge
The hallway that connects the two halls of the E3 Convention is long. It takes about 10 minutes to walk, and its gray walls are draped by DragonBall video game advertisements. Midway, off to one side, a mental health clinic opens its door at 11 o'clock for each of the gaming convention's three days, a quiet oasis amid the bustle of the video game convention.
The décor of the clinic, run by a mental health group called Take This, is opposite of everything E3 stands for. It's drab, with round chairs, circular tables and the type of office carpet that screams "conference room."
"It's the most boring room in the show," Take This's clinical director Raffael Boccamazzo tells Newsweek. But that's the point of the Away From Keyboard (AFK) room, "it's a space [for attendees to] regather themselves." The space is the rare part of the convention that isn't trying to lure you in, or sell you something. There's no neon-lit booths crammed with hundreds of attendees; none of the loud music and video game gunfire.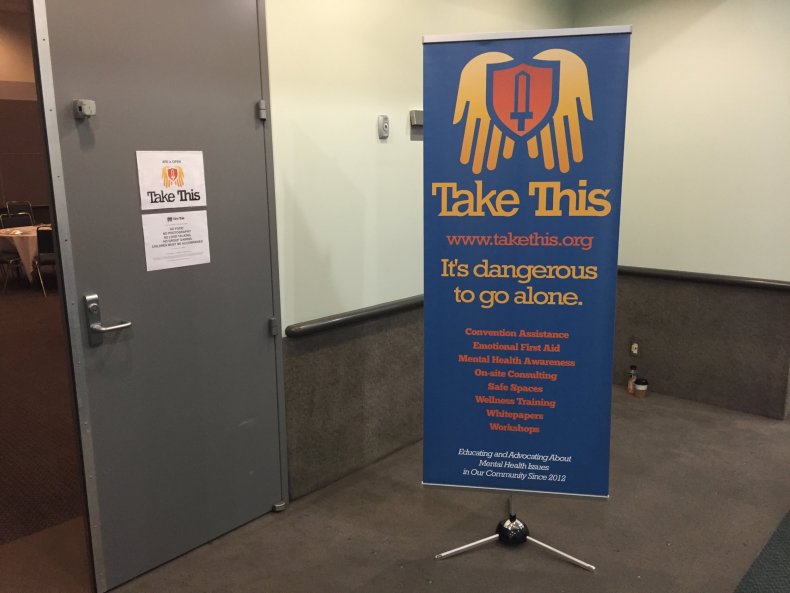 Take This—which comes from the line in The Legend of Zelda: "It's dangerous to go alone. Take this."—was created in 2012 by journalists Russ Pitts and Susan Arendt after a gaming journalist they knew committed suicide. It was a wake-up call for them. The games industry is known to push their developers and employees to work intense schedules under pressure, and the journalists aren't immune either.
Take This's goal is to de-stigmatize mental health issues in the gaming industry, especially when it comes to employee burnouts. Sixty-one percent of video game developers say they worked at least 50 hours per week during a "crunch" time at least once in their past year, according to a 2015 study from the International Game Developers Association. The high rate of turnovers and layoffs are also a frequent source of stress for video game developers.
In recent months, Take This has partnered with video game organizations like ESA and the IGDA to spread their message. Most of the biggest developer companies in the industry like EA, Bethesda and Ubisoft joined to become Take This's sponsors to promote their mission.
Inside the room on Thursday morning, shortly after the room opened, there was only one man, seated at a table and quietly drawing a coloring book. There was absolute silence.
The staff in the room—made up mostly of volunteers—does not provide therapy but says they are there to listen when a visitor needs to vent.
It is Take This's first E3 and Boccamazzo says that "business was expectedly slow" on their first day on Tuesday. But by Wednesday, a few more people came to seek refuge from the sensual overload. In other conventions since opening AFK rooms in 2014, hundreds of people file in and out every day, according to Take This's co-executive director Shannon Gerritzen.
And the rooms have helped with some interventions. Pitts said at one convention, a woman brought her boyfriend before opening hours because he had shared suicidal thoughts. The volunteer staff brought the two in and accommodated them until emergency services arrived to take the boyfriend for treatment, she told IGN.
"This, sadly, happens at almost every show where we run an AFK Room," Pitts said to IGN. "I'm just glad that there is now a place where people can go to get help and understanding."
Take This's AFK rooms are becoming a regular feature at video game conventions. In the next few months, Take This will be at Dallas, Seattle and Melbourne, Australia. In between the conventions, the company invests in research papers to better understand the state of mental health in the gaming community and reaches out to developers to bring mental health awareness programs.
"The idea that 'no one will miss me if I'm gone' is a pervasive one in our community," Arendt says. "Take This is an opportunity for people to learn how wrong that is."