Amid a 'Clusterf***' of Glitches, House GOP Wants Democrats to Nix Virtual Meetings and Reconvene
As Americans shifted from work office to home office during the coronavirus pandemic, the big question across the country is why can't Congress, too? Tradition and protocol aside, one test run on Capitol Hill last week showed why remote work for the nation's lawmakers may be harder than it seems.
House Democrats will begin holding online, unofficial committee proceedings this week. This includes a Judiciary Committee virtual roundtable on Wednesday with a subcommittee examining immigration officials' coronavirus response and conditions in migrant detention facilities.
This is much to Republicans' chagrin. Aside from concerns about chamber rules and precedent, some Republicans fear their counterparts across the aisle could use the virtual process to unfairly wield their majority power and drown out GOP lawmakers.
For now, that fear is overshadowed by a larger problem.
Roughly two dozen Democratic and Republican congressional staffers ran a trial session on Friday to test the video technology for lawmakers, a process that did not go well—one GOP source familiar with the practice run called it "clusterf***."
The technical glitches that riddled the virtual conference meeting were so bad that it called into question whether the bipartisan roundtable could occur, according to two other Republican sources who were on the call but were not authorized to speak publicly about it.
"I consider myself pretty tech savvy," one Republican source said on the call told Newsweek, "but I can't imagine a person who doesn't know what they're doing being able to figure it out."
It took some participants up to 30 minutes to join the Cisco Webex video chat while others could join with only with audio or never participate at all. Once connected, many participants could not tell who was speaking or even controlling the video or microphone settings. A third-party moderator was unaware until the end of the call that typed questions were being submitted by users throughout the conference for speakers to answer.
"It was a permanent trouble-shooting loop that created a very frustrated experience and didn't really answer why I think we all got on the call to figure out: How are members going to have an authentic conversation about this issue of ICE detention centers?" said the other GOP source on the call. "I left the whole situation pretty confused."
As a result, Reps. Jim Jordan of Ohio and Ken Buck of Colorado, the top Republicans on Judiciary and its immigration subcommittee, respectively, are renewing demands that Chairman Jerrold Nadler (D-N.Y.) hold the proceeding as an in-person official hearing.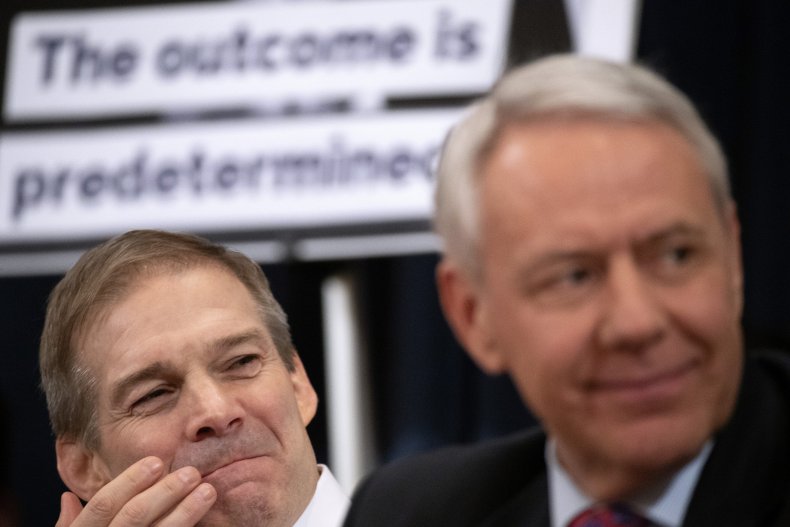 "During this Congress—and especially during the Democrats' sham impeachment effort—you have failed to fairly and consistently enforce fundamental rules of procedure," Jordan and Buck wrote to Nadler on Monday, according to a letter first obtained by Newsweek. "If you cannot guarantee fundamental fairness during a traditional hearing, we have little confidence you will honor minatory rights in a virtual proceeding."
"You cannot skirt the Constitutional requirements associated with an official hearing
simply by choosing to call the event by another name," they added.
The GOP duo suggested the Democratic staff could silence Republicans during the roundtable "with a single computer stroke" by using the camera settings to exclude certain members. Judiciary consists of dozens of firebrand members who just months ago were verbally tussling with one another during impeachment.
As of Tuesday morning, it remained unclear whether GOP lawmakers would still participate in the proceeding.
House Speaker Nancy Pelosi (D-Calif.) has for weeks resisted calls from Republicans to bring the chamber back into session like Majority Leader Mitch McConnell (R-Ky.) has done with the Senate. The House will return at the earliest on Friday, but only long enough to pass another massive economic stimulus that Democrats are drafting, assuming they finish the bill within the next day. Met with Republican opposition, Democrats were forced to drop a previous endeavor to change House rules to allow proxy voting and official remote committee work. However, Democrats say they once again plan to approve the changes.
The immigration roundtable follows unanswered requests to ICE from Nadler for the department to release detained migrants who do not pose a public safety threat and to provide information about how it's combating the virus' spread. The testifying witnesses include a former ICE detainee, the spouse of a current ICE detainee and the director of policy for the National Immigrant Justice Center.
A Democratic House source told Newsweek that technical hiccups are to be expected, given the extraordinary circumstances Congress is experiencing.
"I'm not sure what the expectation was for figuring out a new technology at a completely unprecedented time with everyone working remote with different technical capabilities," they said. "There are a ton of technical details and issues to workout, but we really don't want to just shut down and not do anything until whenever things end."
But Wednesday won't be the first time lawmakers conduct a bipartisan roundtable with witnesses from remote locations. For example, successful virtual meetings were held by a Senate subcommittee April 30 and the Problem Solvers Caucus last week about Congress working remotely, though some lawmakers lacked video.
The next technical test will come Tuesday, when top health officials, including Drs. Anthony Fauci and Robert Redfield of the National Institutes of Health and Centers for Disease Control and Prevention, respectively, will go before the Senate via teleconference. The Senate health committee's chairman, Sen. Lamar Alexander (R-Tenn.), will also appear over video. Fauci and Alexander may have come into contact with people who have since contracted coronavirus.