Amid Coronavirus, Some Lawmakers Spot Chance to Abolish Death Penalty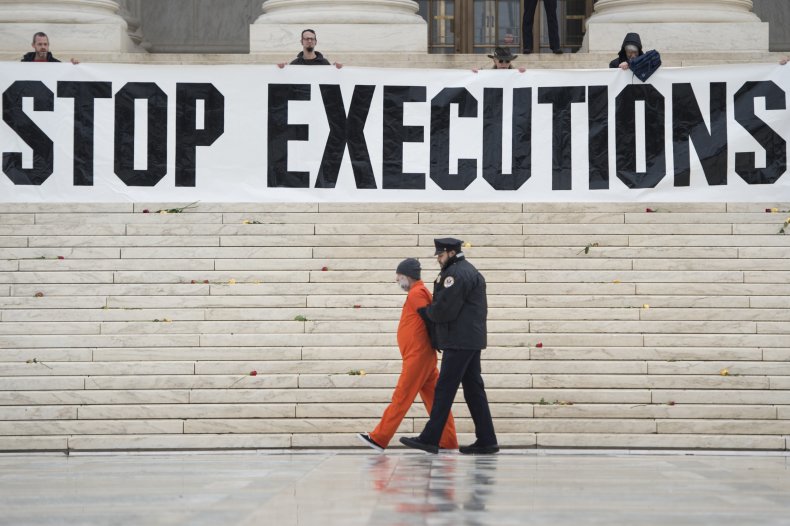 As states across the country look for ways to shore up budgets that have been wrecked by the coronavirus pandemic, some lawmakers are calling for the death penalty—which often forces states to spend much more money on housing for death row inmates and lengthy court battles—to be first item on the chopping block.
Public support for the death penalty in murder cases is at its lowest point since 1972, based on annual U.S. polling from Gallup, which found in October that 56 percent of the people surveyed said they support capital punishment—down from its peak 80 percent in Gallup's 1994 survey.
Over the same period, the push to end the death penalty has gained traction among a mixed-bag of supporters, including fiscal conservatives, religious adherents, criminal justice reform advocates and others.
Today, 22 states and the federal government allow capital punishment, but the number is rapidly decreasing and the financial toll of the coronavirus pandemic could expedite the trend, particularly among conservatives who have long been defenders of capital punishment in their states.
Ohio Representative Niraj Antani, a Miami Township Republican, told Newsweek that the state budget allocates $3 million to capital punishment, even though the state has had no executions since July 2018 because of court challenges.
Meanwhile, Ohio has been forced to whittle $300 million from its education budget to make up for shortages due to the pandemic. He's joined a group of bipartisan lawmakers that have teamed up this year to try to end the death penalty in the state.
"That money could be going to education, to other critical programs and services that would actually save lives," he said. "This is not taxpayer dollars being well-used."
The death penalty's costs, compared to a life sentence, varies by state because of pay differences and state laws, but researchers agree that it's generally much more expensive.
Examples often cited by the Death Penalty Information Center and similar resources include an audit conducted for the Oklahoma Death Penalty Review Commission in 2017 that concluded that capital cases cost average about 3.2 times more than non-capital cases. In addition, a Kansas Judicial Council report in 2014 that found defense costs for death penalty trials there averaged about $400,000 per case—four times as much as murder cases where capital punishment wasn't on the table.
In addition to Ohio, seven other states have seen bipartisan-backed death penalty repeal efforts this year—Wyoming, Colorado, Pennsylvania, Missouri, Georgia, Kansas and Washington state, based on tracking from the national Conservatives Concerned About the Death Penalty coalition.
Wyoming Representative Jared Olsen, a Republican from Cheyenne who has been leading death penalty repeal efforts there, told Newsweek that he had been a supporter of the death penalty because he never thought much beyond it being the conservative position.
"It's insanely costly in the state of Wyoming," he said.
According to the National Conference of State Legislatures, the coronavirus pandemic has struck varied blows to states' finances. In both Colorado and Wyoming, projected tax revenues are projected to drop by 20 percent because of the impact of COVID-19 during the fiscal year that began July 1.
"As states are struggling to fund the most basic of needs, this is an obvious cut," Hannah Cox, national manager of Conservatives Concerned About the Death Penalty said in a statement.
Two decades ago, 279 death penalty sentences were handed down in the United States; it dropped to just 34 in 2019. States also have struggled to obtain the drugs they need for lethal injections, as pharmacies and drugmakers seek to distance themselves from their use in carrying out executions.
The Death Penalty Information Center, which supports abolishing capital punishment, reported last month that new death sentences and executions hit historic lows in the first half of 2020, in part because of the impact coronavirus has had on limiting activities in courts and prisons.
"Since the pandemic struck, defense teams have been unable to safely and meaningfully investigate and prepare their cases, and the potentially life-threatening risks to witnesses, jurors, defense and prosecution lawyers and investigators, court personnel and their families and communities have led to the suspension or postponement of most capital trials," the center's analysts wrote in the report.