Amid Criticism, Biden Preparing to Increase Number of Refugees Brought Daily Into U.S.
Against the backdrop of an extreme immigration policy overhaul, President Joe Biden's administration is preparing to increase the number refugees brought into the U.S.
This is not a new promise for Biden, who said his administration would seek to process 300 individuals at day at two of the three ports along the U.S.-Mexico border starting February 19. But Biden has yet to fully deliver on this goal because his administration has been stalled by efforts to restructure Trump-era immigration facilities and systems at the border from the ground up.
White House chief of staff Ron Klain reiterated Biden's intention to bring in more asylum seekers when he met with top members of the Congressional Progressive Caucus Wednesday night. CPC Chair Pramila Jayapal of Washington told Politico that Klain confirmed Biden would be raising the cap on the number of asylum seekers admitted. But Jayapal said the White House was behind on the process due to its focus on overhaul of Trump-era immigration facilities and policies.
"They want to speed that up," Jayapal said to Politico. "They want to more quickly work on a solution, and we all understood the importance of that."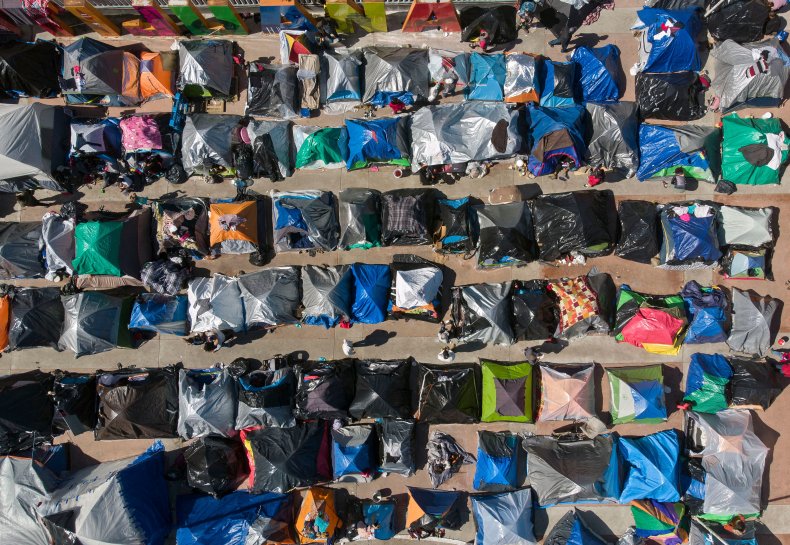 And a key battle Biden now struggles with is clearly conveying to asylum seekers who in fact will be granted access to enter the country. With the news of a raised cap on the number of refugees admitted, he risks even more people attempting the dangerous trip to the border in the hope to access the U.S.
Last month, Biden officially reversed former President Donald Trump's Migrant Protection Protocol, which forced asylum seekers to wait in Mexico until authorities were ready to hear their immigration cases. Biden's policy switch-up has now tasked immigration authorities with processing as many as 25,000 refugees who have been waiting for entry at the same time they must turn away surges of new migrant arrivals at the border. Disinformation claiming there is an open border at the U.S. under Biden has only exacerbated the situation, with parents sending thousands of unaccompanied children to join relatives or contacts in the U.S.
Jayapal said Klain was in support of doing more to address the "crisis" at the border, using a word Secretary of Homeland Security Alejandro Mayorkas has urged against using to describe the reality at the border. Republicans have also used the word crisis to attack the president for taking a new line on immigration policy.
Earlier this week, Mayorkas said in a statement the U.S. is set to see more migrant arrivals at the southern border than any time in the last 20 years. He urged that while the U.S. wants asylum seekers to come, he said "don't come now," until the administration is better-equipped to handle so many arrivals.
Newsweek has reached out to the White House for comment but did not receive a reply by publication time.