Amid the Derek Chauvin Case, America's Fixation With Televised Trials is Not New
It is no secret that nationally televised court cases, such as the ongoing trial of former Minneapolis police officer Derek Chauvin who is accused of killing George Floyd in May 2020, typically draw widespread attention from Americans.
A few experts cite various possible reasons as to why interest in these broadcast criminal cases, particularly involving murder charges, are so high.
"People find violence exciting and consequential," Richard Felson, a criminology and sociology professor at Penn State University, told Newsweek. "They watch dog fights, bull fights, cock fights, fist fights, wrestling, murder stories and they rubber-neck car accidents."
In the case of Chauvin's trial, Felson said there is a political and racial element, as well as strong partisanship.
"When a person is punished for wrongdoing, the pleasure-center of the brain is stimulated," he said. "Justice/retribution is extremely important to people and may have a biological basis."
Since Chauvin's trial began on Monday, numerous news outlets have been live streaming it online as well as the recently revived Court TV, which is also providing television coverage on leading cable systems.
"There's no question the case deserves the type of scrutiny it is getting," Paul Thaler, a writer and professor in the Communications department at Adelphi University, told Newsweek. "Americans want to see justice at work and we deserve to."
The more than 6-hour YouTube live streams of day one of Chauvin's trial have already accumulated more than an estimated 1.8 million views at the time of this article's publication across channels from NBC News, The Washington Post, ABC News, NewsNOW from FOX, USA Today, and CBS News alone.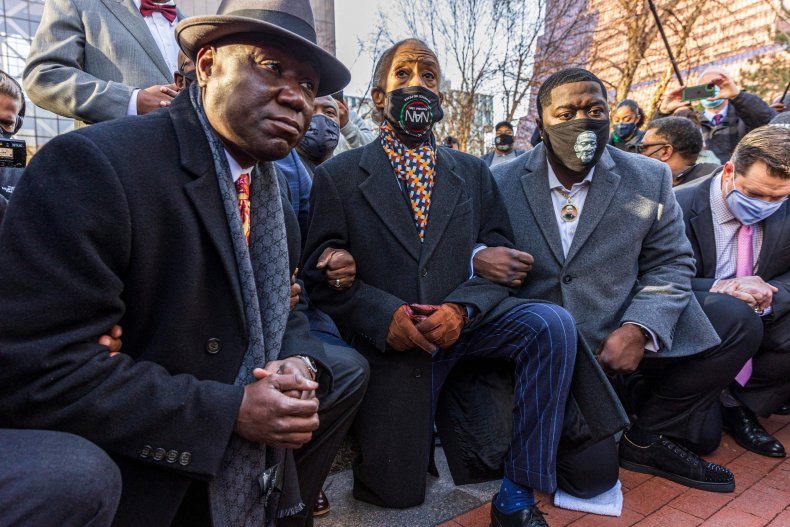 Adrian Raine, the Richard Perry University Professor of Criminology, Psychiatry and Psychology at the University of Pennsylvania told Newsweek he suspects "silent evolutionary forces playing out below the surface might be one of the factors explaining our fascination with killers."
"We've evolved to avoid being killed so that we can reproduce our genes. One thing that can help here is to learn as much as possible about two things—who the killer is, and why the victim was killed," Raine said. "Our ancestors learnt to be on their best behavior with a killer, and to play close attention to what led a victim to be killed."
Thaler, who wrote the book The Spectacle: Media and the Making of the O.J. Simpson Story, said he believes the Chauvin case will be more highly charged and volatile than Simpson's which gripped the nation in 1995 after the ex-NFL player was accused of stabbing his ex-wife Nicole Brown Simpson and her friend Ronald Goldman to death in June 1994.
"What is interesting about it is that both the Simpson case and the Chauvin case really begins with a video clip," Thaler said. "In the case of Simpson, was the infamous Bronco chase down a Los Angeles highway and in the Chauvin case, of course the nine minutes where the police officer has his knee on George Floyd's neck."
Thaler recalled the notorious moment in June 1994 captured by cable television where Simpson attempted to evade police in a white Ford Bronco as they pursued him on the highway in California after he was initially accused.
The chase of the ex-NFL player was watched by roughly 95 million people, according to Forbes, while the reading of his non-guilty verdict in October 1995 was watched by an estimated 150 million. Simpson's verdict had the highest ratings in TV history at the time, according to a 1995 article by The Orlando Sentinel. Thaler said that cable TV networks made millions of dollars in terms of ratings for broadcasting the case.
In more recent public memory, the verdicts of a few high-profile televised cases in the 2010's also received millions of views and upped cable TV ratings.
The July 2011 not-guilty verdict in the Casey Anthony case—featuring a mother accused of murdering her two-year-old daughter in 2008—was watched by more than 5 million on HLN and received the most views compared to its cable network competitors, according to The Hollywood Reporter (THR).
Anthony was ultimately charged with four counts of lying to law enforcement.
In November 2011, HLN's viewership rose again when the verdict was read for Michael Jackson's doctor Conrad Murray, who was found guilty of involuntary manslaughter for Jackson's death in June, 2009, THR reported. More than 2 million watched the network during the verdict.
Thaler said televised cases like these become a part of our commercial landscape.
"It becomes kind of a mix between our news and entertainment industry," he said.
In May 2013, when Jodi Arias was found guilty of murder in the first degree for the death of her ex-boyfriend Travis Alexander, nearly 7 million people tuned into cable news networks to watch, according to THR.
However, in July of that year, THR reported even more people watched the broadcast verdict of George Zimmerman after he was accused of shooting 17-year-old Trayvon Martin in 2012 which led to his death. More than 10 million watched as he was found not guilty by the jury.
With Chauvin's case, Twitter has been buzzing with top trending keywords related to the trial since Monday as clips from the case have been circulating on the platform.
"There'll be two trials going on at the same time, one trial in the courtroom in Minneapolis and the other courtroom, really everywhere else in the public realm," Thaler said.
Although it is now commonplace for high-profile state cases to be televised, the federal courts still do not allow cameras in the courtroom. Ultimately, it is up to the judge to allow cameras in state courtrooms.
For now, the nation is watching and waiting for Chauvin's verdict.