Amid Escalating Israel-Gaza Violence, U.S. Suspends Visa, Passport Appointments in Tel Aviv
As the U.S. Embassy in Israel struggles with a backlog of visa and passport applications, the United States has decided to limit services amid the escalating violence between Israel and Palestinians.
After two weeks of Hamas rocket attacks on Israel and Israeli airstrikes on Gaza, the violence has shown no signs of slowing down, raising concerns about the possibility of a full-blown war. Foreign airlines have canceled flights into and out of Israel, and the inability of Americans to renew passports and obtain them for family members could make leaving the country a challenge.
Both the U.S. Embassy in Jerusalem and the Tel Aviv branch are operating with minimal staffing, and with the threat of rocket attacks and violent protests, they've largely halted passport and visa services. In an alert posted Tuesday, the embassy said that the Tel Aviv branch suspended routine consular services and that Jerusalem's consular section will honor already scheduled appointments.
The Tel Aviv branch advised in an email that appointments may be canceled and said it was not taking on any additional appointments. It's unclear when services will resume, as the embassy said it could not provide a specific date as of Tuesday's alert. Those who need "immediate" assistance were advised to contact the consular office by email.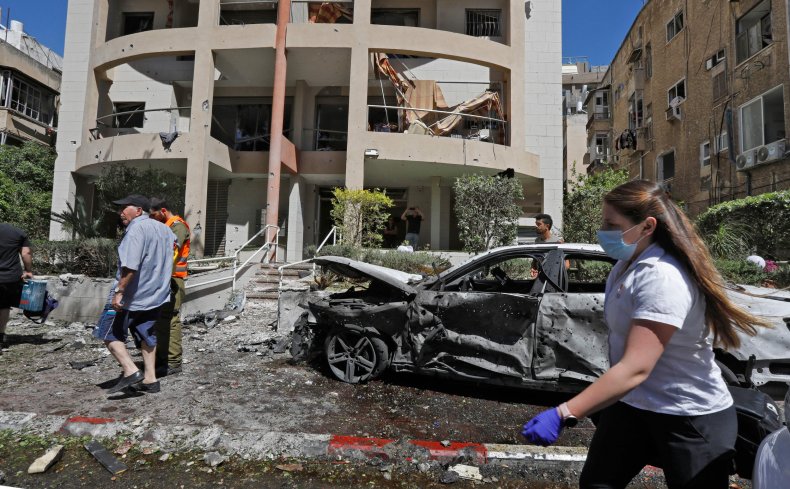 Shutting down services temporarily is likely to only increase the backlog plaguing the embassy. As of May 11, the embassy estimated it was about 15,000 passport applications behind, a backup that U.S. Consul General Andrew Miller blamed on coronavirus restrictions.
"This sucks for us too," Miller told Israeli newspaper Haaretz. "We prided ourselves pre-COVID on our ability to get passports in a hurry.... We do feel their pain, and we'll do whatever we can to alleviate it."
American adults in Israel can renew their passports by mail if it was issued in the past 15 years and after they turned 16 years old. Those who don't meet those requirements must renew a passport in person, including young children who were born in Israel but are eligible for U.S. citizenship.
Mitch Schneider, who moved to Beit Shemesh, Israel, from the United States, has been trying to get an appointment for his daughter but with no luck. Unable to have his daughter visit her grandmother in New Jersey, he traveled there alone, telling Haaretz he was "shocked" by the U.S. Embassy's actions.
"They essentially closed the border to my American daughter without any regard," Schneider told Haaretz.
To minimize the potential for civilian air travel to be affected by rocket fire from the Gaza Strip, Israeli officials closed down Ben Gurion International Airport near Tel Aviv to incoming flights. They offered to divert flights to Ramon Airport outside of Eilat, located on the Gulf of Aqaba in the south.
However, some airlines weren't interested in diverting flights, and last week United, Delta and American Airlines announced they were canceling flights. The embassy advised Americans that it can't help with arranging commercial travel options, and an email said the U.S. government had no current plans to arrange repatriation flights.
The embassy is giving preferential treatment to Americans who need assistance, as it was doing during the backlog. While it drew the ire of some visa applicants, Miller told Haaretz the role of the embassy is to "assist Americans," so passport services are taking precedence over visas.
Newsweek reached out to the U.S. Embassy in Jerusalem and the Tel Aviv branch for comment but did not receive a response in time for publication.