Amid Fading Poll Results, Trump Calls for Biden to Be Thrown in Jail As Crowd Chants 'Lock Him Up'
President Donald Trump called for Democratic Presidential Nominee Joe Biden to be thrown in jail, prompting the crowd at his Georgia rally to chant "lock him up" on Friday evening.
"That Biden family and others, but that Biden family is corrupt, a corrupt family," he said, which triggered chants of "lock him up" from the crowd.
"We should lock him up. Lock up the Bidens. Lock up Hillary," the president continued, as the chants grew louder behind him.
"Can you imagine if my kids did what this guy Hunter has done? When you look at what they get away with," Trump added. "In my opinion, it's a criminal enterprise. He's like a vacuum cleaner. The father goes through and the son comes in a vacuum cleaner. Millions of dollars."
"Take a look at the way they live. 47 years he's a politician. He's done very well. Almost as well as Maxine Waters."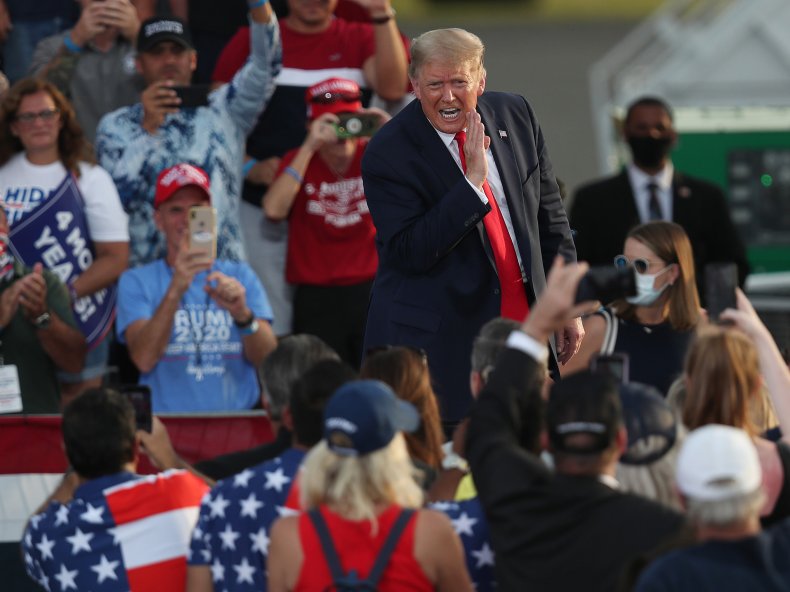 Trump has been trailing Biden by double digits in a number of recent nationwide polls. An Associated Press/NORC survey, released today, showed Biden leading Trump by 15 points, with 51 percent of support among adults compared to Trump's 36 percent. As of October 15, Biden held an average lead of 10.5 percentage points over his Republican opponent, according to data maintained by FiveThirtyEight.
With weeks left until Election Day, Trump has renewed his attacks on Hunter Biden following The New York Post's recent allegations of questionable business deals in Ukraine and China spearheaded by the former vice president's son.
The Post tied the Democratic presidential nominee to his son's role on the board of Burisma, a Ukrainian energy company. One allegation was that Vadym Pzharskyi, an adviser to the board, was allowed an opportunity to meet the former vice president in 2015.
The allegations stemmed from emails reportedly found on a laptop that was left behind at a New Jersey computer repair store in 2019. However, the store's legally blind owner John Macissac was unable to identify whether the computer was dropped off by Hunter Biden.
While some questioned the validity of the story, calling it a political hit job, Trump has been using it as ammunition for attacking Biden.
Twitter initially blocked the URL of the Post's story, but changed course on Thursday evening. The social media company said the article was blocked because it contained emails, phone numbers and materials that violated its private information policy and Hacked Materials Policy.
This morning, Twitter CEO Jack Dorsey, faced with mounting backlash, called the decision to suppress the article "wrong."
Newsweek reached out to the Biden campaign for comment.