Amid Far-Right Backlash, Annual High Heels Race Returns to Madrid
Every year for more than two decades, the LGBT community of Madrid, Spain, has eagerly awaited one particular event on the city's Gay Pride (Madrid Orgullo) calendar. It's not a parade, a rally, nor a party; it's a high heels race.
The competition in Chueca, an LGBT-friendly neighborhood in central Madrid, has drawn dozens of domestic and international competitors of all ages. Both male and female runners wear shoes with a minimum heel height of 10 centimeters, or about 4 inches.
"I'm a little nervous because I think people are serious about this," said one runner to Global News. "In Washington, it was more fun but I look at the other competitors and I feel like they're very serious about this."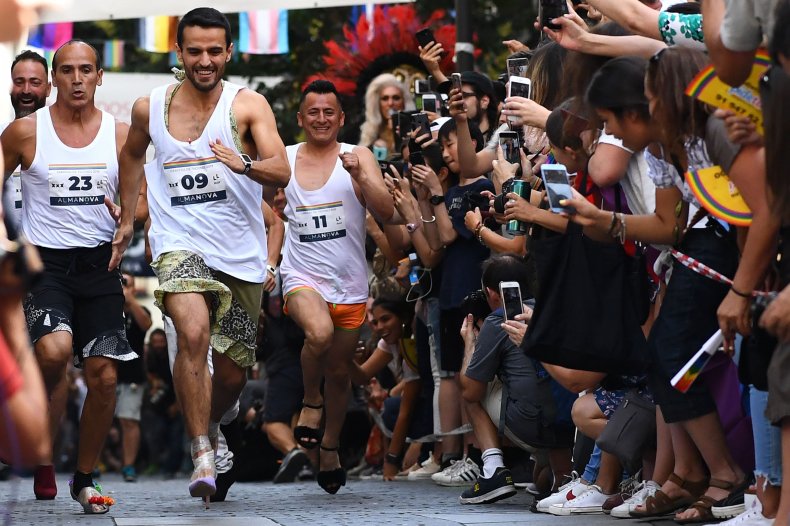 At the finish line, the winner not only gets bragging rights, but also the grand prize money of €350 (approximately $390).
This year's gay pride celebrations occurred under a new conservative city administration in Madrid, with Popular Party and Citizens Party winning in local elections.
The far-right VOX party, which won about 10 percent of the vote in the country's election in April, said that Madrid Pride should be moved to a park outside the city.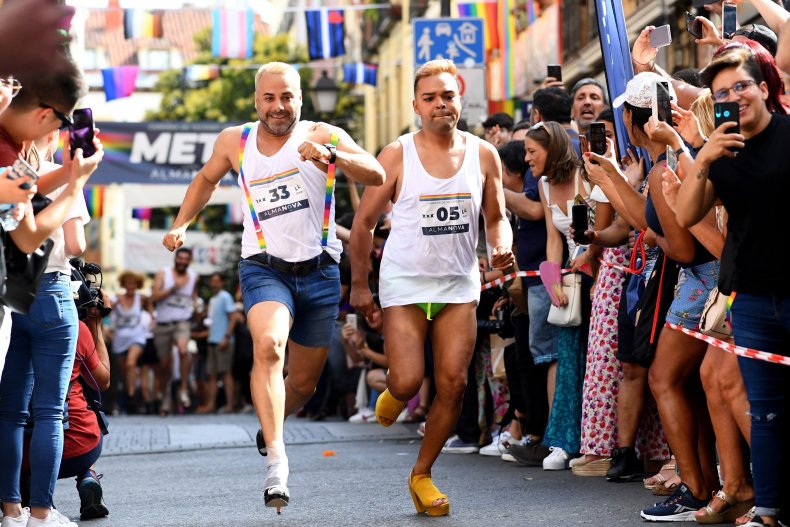 Rocio Monasterio, the Madrid regional branch head for Vox, told local news outlet La Contra TV that Pride celebrations "denigrate people's dignity."
"When a mother, a father step outside there is no reason for them to stumble into this spectacle... involving explicit sexual acts in the street at daytime," Monasterio said, according to Reuters.
Vox's quest to abolish Pride out of Madrid's city center is just one example of their many attacks on the LGBT community.
Vox leader Santiago Abascal regularly speaks out against what he calls "supremacist feminism and gender totalitarianism." He and his colleagues oppose same-sex marriage, and have proposed introducing a separate form of civil union.
Abascal told the Spanish TV channel Antena 3: "We don't consider a relationship between two men or two women to be a marriage, but it's a civil union that needs regulating."
In February, the party debuted in the upper house of parliament by blocking a motion calling for an official stance against homophobia in sports. In his first session, Vox's Senator José Alcaraz signaled he would not back a declaration that was meant to mark support for policies combating homophobia in sports, ahead of the International Day Against Homophobia, Transphobia and Biphobia.
And in May, the Vox candidate for the Madrid regional leadership Rocio Monasterio said that school children as young as eight were being encouraged in class in publicly-funded schools "for boys to try being girls ... and talk about zoophilia", or a sexual interest in animals.
But people watching the High Heels Race said the event should remain in Chueca, and many joined in chatting against Vox.
"People still have to fight and make visible certain inequalities that are still not fully resolved," Javier Garcia, a 23-year-old nurse, told Reuters before competing in the race.
On Saturday, Madrid Orgullo will hold its Pride Parade, where around 2 million attendees were expected to come out and support the annual event, cheering under the slogan: "Elderly out of the Closet: History, Struggle and Memory!"
Amid Far-Right Backlash, Annual High Heels Race Returns to Madrid | World