Amid Pressure, Governor Mike DeWine Says It Takes 'Life and Death Decisions' to Reopen Ohio
Determining how and when to relax social distancing guidelines is proving to be a far greater challenge for Ohio than was the decision to shut down the state. And its governor, Mike DeWine, does not sugarcoat what is at stake.
"These are decisions that are life and death decisions," he told Newsweek in an interview over the weekend. "We want people to understand the virus is still very much out there. It's not going away. It's not going to go away probably until we get a vaccine."
The costs at play for the first-term governor are multi-pronged, as the well-being of individuals and the health of the economy remain a constant juggling act. The Buckeye State had nearly 20,000 confirmed coronavirus cases and more than 1,000 deaths as of Monday. Meanwhile, more than 1 million people in the past six weeks have filed for unemployment benefits.
DeWine's measured approach to reopening sets himself apart from many of his fellow Republican governors, whom have gone against recommendations from the White House coronavirus task force to achieve a 14-day downward trend in new cases before reopening businesses.
DeWine has also been forced to weather a political storm from conservatives. Groups of protesters, sometimes armed, have come to the steps of the state Capitol for weeks to demand the stay-at-home order be lifted and businesses be allowed to open their doors, mirroring events that have taken place nationwide.
But as some states across the nation move to swiftly reopen businesses and restaurants, DeWine has tried to walk a tightrope between science and the economy.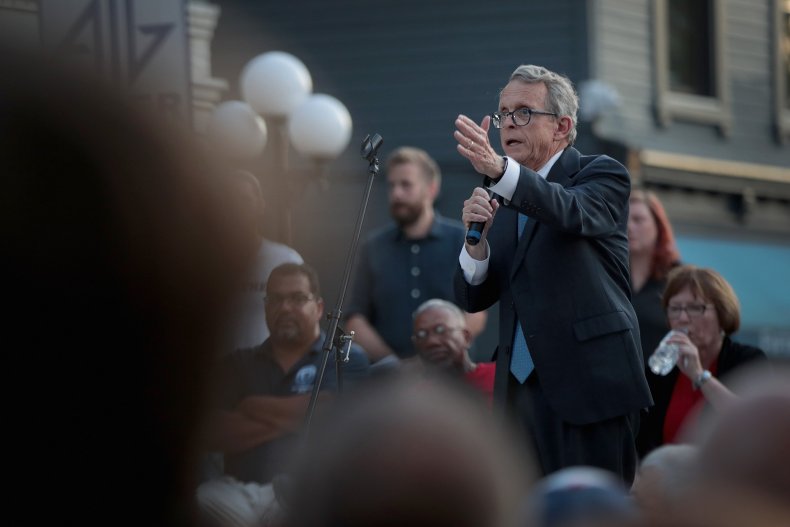 "I don't think trying to bring the economy back and trying to stay safe are mutually exclusive. We don't have any choice; we have to do both," he said. "One thing I'd say to the people who say we're not moving fast enough is if we're going to start bringing the economy back, people have to have confidence that they're going to be safe."
DeWine was the first governor to close its school systems in March. The state also decided early on to cancel the Arnold Sports Festival, an international bodybuilding competition that was expected to draw a quarter-million people from dozens of countries.
"We relied on the best science to make those decisions," DeWine said.
He feels there's irony in saying "Ohio has done well" in minimizing infections. Sure, the state has had relative success in mitigating the virus' spread, escaping any spikes significant enough to potentially overwhelm its hospitals. Still, the number of deaths they have experienced are not to be discounted, DeWine said, arguing its an important indicator for residents to keep in mind amid the strong push to swiftly ease restrictions.
"We don't want to have to turn back," he said. "We don't want to have to start something and then do a reset."
Ohio's cases remain steady, averaging 500 new reported infections per day over the last week. However, the numbers are down from the state's single-day high of 1,380 on April 19. To meet the White House task force's Phase 1 guidelines, Ohio needs 10 more consecutive days of a decline in new cases.
The majority of states have already begun to reopen in some fashion—Ohio included—despite not yet achieving the two-week decline. DeWine's reopening plan consists of several phases, which began May 1 with essential surgeries and trips to the vet and dentists being allowed to resume. Manufacturing, distribution and construction will restart Monday, along with the reopening of general offices. But consumer and retail businesses will have to wait until May 12. And restaurants, bars, day-care centers, gyms and barbershops remain in limbo with yet-to-be-determined reopen dates.
DeWine scaled back the state's stay-at-home order beginning May 1 and replaced it with a less strict "stay safe at home order" through May 29. While employees will be required to don face masks inside their businesses, customers will not. DeWine reversed course on his mandate for residents amid fierce backlash, telling ABC News over the weekend that his order was "a bridge too far."
But confidence in public health is only one piece of the pie, DeWine argued. He also needs to maintain confidence among Ohioans. And so far, polls suggest he's doing it exceptionally well—better than any other governor in the country, with a roughly 85 percent approval rating. The majority of respondents in state polls have also expressed hesitance about lifting restrictions too quickly.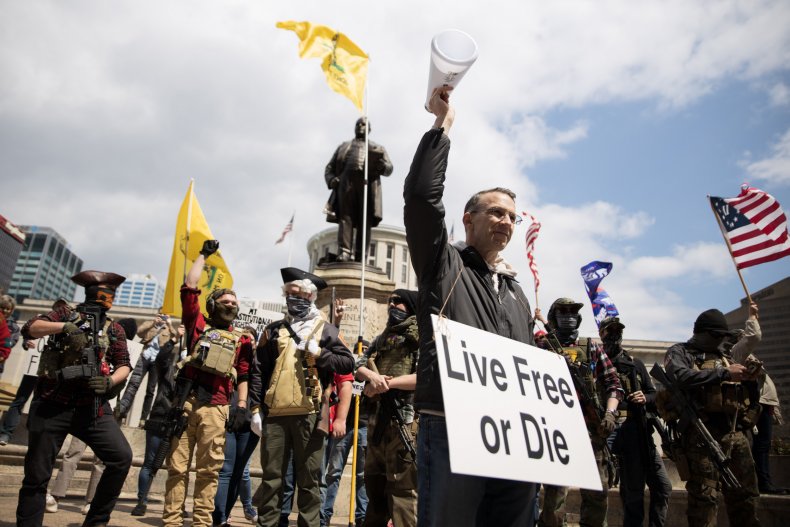 "No matter what order you put out, if people don't believe them or are no longer willing to accept them, there are going to be very bad consequences for the state," DeWine said.
The same cannot be said for President Donald Trump, with his average pandemic response approval rating among Americans at about 45 percent. He continues to offer mixed and contradictory statements that are often at odds with top public health officials on his own task force.
Dr. Anthony Fauci, the country's top infectious diseases expert at the National Institute of Health, expressed concern last week over states "leapfrogging" the first round of guidelines to reopen. And White House task force coordinator Dr. Deborah Birx has labeled protesters' decision in several states, including Ohio, to amass in proximity without face masks "devastatingly worrisome."
Despite this, Trump toed the line between protesters and public health concerns during a Fox News town hall Sunday night. He argued it's possible to "satisfy both."
"You see demonstrations all over the country and those are meaningful demonstrations. It's big stuff," the president told the outlet while seated in front of the Lincoln Memorial in Washington, D.C. "But you also have some people that are very scared. Probably everybody's scared when you get right down to it."
Health experts, including Fauci and Birx, have sounded the alarm about a resurgence of COVID-19 in the form of another wave come fall or winter that could be just as deadly. As of Monday, the U.S. death toll was approaching 68,000 people.
A major hindrance in states' ability to know when they can safely reopen has been a lack of testing. Despite claims made by Trump, the U.S. lags in per capita testing compared to other countries, including Italy, Germany, Spain, Russia and Canada. As a solution, Democrats have pushed—unsuccessfully—for the president to use his executive powers to federalize the medical supply chain to produce the test kits domestically and rely less on places like China.
DeWine said they previously lacked tests. But he's satisfied they'll soon be able to conduct about 22,000 tests per day and implement "really aggressive contact tracing" thanks to some 1,800 local health workers they've hired.
Personal protective equipment, however, is another story. DeWine said they continue to lack enough PPE as the "supply chain has been totally disrupted."
"We've got 50 states chasing PPE," DeWine said. "Trying to get stuff out of China is like the wild west. It's crazy."
Even long after the brunt of the virus dissipates, DeWine predicts there will be lasting impacts, such as more work-from-home jobs and an increase in long-distance teaching. He also expects a cultural change is on the horizon.
"I think as long as the virus is around, you're not going to see these big events, at least the same way they have been," DeWine said. "While all the distancing at some point goes away, my guess is that this generation of kids is going to be much more in tune to sanitation and how people deal with infections and viruses. I think you'll have some cultural changes that we really won't appreciate for two or three years."