One Shot and Seven Arrested After Curfew Takes Effect in Ferguson, Missouri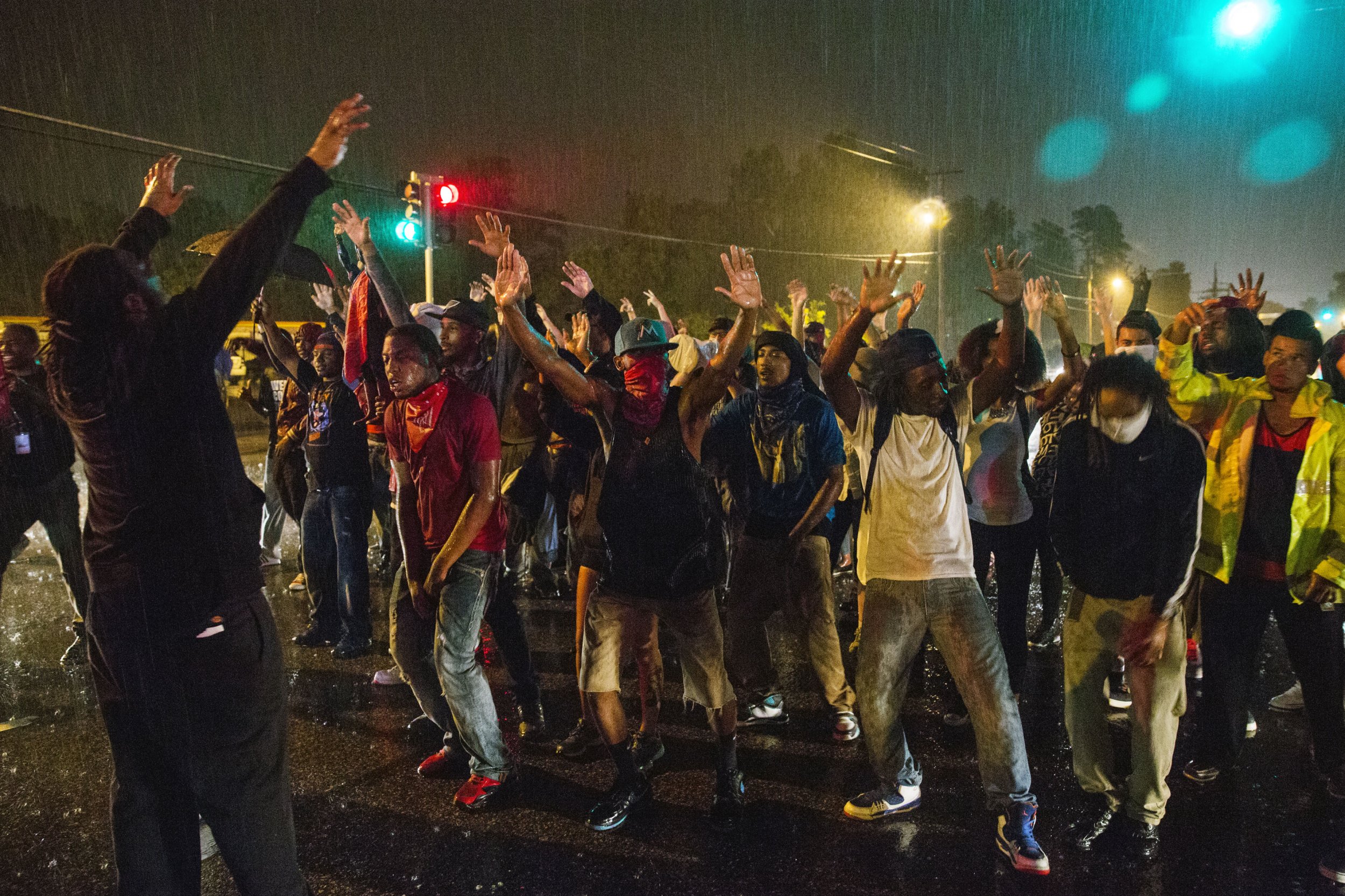 Police and protesters clashed once again on Saturday night in Ferguson, Missouri, after Gov. Jay Nixon declared a state of emergency there following a week of protests surrounding the fatal shooting of unarmed 18-year-old Michael Brown on August 9. Nixon also instituted a curfew from midnight to 5 a.m. on Saturday night. Missouri Highway Patrol spokesman Al Nothum told reporters that the curfew would also be enforced on Sunday night.
In a press briefing on Saturday night, Highway Patrol Captain Ron Johnson, who Nixon appointed to take over security in the town on Thursday, confirmed that seven people were arrested for "failure to disperse" after the curfew took effect, and said a police car had been shot at. Johnson also said police had responded to a shooting near a barbecue restaurant on Florissant Avenue. The victim was transferred to a local hospital, is in critical condition and could die of his wounds. Johnson said that they could not yet identify the victim, but he was not shot by law enforcement and his shooter remains at large. He says the incident was "not in relation to the curfew."
Although there were initially conflicting reports about whether tear gas was used to disperse protesters on Saturday night, Johnson confirmed that several cannisters of smoke and tear gas were used. He said police were trying to give protesters "every opportunity to comply with the curfew."
At a press conference on Saturday afternoon, Johnson assured reporters that police would refrain from using tear gas to enforce the curfew. Johnson's presence in Ferguson has helped diffuse tensions between police and residents after several days of protests ended with the use of armored trucks and tear gas to disperse demonstrators. Throughout Saturday, hundreds of people lined the streets, carrying signs reading "hands up don't shoot" and "black lives matter."
A lawyer for Brown's family told TIME on Saturday that the family had hired forensive pathologist Michael Baden to conduct an independent autopsy of the teenager's body, and the St. Louis County prosecutor said in a radio interview that a grand jury investigation the shooting would begin "within days." The FBI, who are also investigating the incident with 40 agents stationed in the area and are looking for witnesses, handed out cards to residents on Saturday requesting information.
Saturday's curfew was negatively received in Ferguson, where residents felt they were being penalized for tensions exacerbated by an overzealous police force. The head of the New Black Panther Party, Malik Shabazz, addressed both Johnson and Ferguson Mayor James Knowles on Saturday afternoon, and activists are currently petitioning the Obama administration for a "Mike Brown Law" that would require all local, county and state police to wear cameras.
"The people of Ferguson should not have their rights further restricted," Amnesty International Deputy Executive Director Margaret Huang wrote in a statement on Saturday. "It's hard to build trust when the governor won't meet with commnity members and restricts their movements with a curfew."
It remains unclear how long the curfew will be in effect. When asked about the duration of the curfew on CNN's "State of the Union" segment on Sunday, Gov. Nixon said that it would "judged by the community."