Amid Russian-Ukrainian Tensions, Neighbor Finland Reaffirms NATO Stance
Despite rising tensions between Russia and Ukraine over NATO, neighboring Finland will continue not to pursue membership in the organization.
The confirmation came from Finnish Foreign Minister Pekka Haavisto on Friday during a media teleconference. Haavisto also told reporters that although understanding tension between Ukraine and Russia are high, he hopes that Finland does not end up getting caught in the middle.
"Finland does not discuss with NATO joining it, nor does Finland have such a project upcoming," Haavisto said. "Finland's security policy remains unchanged."
The comments came after Haavisto praised U.S. President Joe Biden's support for Ukrainian independence. Biden and Ukrainian President Volodymyr Zelensky held a phone call on January 9 to discuss potential plans if Russia decides to invade Ukraine.
Haavisto said the U.S. response to a potential Russian invasion would be diplomatic rather than militaristic.
"If violence were used in Europe and military efforts were made to change borders or violate the sovereignty of a country," he told reporters on Monday, according to Finnish news outlet Yle, "the first way to influence such actions would be very firm economic sanctions."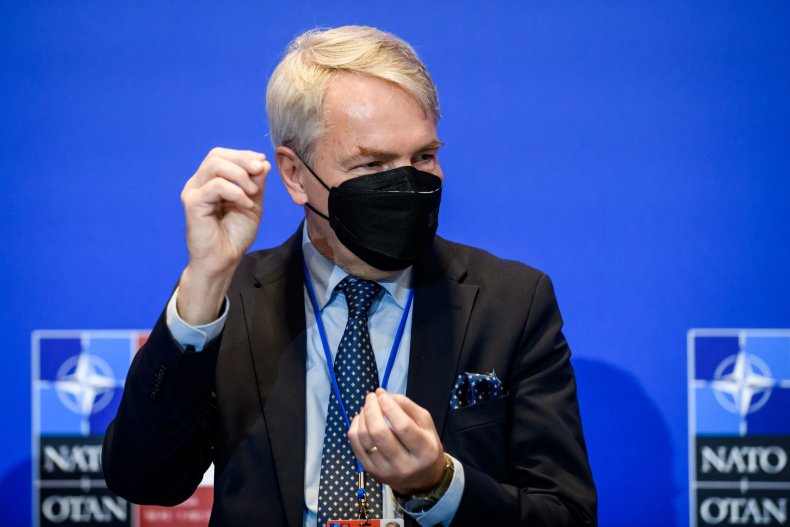 There has been rampant speculation over the potential invasion as Ukraine decided to move forward with its plans to become a member of NATO. Russian President Vladimir Putin has repeatedly denied invasion plans.
In response to unproductive U.S.-Russia talks, Putin recently demanded that NATO halt any new membership enrollments, despite the organization having an "open-door" policy for European countries. According to Yle, NATO Secretary-General Jens Stoltenberg has refused to abide by Putin's demand.
"It has become crystal clear that not a single ally inside the NATO alliance is willing to budge or negotiate anything as it relates to NATO's open-door policy," NATO U.S. Ambassador Julianne Smith said on Tuesday. "I cannot imagine any scenario where that is up for discussion."
Haavisto supported the refusal.
"If such threats are presented that NATO cannot expand, it interferes with the sovereignty of countries for which NATO membership could be an option, such as Finland," he said, according to Yle.
Finland has typically been cooperative with the organization, although membership has long been pushed back against by the country's government. NATO's official website states that the two entities "actively cooperate in peace-support operations, exercise together and exchange analysis and information. An important priority is to ensure interoperable capabilities, maintaining the ability of the Finnish armed forces to work with those of NATO and other partner countries in multinational peace-support operations."