Senate Democrats are forging ahead with judicial nominations while Congress seeks to avoid a government shutdown, highlighting one area where the party can still move President Joe Biden's agenda forward as the focus starts shifting from legislative action to the 2024 presidential race.
Senate Judiciary Chairman Richard Durbin advanced five judicial nominations last week, in the days after congressional lawmakers returned from their August recess and waded immediately into a debate over spending that could lead to a government shutdown at the end of September.
The new slate of judicial nominees joins a list of roughly three dozen that are awaiting a hearing, are pending in committee, or have been approved by the judiciary panel and are now waiting for a final Senate confirmation vote.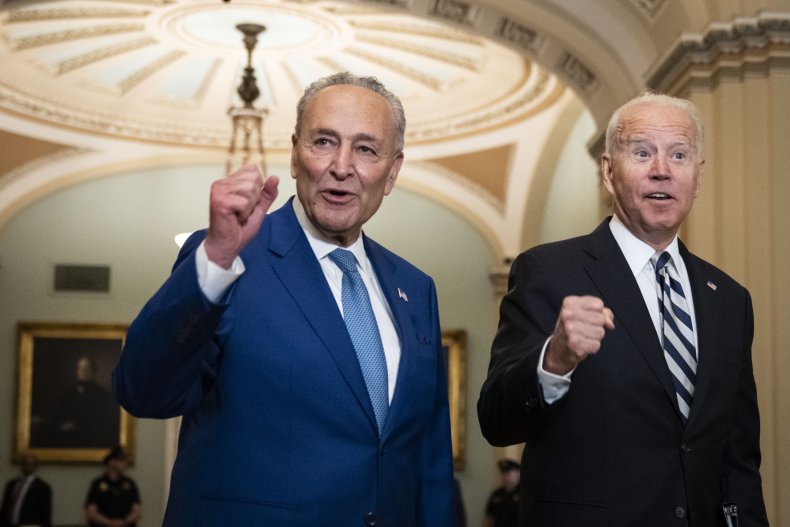 The judges Biden has already appointed "will bring balance to our federal judiciary and help ensure a fair justice system for all Americans for years to come," Durbin told Newsweek in a statement.
"It's my mission to make sure that we keep confirming this caliber of judges at an efficient pace" going forward, Durbin said.
How quickly Senate Democrats can advance Biden's judicial nominees remains to be seen.
The fall calendar for Congress is stuffed with debates over must-pass legislation to keep the government funded, leaving little time for other legislative activity. The debate over a shutdown will no doubt overshadow other issues on Capitol Hill in the next few weeks.
But the current pipeline of judicial nominees includes 17 that are teed up for a final vote in the Senate, where Democrats are in control and can confirm Biden's court picks without Republican support. Another nine judicial nominees are waiting for a vote in the Judiciary Committee, the next-to-last step for final confirmation.
The numbers suggest Biden could significantly add to his impact on the courts this fall if Senate Majority Leader Chuck Schumer can carve out time for the votes while juggling the debate over government spending.
"Judicial nominees are very high on the list" of things Senate Democrats and the White House hope to accomplish, said Jeffrey Peck, a longtime Biden ally. They "will continue to push more and more judicial nominees through the Senate" in coming months, Peck said.
The push is driven in part by recognition that adding Biden appointees to the federal bench could help in potential legal fights in the future over the administration's policies on climate, abortion and other issues.
So far, the Senate has confirmed 140 of Biden's judicial nominees since he took office. The president has prioritized diverse nominees from underrepresented backgrounds, including Supreme Court Justice Ketanji Brown Jackson, the first Black woman appointed to the high court.
Biden is currently trailing former President Donald Trump's pace in appointing judges to the federal bench, though not by a wide margin. At this point in Trump's presidency, the Senate had confirmed 152 of his judicial nominees, a dozen more than Biden.
In comparison, at a similar point in their presidencies, Bill Clinton and George W. Bush had put 165 and 145 judges, respectively, on the federal bench.
Former Presidents Barack Obama, George H. W. Bush and Ronald Reagan appointed 107 or fewer federal judges through mid-September of their third year in office, according to a tracker run by the conservative Heritage Foundation.
"This has been a priority for Biden from the beginning," said Thomas Jipping, a senior legal fellow at Heritage who runs the organization's judicial tracker. Based on Biden's numbers of appointees so far, "he's having a pretty significant impact [on the courts] and will continue to do so into next year."
Whether or not Biden catches up to Trump in the overall number of judicial appointees between now and the end of his first term, it's unlikely he'll match Trump's impact on the Supreme Court.
Trump appointed three justices to the Supreme Court; Biden has only made one appointment to the high court so far. Trump's appointees shifted the Supreme Court's balance of power, giving it a 6-3 conservative majority. Since Trump left office the court has handed conservatives victories on abortion by striking down Roe v. Wade, affirmative action, and other issues.
While Trump has an edge over Biden in Supreme Court picks, Biden can still make an impact in reshaping the judiciary through appointments to appellate and district courts, said Greer Donley, a professor at the University of Pittsburgh School of Law and expert on abortion law.
On legal cases involving abortion, for example, "lower courts could potentially impact access on the margins in a way that could really matter," Donley said.
Others praised Biden's record on judicial appointments but said he has more work to do.
"Advocates are going to continue to push" on the issue, said Rakim Brooks, the president of the progressive groups Alliance for Justice and AFJ Action. As he approaches his fourth year in office, Brooks said, Biden "has to appoint more lower court judges as quickly as he can."