Amid Soaring Cases, North Dakota Ballots Include GOP Candidate Who Died of COVID
The name of a GOP candidate, who was running for a seat in North Dakota's state legislature, will remain on the ballot in the upcoming November 3 election following his death from COVID-19.
David Andahl died on October 5, the Star Tribune reported. He was 55 years old. The "Trump Republican" was a rancher and developer who ran for the state's House of Representatives in the Eighth District. He defeated Representative Jeff Delzer, a committee chairman, in a primary earlier this year.
However, Andahl's name will still be on the ballot in North Dakota, a spokeswoman for the North Dakota Secretary of State's Office revealed.
During his campaign, Andahl gained support from North Dakota Governor Doug Burgum and U.S. Senator Kevin Cramer. The latter endorsed the candidate "because we need more Trump Republicans in the State Legislature."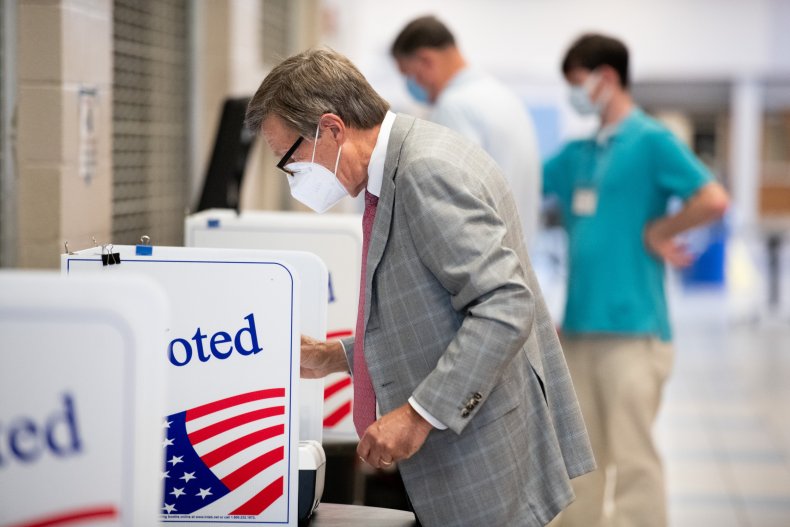 If Andahl posthumously wins the election, the state's Republican Party will be allowed to choose a substitution for his seat.
Andahl's coronavirus case is one of many in North Dakota, which is experiencing a surge in cases. Additionally, the state is on its way to breaking its COVID death record this month.
As of Friday, the state has seen 103 deaths from the virus this month. September's total of coronavirus deaths was 120. North Dakota has seen 404 deaths since the beginning of the pandemic, according to the North Dakota Department of Health.
Beds available in the ICU are also growing slim due to the rise in positive COVID-19 cases. Of the 1,876 staffed beds statewide, only 251 (13 percent) are open for patients.
Director of Bismarck-Burleigh Public Health Renae Moch recently told Newsweek about how hospitals have been strained in recent weeks.
"The larger hospitals are always staffed and meant to be run at a high level of occupancy," Moch said. "That is how they manage efficiency and margins for their facilities, but in my lifetime, North Dakota has not seen anything like this where all hospitals are being impacted at the same time."
Moch added: "This has the potential to lead to the cancelation of elective surgeries to free up hospital beds, which means potential delayed care for patients. At its worst, we could have nursing ratios stretched to where care becomes potentially less safe."
As of this writing, North Dakota has seen 10.4 percent daily positivity, with 716 new positives, the state's health department announced Sunday.