Amid Spills And Ambition For Renewable Energy, California Reconsiders Oil Pipeline
An oil pipeline that was shut down in 2015 after it caused California's biggest oil spill in decades is being considered for replacement as the state's oil industry is under pressure after a recent spill and Gov. Gavin Newsom continues to advocate for progressive environmental policies, according to The Associated Press.
The $300 million proposal from Plains All American Pipeline of Houston is being evaluated, with key economic studies to be released by spring 2022. A different offshore pipeline ruptured in October, spilling over 25,000 gallons of crude oil near Huntington Beach.
The Plains pipeline, which runs 123 miles largely underground along the coastline near Santa Barbara, could represent the dichotomy of California's present energy needs versus the state's desire to continue moving toward renewable energy sources.
The state, which represents the world's fifth-largest economy on its own, currently plans to ban the sale of new gas-powered cars and trucks by 2035, with a projected end to oil production within a decade after that.
The pipeline is facing a class-action federal lawsuit from property owners who say their land would be impacted by the project, which Plains allegedly does not currently have the right to do.
Proponents of the pipeline say the reconstruction of the line would create jobs and rebuilding the pipeline entirely instead of simply repairing the existing line would make the project safer with less risk of future spills.
Before it was shut down, the pipeline transported an average of 1.8 million gallons of crude oil per day from offshore drilling platforms to processing plants on land.
For more reporting from The Associated Press, see below.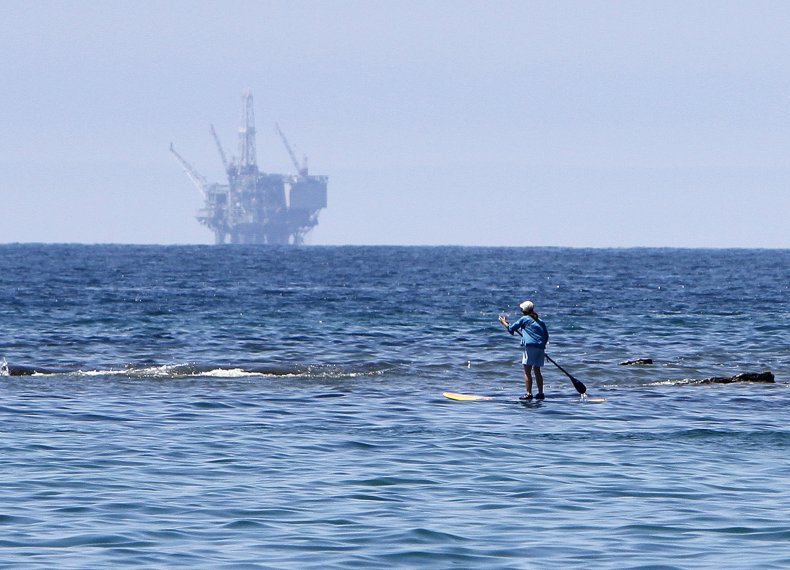 California Democratic U.S. Sen. Alex Padilla opposes the proposal, bluntly warning of future risks.
"We've seen time and time again how damaging offshore oil spills are to our coastal ecosystems as well as to our outdoor recreation and tourism economies," Padilla said in a statement. "We should not risk repeating history by rebuilding or restarting the Plains pipeline."
Plains spokesman Brad Leone said the company safely transported 90 billion gallons (341 billion liters) last year throughout North America. "Plains is committed to designing, constructing and maintaining these lines in a safe, reliable manner," he said.
Lead trial counsel Barry Cappello said the project would rip up vineyards and coastal ranches and "our clients never signed up for that."
Shon Hiatt, an associate professor at the University of Southern California's Marshall School of Business, said the company's motivation to revive the pipeline is obvious.
"They make money on that," Hiatt said. "The price of oil is not going to be going down."
He said the cost of a barrel of oil could top $100 next year. It's about $77 now.
Documents filed by Plains with Santa Barbara County say the replaced pipeline, though smaller than its predecessor, could move up to nearly 1.7 million gallons (6.3 million liters) a day. At current prices, that much oil would be valued at more than $3 million daily, or potentially over $1 billion a year, though pipelines often do not run at full capacity.
California's oil and gas industry directly and indirectly supports over 365,000 jobs and has an annual output of over $150 billion, one study of 2017 data estimated. Nationally, the industry supported nearly 17 million jobs in 2020, according to a report from the Texas Independent Producers and Royalty Owners Association, a trade group. California ranked second in direct industry employment, with about 75,000 jobs, though it was far behind Texas, the nation's leading producer with nearly 350,000 jobs.
Newsom has spoken about the economic challenges of retiring the industry even as he promotes a greener future for the state. His office declined to comment on the Plains project, noting it was under review by government agencies.
Environmentalists have pointed to the risk of spills — as well as earthquake threats — in arguing against a new line.