Clinton, Supporters Find Creative Spending Model Amid Super PAC Madness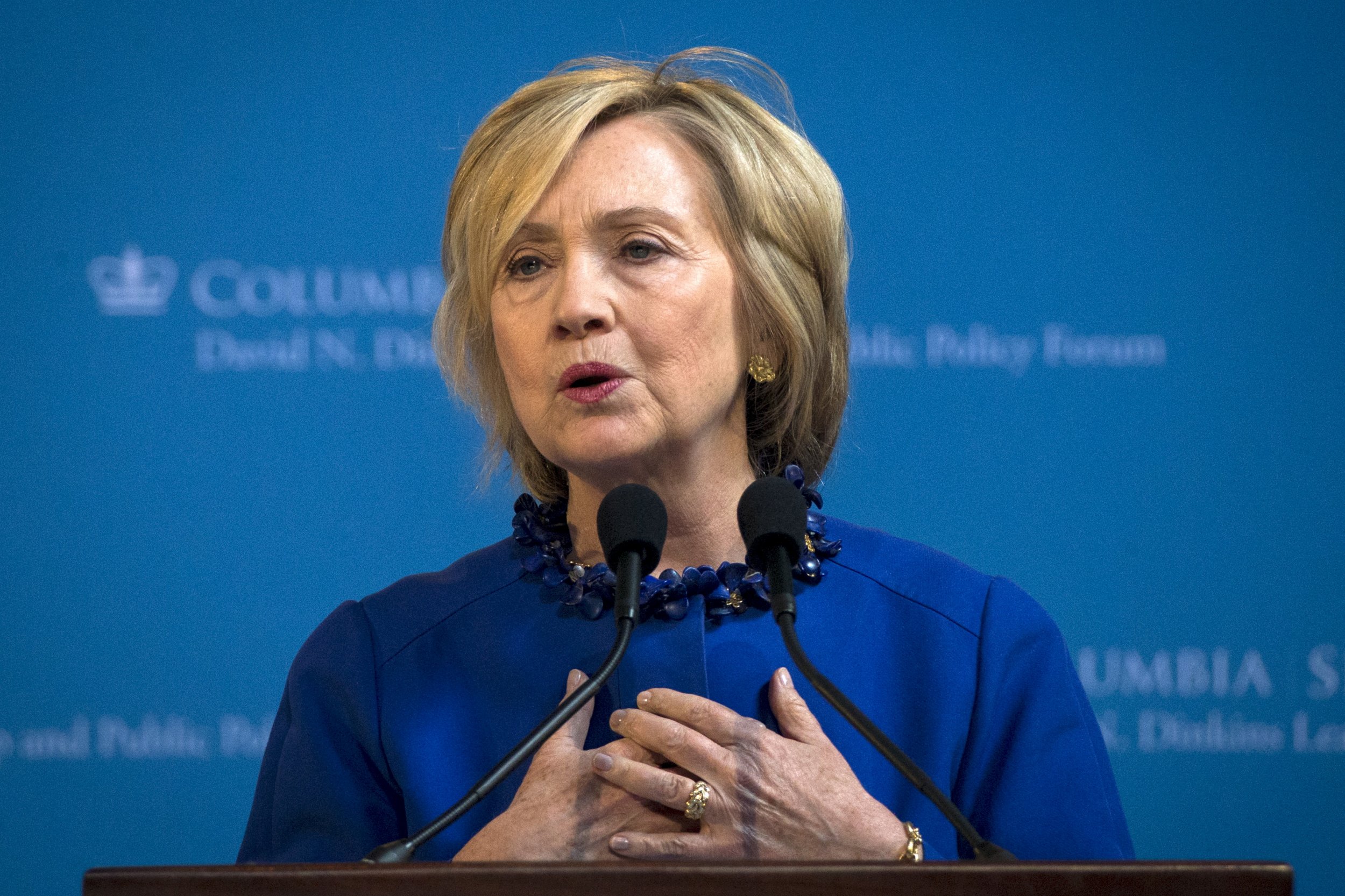 Every election cycle, campaigns stretch the boundaries of political fundraising a little further. In the 2016 race, the campaign finance experiment has centered on Super PACs, a type of fundraising committee that can raise unlimited amounts of money from individuals, corporations and labor unions so long as it doesn't coordinate with a campaign.
Allies of Democrat Hillary Clinton are getting even more creative, with a new breed of Super PAC that hasn't been used much before and that, they say, can work hand-in-glove with a campaign.
The term Super PAC, in fact, is a colloquialism that's been used to refer to "independent expenditure-only committees," as authorized by a 2010 appeals court decision. "Independent expenditure" is the campaign finance term for paid advertising that advocates for the election or defeat of a federal candidate (example: a mailing or television ad that says "vote for Rand Paul because he'll keep us out of war"). But Correct the Record, a pro-Clinton organization that's spinning off from liberal Super PAC American Bridge, doesn't intend to do that type of advertising. And that means it's not the kind of Super PAC we're accustomed to seeing.
Instead of an "independent expenditures-only" committee, Correct the Record plans to register with the Federal Election Commission as a Carey PAC, according to Adrienne Watson, the group's spokeswoman.
The term Carey PAC comes from an obscure FEC rule issued in 2011, in response to a U.S. District Court ruling, Carey v. FEC. As the FEC explained in guidance that October, political advocates are allowed to create "non-contribution accounts," which can raise unlimited funds from individuals, corporations and labor unions as long as they don't contribute to candidates. These accounts can be created "for the purpose of financing independent expenditures, other advertisements that refer to a Federal candidate, and generic voter drives," the FEC said.
Correct the Record plans to develop an online, rapid-response-style website to counter Clinton's detractors, and to coordinate its online activities with the Clinton campaign. It started as a project of American Bridge (founded by Clinton booster David Brock) to respond to the claims made in the book Clinton Cash about the Clinton Foundation's fundraising practices. In theory, having a separate website aimed at opponents and funded by unlimited cash would let the campaign focus its time and money on other campaign operations.
Correct the Record is counting on being able to conduct online activity that's in keeping with the commission taking a pretty hands-off approach to the Internet, having not mentioned websites in its 2011 guidance. It does not consider communicating online on behalf of a campaign to be a contribution "unless the communications are placed for a fee on another person's web site." So if Correct the Record just plans to host messages that it coordinates with the Clinton campaign on its site, and not to pay for online ads elsewhere, it seems legal.
Still, the Carey PAC that Correct the Record is forming lies in a murky area of the law. Major court decisions, like the famed Citizens United case that opened the door to unlimited contributions, focused on paid advertising and other kinds of media, such as an anti-Clinton documentary. The courts didn't address the ability to coordinate rapid response online.
Most of the other 2016 candidates—declared and undeclared—have affiliated Super PACs that are geared toward advertising. Like a Carey PAC, these "independent expenditure-only" Super PACs can:
Raise unlimited amounts of cash from individuals, corporations and labor unions—all things individual candidates or regular PACs (an acronym for political action committee) can't do.
Use that money to pay for advertisements that advocate for the election or defeat of a federal candidate (i.e. "Vote for Rand Paul because he'll keep us from going to war"), known in the campaign finance world as "independent expenditures."
Spend the money on other ads that mention federal candidates or political issues and other types of efforts to get out the vote (phone calls, canvassing, paid mail, etc.).
But they can't:
Donate money directly to federal candidates or parties
Coordinate any of their paid advertising or other paid communication with a federal candidate—something that the pro-Clinton Carey PAC finesses.
Super PACs also have to disclose the identity of their contributors and how much they donated.
The big restriction on Super PACs is the one barring coordination of their advertising with federal candidates, something some of the 2016 campaigns, which have gotten quite cozy with their affiliated Super PACs, will have to be careful of.
Federal candidates can, however, ask their donors to give money to a chosen Super PAC. But those donations face the same restrictions that donations to a regular PAC face—they're capped at $5,000 per person.
That helps explain why so many likely candidates are tiptoeing around whether they're actually going to declare, such as former Florida Governor Jeb Bush, Wisconsin Governor Scott Walker, former Maryland Governor Martin O'Malley, et al. Bush even had a bit of a Freudian slip this past week when he told a crowd in Reno, Nevada, "I'm running for president," before going back and adding, "If I run."
Under the law, if they're considering running they should be forming exploratory committees, which are used to pay for things like trips to Iowa and staffers in New Hampshire. But exploratory committees can only accept donations of up to $2,700 per person, and none from unions or corporations.
Instead, these all-but-certain presidential candidates continue to consider runs while raising unlimited amounts of cash for their Super PACs, something campaign finance reform supporters like lawyer Larry Noble of the Campaign Legal Center charge is illegal, although campaigns say otherwise. But the reformers also acknowledge that proving someone's intent to run could be tricky—not to mention that it would take months if not years for a court or the Federal Election Commission to rule. That hasn't stopped the Campaign Legal Center's Noble from filing FEC complaints against Bush, Walker, O'Malley and former Senator Rick Santorum (R-Pa.).
If there's that much scuffling over the relatively old-fashioned Super PAC, think about what lies ahead. Thanks to Correct the Record, the use of Carey PACs gives candidates and watchdogs a new campaign law to sweat.