Amid Teacher Shortage, Oklahoma Set to Allow State Workers as Substitutes in Classrooms
Oklahoma's state employees will be able to fill in at schools as substitute teachers under a new executive order announced by Governor Kevin Stitt on Tuesday. The program is meant to curtail a statewide teacher shortage and keep children in classrooms by keeping schools open, the governor said during a news conference.
"I've said from the beginning that our students deserve an in-person education and our schools need to stay open," Stitt said. "The state has a responsibility to do what we can to help make that happen, which is why I have signed this executive order to help schools suffering from staffing shortages."
"I appreciate schools and teachers that are doing everything they can to provide in-person learning for their students, as well as the business community for stepping up," he added.
The governor said that state employees have been able to switch roles and take on different responsibilities as necessary throughout the COVID-19 pandemic, and now they're needed in schools.
But Oklahoma state Senator Carri Hicks released a statement on Tuesday calling Stitt's executive order a "short-sighted solution" to the issues schools have weathered throughout the pandemic.
"Without mitigation efforts to protect the health and safety of students, many who are immunocompromised, I fear for the long-term effects of this heavy-handed approach. We do not have an interchangeable workforce," she said.
She added that the program displays "a fundamental misunderstanding of the problem."
"It diminishes teachers' contributions and expertise in the field of education, undermines the safety of our classrooms and ignores the complexity involved in educating a child," Hicks said.
Stitt said that the executive order was being drafted Tuesday, and state employees would be ready to begin the process to help out as soon as Wednesday, KOCO reported. Any state workers who work as substitute teachers would receive their usual paychecks but would report to a school for work rather than their usual job.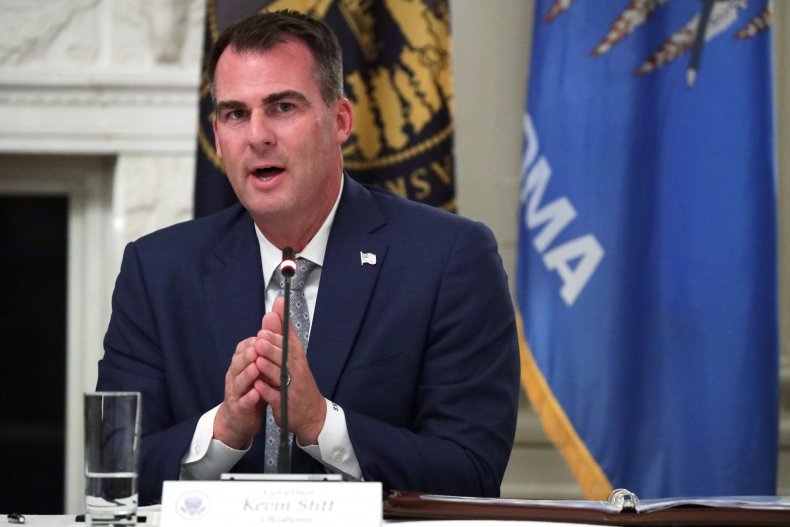 Several districts across the state, including some in the Oklahoma City metro area, have been forced to temporarily close or transition to virtual learning because of staffing shortages, COVID-19 or both, KOCO reported. For many schools that have remained open, substitute teachers have become a valuable commodity.
Dr. Rick Cobb, the superintendent of the Mid-Del School District, said in a letter on Monday that he had asked his central office to help out wherever they could this week, which could include "substitute teaching, serving meals, helping supervise arrival and dismissal or answering phones."
He added that the district always needs more substitute teachers, "never more so than now," and called on parents, retirees and people in the business community to contact the human resources office for more details on becoming a substitute.
Stitt made a similar call to Oklahomans during the press conference on Tuesday.
"I'm encouraging everyone in our different communities around the state to reach out to the local school district and find out what they can do to help them. Maybe that is substituting," he said.
Oklahoma Secretary of Education Ryan Walters said most school districts in the state require substitutes to undergo an onboarding process, and a background check would be conducted for state employees before they could begin, KOCO reported.