Nearly 100,000 customers were still without power Friday morning in Mississippi as a result of winter storms that tore through the southern U.S. this week.
Entergy Corporation, which the Mississippi Emergency Management Agency told Newsweek is one of the state's biggest energy providers, said in a Friday update that the situation was improving as it sliced the number of customers impacted by outages from about 90,000 to 55,000 by 7 a.m. local time.
According to PowerOutage.US, the number of Mississippi power customers affected by the outages was estimated to be 97,377 just before 12 p.m. on Friday. Two states away, Texas was also still struggling with widespread outages midday Friday, with an estimated 185,895 customers impacted.
Though Mississippi had nearly half the number of power outages as Texas on Friday morning, the state has about one-tenth of the Lone Star state's population, with the U.S. Census Bureau estimating Mississippi's population to be just under 3 million as of July 2019. Both states have been impacted by power and water outages as a result of the recent winter storm, which triggered offers of federal assistance from the White House earlier this week.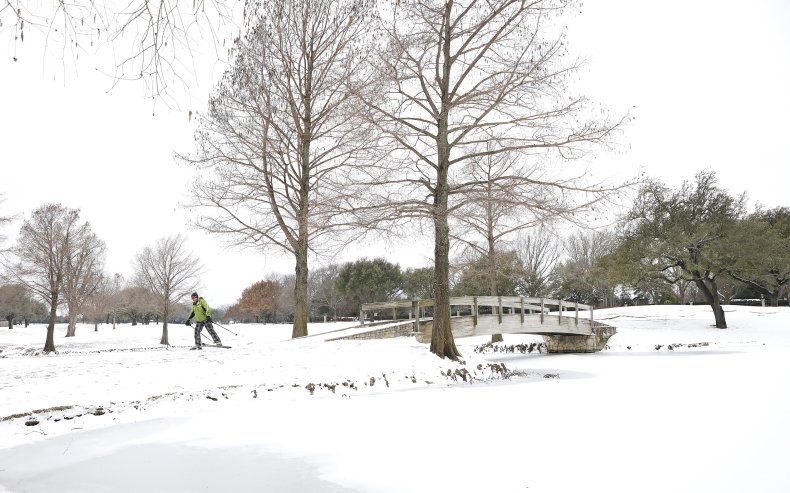 An estimated 13 million Texans were under boil water advisories Thursday evening, and water distribution centers were operating Friday in Jackson, Mississippi, where the city's mayor said most residents were reporting little or no water pressure on Thursday.
Mississippi Governor Tate Reeves said he was among those without water on Thursday. In a Twitter thread that encouraged Mississippians to assist one another and stay safely inside, he also made brief mention of how the weather was impacting him.
"My office building is flooded, while my home is without running water," Reeves wrote. "Look after your loved ones and neighbors—share resources and check in."
Hazardous driving conditions were impacting the speed of Entergy's response, the company said in its Friday morning update. "Restoration work is proceeding as safely as possible, but dangerous driving conditions are slowing travel to damaged areas," the company said. Entergy added that its "methodical and calculated process" also meant it would take time to restore power, with company employees doing so in segments to prevent a potentially damaging surge in the power grid.
It was possible some of the state's power outages would last into next week, an Entergy spokesperson told WLBT-TV.
The National Weather Service projected temperatures would warm in Mississippi over the weekend but issued a hard freeze warning in central Mississippi starting Friday evening and extending into Saturday morning due to expected low overnight temperatures, which the organization said could drop to 17 degrees.
"Hard freeze conditions will result in damage to exposed pipes, and water main breaks are expected," the NWS said in its warning. "Many power outages continue across the area leaving some without means of heating their home and increasing the risk of frozen indoor plumbing as well."