With less than three months until the election and amid a flurry of attacks by the president against voting by mail and the U.S. Postal Service, a progressive activist group is initiating a seven-figure campaign to drive voter participation.
Stand Up America told Newsweek that it will spend $1.5 million through virtual efforts, such as a digital ad campaign and volunteers using remote get-out-the-vote efforts in key battleground states for Democrats. The liberal organization hopes the move will create a surge in absentee ballots and voter participation.
The endeavor comes amid a fierce partisan debate over mail-in voting and the cash-strapped U.S. Postal Service's ability to handle an influx of mail-in ballots during the pandemic. President Donald Trump has repeatedly claimed—falsely—that voting by mail is rampant with fraud and that such a method of casting ballots could lead to a contested election, causing Democrats to accuse him of attempting to undermine and suppress the vote.
"If voting didn't matter, Trump and his allies wouldn't be making it so hard for Americans to cast their ballots," said Stand Up America President Sean Eldridge.
The organization will channel its resources toward voters in more than a half-dozen states that are crucial in Democrats' endeavors to take back the White House and the Senate, including Arizona, Florida, Georgia, Michigan, Montana, North Carolina, Pennsylvania, Texas and Wisconsin. The group will also target key demographics for Democrats, such as voters who are Black, Latinx and young, with the goal of reaching more than 20 million Americans.
Facing scrutiny from the public and lawmakers, U.S. Postmaster General Louis DeJoy announced Tuesday that USPS will suspend controversial operational changes that officials said were to create greater financial stability until after the election. However, critics worried the changes would only further hamper the agency's ability to handle main-in ballots. Democratic attorneys general from 20 states have filed lawsuits against USPS over the planned changes.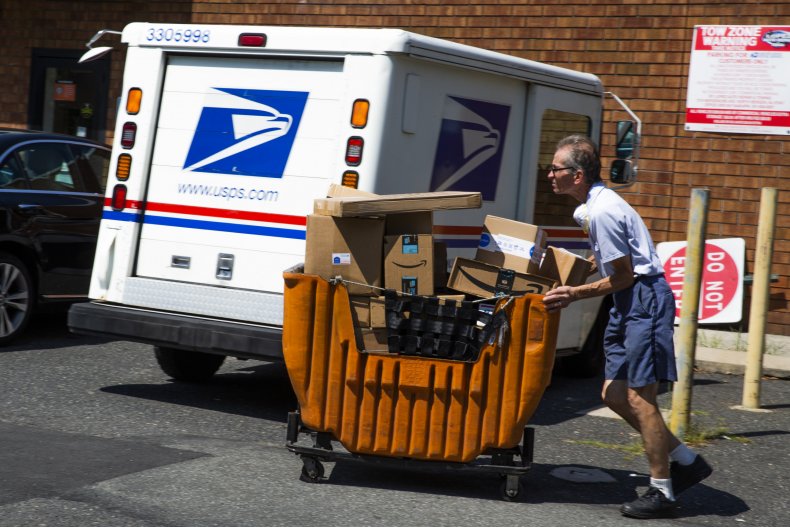 DeJoy, a Trump ally and GOP megadonor, will be grilled by separate congressional panels on Friday and Monday.
Trump has conceded that he's opposed more federal funding for the Postal Service because it would boost mail-in voting. On Tuesday, Trump floated, without evidence, the notion that a large number of mail-in ballots could "end up being a rigged election" and that they may "have to do it again."
Anecdotes of delayed mail have plagued the internet and media landscape in recent weeks. Coupled with Trump's criticism of the USPS, the government agency that is so often overlooked on a day-to-day basis is suddenly receiving national attention. Congressional Democrats have tried, but ultimately failed, to appropriate more federal funding for the struggling service in the face of pushback from Republicans and the president.
Even with Trump's criticism of USPS and voting by mail—a method of voting that he himself, his family members and his administration's officials regularly use—some Republicans on Capitol Hill are advocating for more relief. Under the CARES Act, $10 billion in loans were set aside for USPS.
House Speaker Nancy Pelosi (D-Calif.) is recalling the chamber's members from a lengthy August recess to vote Saturday on a standalone bill that would provide the USPS with $25 billion in relief. Republicans are not expected to support the measure over opposition to the amount. During congressional negotiations over another coronavirus stimulus aid package that have since stalled, Democrats dropped their demand to $10 billion, which Republicans have suggested they could support.
Senate Minority Leader Chuck Schumer charged Trump and DeJoy on Tuesday with trying to "destroy the Post Office" in order to "cast doubt on the elections."
"For all we know, President Trump's worried about losing the election and wants to cast doubt on the election and that it will not have validity," the New York Democrat told reporters on a conference call. "If that happens, it will be one of the saddest days in American history, because when Americans doubt the honesty of their elections—the fairness of their elections—it's the beginning of the end."