Amid U.S.-China Resource Race, ISIS Makes Afghan Mines Hard to Reach for Xi
The fallout from the chaotic U.S. exit from Afghanistan and the return of Taliban rule has dealt yet another blow to President Joe Biden's administration, this time in the form of increased Chinese investment in the neighboring Islamic Emirate, a country rich in highly sought-after natural resources.
But as Beijing and Washington intensify their competition in the market of lucrative and often rare elements, a growing campaign by the Islamic State militant group (ISIS) to target Chinese interests in Afghanistan may prove a spoiler for Beijing's interests in Afghanistan's mineral wealth, a treasure trove potentially worth trillions.
"The U.S. withdrawal from Afghanistan provided China a huge strategic space and golden opportunity to enhance its economic ambitions," Shanthie Mariet D'Souza, founder and president of independent research forum Mantraya, told Newsweek. "In addition to oil and mineral reserves, critical resources have attracted Chinese to the country."
"However, at the same time, China appears to have weighed in a little too heavily the Taliban's ability to control the entire country and subjugate all forms of opposition," said D'Souza, who has worked in both government and non-government sectors in Afghanistan. "It courted the Taliban much before the August 2021 capture of power and didn't seem to have considered the potential disruptions, which groups like the ISIS-K could bring in."
ISIS, which refers to Afghanistan as part of its "Khorasan Province," leading its branch to be commonly referred to as ISIS-K or ISKP, has ramped up anti-China messaging in its official media outlets in recent months. The militants have specifically amplified allegations that Beijing is conducting mass atrocities against the majority-Muslim Uyghur ethnic group in China's northwest province of Xinjiang.
While much of the messaging related to China has targeted the Taliban for its growing relationship with Beijing, videos and media have increasingly focused on the People's Republic itself. Much of this media has been credited to the ISIS-affiliated Al-Azaim Institute, which regularly publishes stylized clips and publications, including the "Voice of Khurasan" magazine.
Some of the material was lifted directly from other sources, such as investigations conducted by Western media and human rights organizations, many of which also regularly condemn ISIS. Such content included a word-for-word reprint in a recent issue of "Voice of Khurasan" magazine of a March 2020 explainer of the allegations China faced over its treatment of Uyghurs originally featured on the website Coda Story.
Another lengthy "Voice of Khurasan" article published in recent weeks borrowed tweets and statements including those of former U.S. Secretary of State Mike Pompeo, under whose direction the U.S. first designated China's treatment of its Uyghur community a "genocide," but otherwise appeared to be an original publication.
The piece called directly for the mobilization of Uyghurs, calling on them to wage holy war across "East Turkestan," the name used by separatists to refer to Xinjiang, and to reject the "impure" goal of establishing an independent democratic republic in favor of an Islamist entity pledging allegiance to ISIS.
"Join hands with the Mujahideen of the Caliphate so that Allah, the Exalted, will soon establish a strong fighting front in the region of East Turkestan," the article read.
And it culminated in a warning to China "to stop the genocide of Muslims." If Beijing failed to heed these words, the article threatened such actions of "istishhaad" and "inghimaas"—terms referring to brazen suicide attacks that have become the cornerstone of ISIS' intercontinental insurgency—to a degree "that will be beyond your ability to control."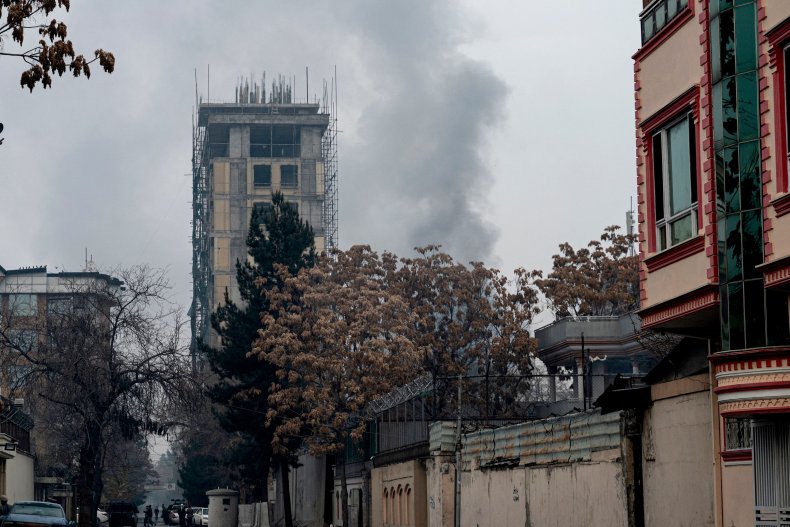 ISIS-K has demonstrated its ability to carry out such threats, most notably in December, when the group claimed responsibility for a deadly attack on a hotel in Kabul. It said two soldiers of the self-styled "caliphate" targeted "diplomats and businessmen from Communist China."
The threat remains, according to a report published earlier this month by the United Nations Security Council, which stated that, in addition to the hotel attack, ISIS has "threatened to launch terrorist attacks against the Embassies of China, India and the Islamic Republic of Iran in Afghanistan."
The report also noted another troubling trend for China, "cooperation" between ISIS and the Turkestan Islamic Party, also known the East Turkistan Islamic Movement (ETIM).
This allegation, noted by an unnamed member state, "included jointly published Uighur-language propaganda posters, the exchange of personnel, military advice and planned joint operations, such as the Eastern Turkistan Islamic Movement sending members to join the operational unit of Islamic State in Iraq and the Levant-Khorasan responsible for tracking and carrying out attacks against Chinese nationals."
D'Souza pointed out that "Uyghurs constitute an attractive constituency for the ISIS-K." She said that this, paired with the fact that "the Taliban's proximity with China make the latter a natural adversary of the ISIS-K," has made China an increasingly important target.
"China has figured prominently in the group's propaganda literature as an imperial power which is out to exploit the country, also in its choice of targets," D'Souza said. "It may not be the only target for the ISIS-K, but would certainly be a prominent target in the short to medium term. Hence, Chinese citizens and projects can be expected to be repeatedly targeted by the group."
The Taliban has downplayed the presence of ETIM in the country, though it has vowed to take on ISIS-K and any other group threatening to use Afghan soil to conduct attacks on other nations. The U.S. has repeatedly waged war on ISIS, with State Department spokesperson Ned Price referring to ISIS-K as "an especially dangerous affiliate" on Monday, but has not viewed ETIM or the Turkestan Islamic Party as a priority.
As tensions between China and the U.S. continued to deteriorate under President Donald Trump's administration, the State Department removed ETIM from its Terrorist Exclusion List in November 2020, citing a lack of activity.
Newsweek has reached out to the Islamic Emirate of Afghanistan Foreign Affairs Ministry and the U.S. State Department for comment.
Beijing, for its part, has called for greater action in cracking down on ETIM, as well as on ISIS-K and other militant groups operating in Afghanistan.
"At present, international terrorism continues to pose a serious threat to people's security and social stability of all countries," Liu Pengyu, spokesperson for the Chinese Embassy in Washington, D.C., told Newsweek. "Terrorism is the common enemy of all mankind, and combating terrorism is the common responsibility of the international community."
"China firmly opposes all forms of terrorism and firmly supports the governments and people of Afghanistan and other countries in their fight against extremist terrorist forces," Liu said. "China will continue to maintain close communication and coordination with all parties on combating terrorism and jointly safeguard world peace and tranquility."
China has accused ETIM of waging a violent insurgency that rocked Xinjiang from the 1990s through the early 2010s. China's crackdown severely restricted the group's operations, however, leading some fighters to flee to Afghanistan and Syria, believed to still be the core of the current Uyghur militant presence operating under the banner of groups such as the Turkestan Islamic Party.
ISIS-K has long succeeded in recruiting from the ranks of other groups, including the Afghan Taliban, officially referred to as the Islamic Emirate of Afghanistan, as well as the Pakistani Taliban, formally known as Tehrik-i-Taliban Pakistan (TTP). In addition to the rise in Pashto and Persian-language publications, ISIS' investment in Uyghur-language media has signaled an interest in tapping into this disaffected community. The group has also made direct appeals to ETIM fighters in recent messaging.
ISIS-K fighters bearing the names of "al-Uyghuri," "al-Balochi" and "al-Khorasani" were credited in a series of attacks in Afghanistan in the months following the Taliban takeover, suggesting a pointed connection to the Uyghur community, to the historic ethnic region of Balochistan, where separatist movements also exist in Afghanistan, Iran and Pakistan, as well as to the Khorasan region from which ISIS-K's name is derived.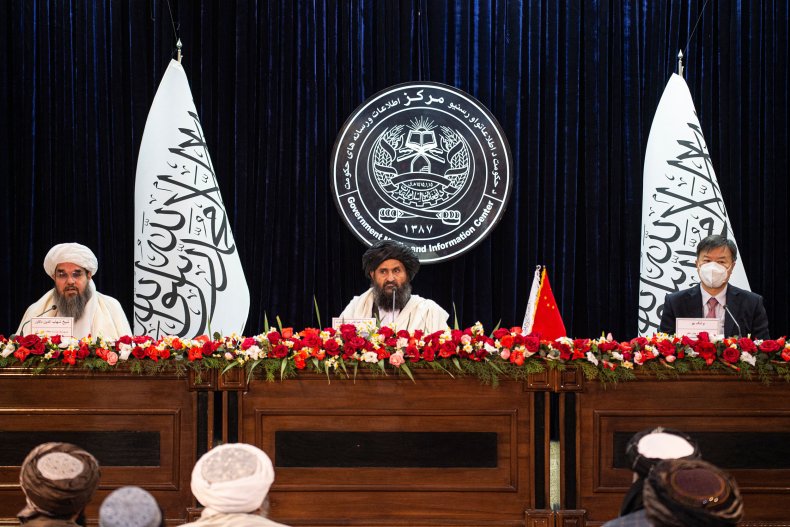 Haiyun Ma, an associate professor at the Frostburg State University Department of History, outlined a fourfold threat from ISIS-K and other militant groups to China rooted in both practical and ideological motivations, including those related to the situation in Xinjiang.
"First, the nature of the threat posed by ISKP and other militant groups (in which a Turkic/Uyghur element or cause is obvious) to China and Chinese projects in Afghanistan is revenge for China's domestic policies in Xinjiang," Ma told Newsweek.
"Second, given the fact that China is the only neighboring superpower, to attack Chinese interests in or nearby Afghanistan is possible and plausible for the militant groups to build fame and influence among Jihadists," Ma said. "Third, unlike the U.S., China's physical presence in Afghanistan and the lack of remote-counter terrorism capacity (in contrast to the U.S.) make it relatively easy to target Chinese interests. Fourth, China's obvious non-Muslim presence (it's hard for China's Muslims to go to Afghanistan for trade or business) can justify the ISKP's attack on kafirs."
"Kafir" or "infidel" is one of several terms ISIS uses to refers to what it sees as opponents of its infamously hardcore brand of Sunni Islam. The Taliban, which has received international criticism for application of conservative Sharia law and its opposition to women's education, has largely shirked such religiously motivated targeting of foes in official statements, especially since coming to power, thus allowing it to do business with nations like of China, which has a policy of state atheism.
And while the ideological differences between Beijing and Kabul are myriad, Chinese and Taliban authorities have begun to explore new opportunities, especially in the mining sector. Already a member of Chinese President Xi Jinping's Belt and Road Initiative, a global network of infrastructure and trade projects, the interim Islamic Emirate-ruled government has embraced the economic potential of the People's Republic next door.
"To understand the Chinese investments on the ground in Afghanistan, one has to look at China first," Ma said. "Its economic gravity has been in the East coasts, not northwest frontier regions. The so-called Belt and Road Initiative in this sense is more like transit tool for both China's frontier regions and neighboring Afghanistan."
"The state company is not simply based on and driven by profit. It's politics first," he added. "That means state companies will only function when the state sees there is a need."
While, "regarding rich Afghan mines," Ma said that "China, of course needs them," as it sought to shore up resource-related deals with other countries as well, he also argued that "the ground realities in both China and Afghanistan make substantial investments and developments unrealistic, unnecessary, and unsafe," even as Beijing's demand for natural resources grows.
As such, he asserted that the prospects of significant development in other countries, such as nearby Turkmenistan, which has avoided the security issues faced by its neighbors, appeared more likely.
The full scope of Afghanistan's mineral wealth remains officially unknown. Among those who have set out to research these largely unexplored reserves is Scott L. Montgomery, a geoscientist who instructed a task force class that produced a 2015 report on the viability of Afghanistan utilizing its natural resources for economic prosperity.
Montgomery, a lecturer at the University of Washington's Jackson School of International Studies, said the "best evidence" of Afghanistan's mineral reserves come from studies conducted more than half a century ago by Soviet geoscientists in the 1960s and 1970s. The Soviet Union would later stage a full-scale military intervention, seeking to defend a communist ally in control of the country and, at the same time, raising speculation as to whether the campaign was motivated by resources in the first place.
The decade-long conflict saw Soviet troops struggle to battle an insurgency led by the mujahideen, who received support primarily from the U.S. and Pakistan, with tacit backing from China itself, resulting in the Afghan government's collapse and the rise of competing factions ultimately overshadowed by the Taliban. The first installment of the Islamic Emirate in 1996 would rule for just five years before being ousted by a U.S.-led incursion conducted shortly after the 9/11 attacks conducted by Al-Qaeda, the group's then-ally.
During its own two-decade stay in Afghanistan, however, the U.S. would also express interest in the country's potential mineral wealth, identifying 24 "areas of interest" for prospective mining. In 2010, the U.S. Geological Survey established an estimate of nearly $1 trillion worth of untapped resources, a figure later inflated by the U.S.-backed government in Kabul to some $3 trillion.
But Montgomery says there is far more to the story.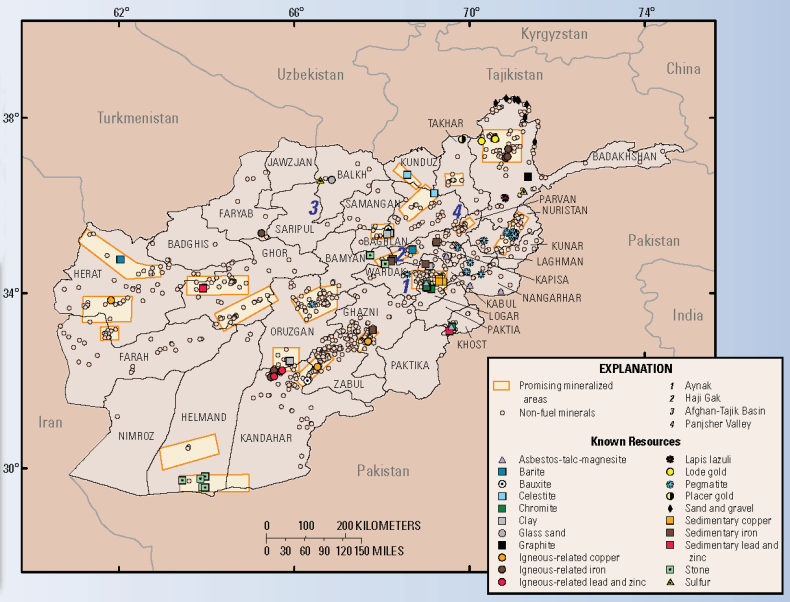 "This was all done with the aim of improving and stabilizing the Afghan economy and thereby aiding modernization of the country," Montgomery told Newsweek. "Problems set in, however, due to the political ambitions. Except for the iron ore (Haji Gak deposit) and copper (Aynak deposit), nearly all the areas of interest lack roads, water, and electricity."
"Because of the ultimate goal, such facts were often left unmentioned by promoters and Afghanistan's 'enormous mineral wealth' took the headlines," he added. "When someone with relevant training takes the time to go through all of the reports (as I have), it becomes clear that there are significant hurdles to modern mining operations in most cases."
Deposits of lithium, for example, a mineral whose importance in the production of technology such as electric vehicle batteries has made it a source of competition for the U.S. and China, among other nations, "are in rugged, mountainous terrain" located at altitudes between 6,600 to 13,200 feet in northeast Nuristan Province, Montgomery said. Other precious yet elusive metals also enrich these veins, including tantalum, niobium and beryllium, which Montgomery describes as "quite rare."
Deposits of other rare elements exist in southern Helmand Province, including valuable lanthanum, praseodymium, and neodymium, the latter two of which Montgomery said "make exceptional magnets used in motors for hybrid and electric cars." Unfortunately, "the abundance of these elements is quite small," and the "dominance of cerium in these deposits renders them less valuable," he explained.
But extraction costs hindering profitability are not the only obstacle Montgomery sees in China's designs for mineral exploration in Afghanistan.
"Chinese companies are also sensitive to security issues; they have shown this in a number of areas of Africa and in Pakistan," Montgomery said. "Every terrorist attack by ISIS or another group against the Taliban, even if unsuccessful in killing people, will register significantly in a Chinese company's headquarters and in Beijing."
"If the Taliban cannot guarantee security, there will be a problem," he added. "The problem may either be reluctance of the company to sign a deal, or to try and set contract conditions more strongly in its favor."