Amid World Cup, Iranian Women Demand End to Ban From Stadiums
A group of well-known Iranian women, including famous writers, artists, and human rights lawyers, have written an open letter to the International Football Association (FIFA), asking it to demand Iran to lift its ban on women attending sports stadiums.
On Wednesday, Iranian women were permitted to go to a football stadium to watch their country's team face Spain in the World Cup for the first time since the Islamic Revolution took place in 1979. Activists say that this concession was won due to the hard work of women activists in the country.
But the overall ban against women attending events in sports stadiums is still in place in Iran, and the women who signed the open letter published Friday say it's up to FIFA to pressure Tehran. After all, the association's statutes prohibit discrimination of any kind, the women say.
"You have the World Cup happening right now, and it's the first time in almost four decades that women were allowed to attend and watch the World Cup alongside men. But it's important to know that this ban still stands. It's the only country in the world that has this ban," Nina Ansary, an Iranian-American historian and author, told Newsweek. "All we're asking as activists for FIFA to stand on its own principles."
The letter, published by the Center for Human Rights in Iran, calls on FIFA to demand that Iran end its ban on women in stadiums or be thrown out of the association and barred from participating in the World Cup.
"The overwhelming majority of women in Iran oppose the discriminatory stadium ban in their country. Not only does the ban violate the football federation's statutes, but FIFA also has a moral obligation to stand with these women and demand equality," Nazanin Boniadi, a British-Iranian actress known for her role on the show Homeland, told Newsweek. "I'm honored to join 17 distinguished women in the Iranian diaspora to stand in solidarity with the women of our homeland."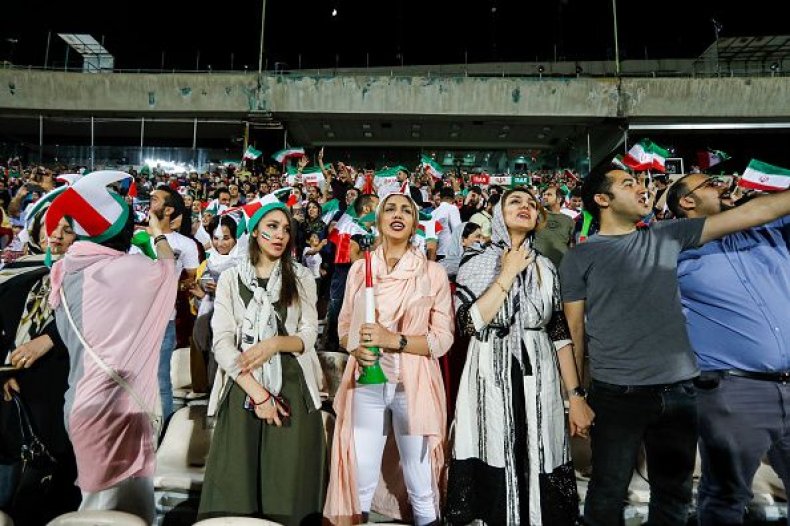 Iranian authorities claim that sports stadiums are unsuitable for women because fans swear and get rowdy. But many women argue that they should be allowed in all of the same public spaces as men. In April, a group of women succeeded in sneaking into a stadium to watch a game wearing fake beards and wigs to disguise themselves as men.
Protests have been taking place more frequently across Iran in recent months, and the women say now is a good time to pressure the regime to loosen its restrictions.
Iran's rival Saudi Arabia began allowing women to attend sporting events in stadiums for the first time in January.