Study Finds Body Cameras Decrease Police's Use of Force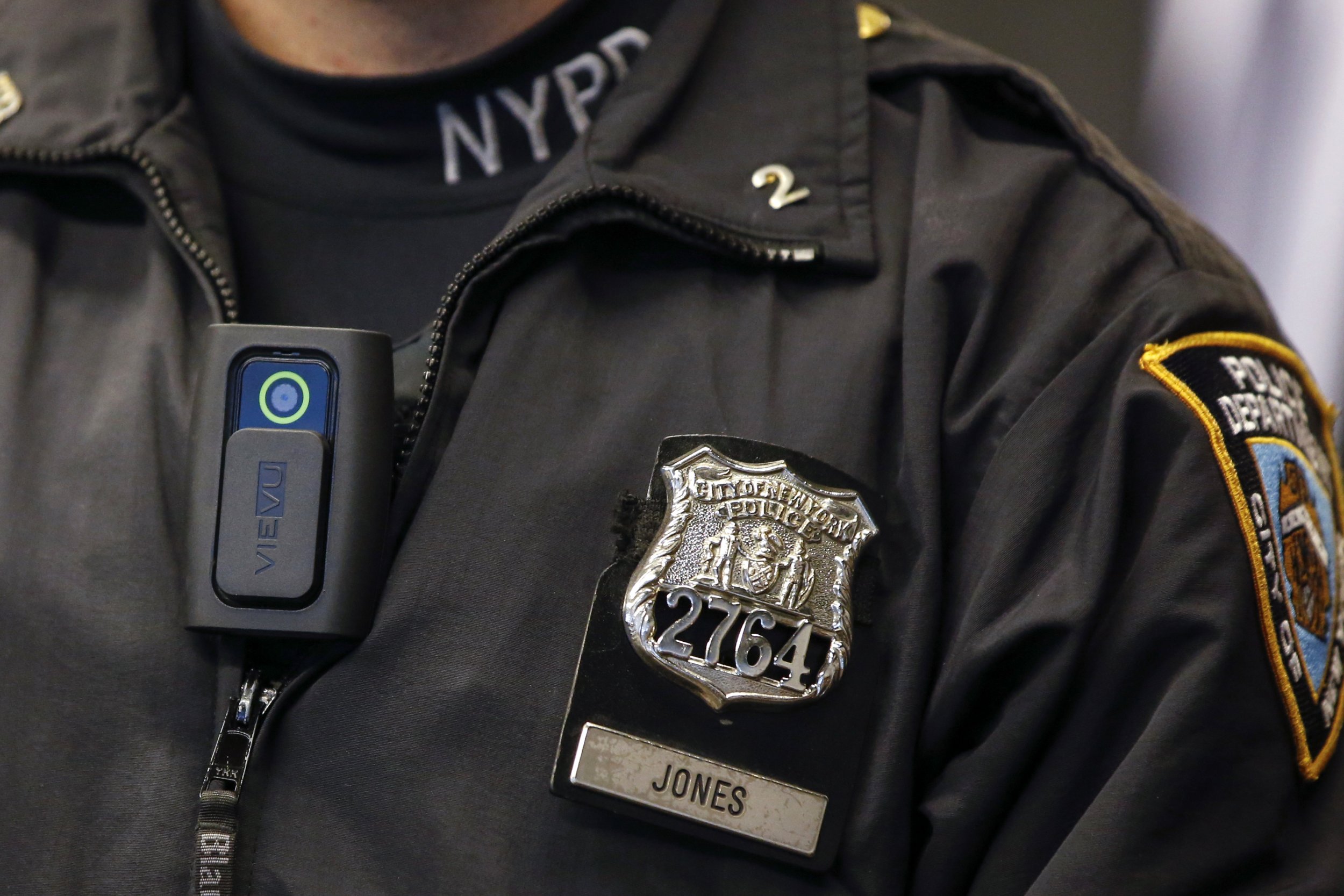 2014 saw intense protests against excessive police force and heightened tensions between police and communities across the United States, and debate raged over how the use of police force can be managed while still allowing officers to do their jobs.
Some see body-worn cameras as a solution, allowing interactions to be filmed and later be available for review if unfair treatment or use of force is alleged. But the use of this technology raises a host of questions, including the impact on privacy rights and police-community relations.
One study set out to explore the impact of body worn cameras, and its initial findings were that they do, in fact, decrease police use of force.
The Journal of Quantitative Criminology recently published the study, which detailed the first controlled and much-discussed experiment to ask whether body-worn cameras could reduce the prevalence of police use-of-force or the number of complaints filed against police.
Conducted by the University of Cambridge's Institute of Criminology, the study, based on a 12-month trial in Rialto, California, found that body-worn cameras reduced the use of force by roughly 50 percent, says Dr. Barak Ariel, the lead author. Complaints against police also fell 90 percent during the study period compared with the previous year.
"This is a promising tool for police officers, which is likely to be a game changer not only for the professionalization of policing, but in terms of police-public relations," says Ariel, an assistant professor at the Institute of Criminology at Hebrew University in Jerusalem and a lecturer in Experimental Criminology at the University of Cambridge in England.
The use of force by police officers has come under intense scrutiny this year. The police shooting of unarmed black teenager Michael Brown in Ferguson, Mo. and the death of Eric Garner following a police chokehold in Staten Island over the summer sparked protests and unrest in communities across the country. These were compounded when a grand jury in each case declined to indict the officers involved. In Garner's case, the decision came despite the fact that a bystander had captured the incident on a cell phone video camera.
On November 22, a police officer shot 12-year-old Tamir Rice in Cleveland, Ohio, after mistaking the pellet gun he was holding for a real one. Attorney General Eric Holder announced earlier this month that a U.S. Department of Justice investigation that began in March 2013 had found the Cleveland Police Department systematically uses excessive force against civilians.
"The use-of-force by police, particularly if excessive, has a lasting effect on public perceptions of police and police community relations," the researchers write, and "can potentially tarnish their relationship with the community."
In response to the outcry following these incidences, President Obama in December proposed an investment of $263 million into community policing that would include more training, and resources—with $75 million of the total funds allocated for body-worn cameras.
The 12-month experiment by Institute of Criminology researchers began in February of 2012 in Rialto, California, where the police department has a jurisdiction of 28.5 square miles and serves roughly 100,000 people. Nearly 1,000 police shifts over the course of a year were assigned randomly as either "treatment" shifts—during which officers were instructed to wear HD cameras and to state at the start of each interaction with the public that it would be filmed—or "control" shifts, during which the officers did not carry or wear the cameras.
The cameras, light enough at 108 grams to be worn on a shirt pocket, were water resistant, captured color video from the officer's point of view, and had batteries that could last at least 12 hours. After the data was uploaded into a computerized system, the researchers would determine whether or not each shift contained use-of-force. They did not evaluate the degree of force used.
The researchers found that it was roughly twice as likely for force to be used in the control condition, without cameras, as in the treatment condition, with cameras, and determined that the effect was statistically significant. They hypothesize, based on previous theoretical research, that the change comes at least in part from the awareness of being filmed.
"With institutionalized body-worn-camera use, an officer is obliged to issue a warning from the start that an encounter is being filmed, impacting the psyche of all involved by conveying a straightforward, pragmatic message: we are all being watched, videotaped and expected to follow the rules," says Ariel.
"Police subcultures of illegitimate force responses are likely to be affected by the cameras, because misconduct cannot go undetected — an external set of behavioural norms is being applied and enforced through the cameras," he says. "Police-public encounters become more transparent and the curtain of silence that protects misconduct can more easily be unveiled, which makes misconduct less likely."
The study was not able to address certain questions. For example, the researchers could not determine whether the cameras influenced the behavior of the police officers, the members of the public they were interacting with, or both. It was clear, however, that there was an overall reduction in use of force.
They also posited that the effect of using the cameras could have spilled over into the control shifts, making the exact size of the effect difficult to ascertain: "It seems that people learn, by their exposure to observation, of what normative or appropriate reactions are, even when they are not under surveillance anymore."
The researchers warn that body-worn cameras could also have negative effects. If the practice were to become widespread, they write, it would increase the amount of surveillance and tracking, potentially infringing on the privacy of individuals and present a challenge for police departments trying to store and manage the huge amount of data that would result.
In addition, if video footage of such encounters became the norm, it could impact decisions to prosecute in cases where footage is not available or have other implications on criminal proceedings.
The Justice Department in October published its own findings on body-worn camera programs. Their concerns also included privacy rights, changing perceptions between police and the community and expectations over how information from the video recordings should be shared, Ronald Davis, director of the Justice Department's Community Oriented Policing Services office said.
But the report ultimately found that the "perceived benefits that body-worn cameras offer—capturing a video recording of critical incidents and encounters with the public, strengthening police accountability, and providing a valuable new type of evidence—largely outweigh the potential drawbacks."
The Institute of Criminology researchers also believe the benefits of body-worn cameras outweigh the costs, though Ariel says further research and additional trials need to be performed. The Miami Beach Police Department, Ventura Police Department and Denver Police have embarked on their own studies, says Ariel. Phoenix Police Department has also conducted a body camera test, and New York Mayor Bill de Blasio announced earlier this month that the police department would accelerate the process of equipping officers with cameras.
Charles Katz, a criminologist at Arizona State University who has conducted research with the Phoenix Police Department, is not convinced body cameras are a panacea for the problems plaguing police-public relations.
"Some people are thinking this is literally a magic bullet and it's going to solve all our communities' problems," he says. "It's not going to address the fundamental, underlying problems within a community that take time to address."
Ariel and his colleagues are replicating their own study in several locations to "reduce the chance that the Rialto finding was the statistical equivalent of 'luck,'" says Ariel, who expects to present these findings at the 8th International Conference on Evidence-Based Policing at Cambridge University in July.
As for Garner's case, "an in-your-face-video footage by the responding officers could have painted a different picture than the one captured by an amateur recording of the event," says Ariel. "Police weren't aware of the camera and didn't have to tell the suspect that he, and therefore they, were being filmed," he says, and so it did not have had the same kind of "deterrent message."