Amish Man Went to Neighbor's House Looking for Ride but Took Car When He Noticed Keys in Ignition—Then Crashed It
Followers of Jacob Byler's faith tend to shun the trappings of technology and their usual mode of transport is a horse-drawn buggy.
But the 21-year-old Amish man wanted to travel a bit faster when he turned up at his neighbor's house to ask for a ride into town, Pennlive reported.
Spotting that the keys had been left in the vehicle, he decided to take matters into his own hands.
He started the ignition and took the dark gray Nissan Rogue on an eventful drive, first losing control of the car and hitting an embankment near a police officer's house.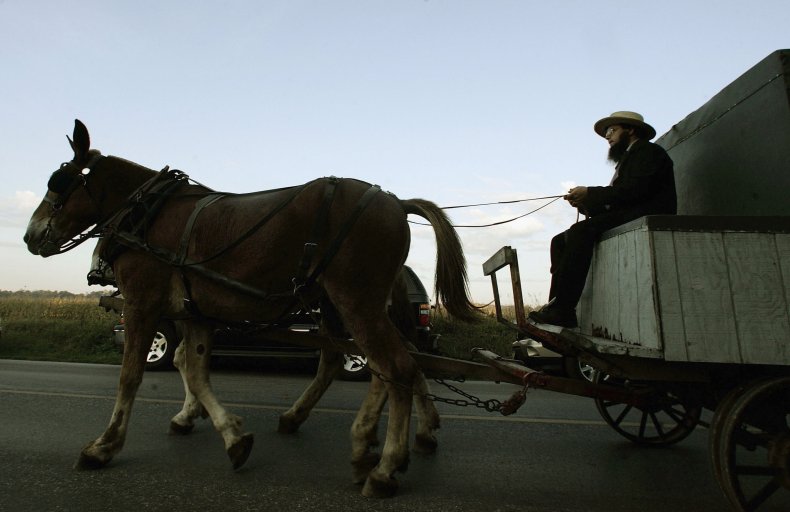 Undeterred, he carried on driving, stopping at a gas station to fill it up and then continuing on to a bar.
Officers on patrol suspected something was up when they saw the vehicle in the car park with scratches and dents, a dislodged hood and airbags deployed.
It prompted the officers to enter the bar to investigate further. The bartender told them that an Amish man there may have been the driver.
According to the police complaint, Byler admitted to the officers "he couldn't lie and that he took the car." He was then read his Miranda rights, Explore Clarion reported.
The Amish do not tend to drive and have issues with ownership of vehicles, which they consider threatening to the community because they can take members of faith far from home. However, Amish do accept rides, and often hire non-Amish to drive them places, according to AmishAmerica.com.
Byler was arraigned on charges of theft by unlawful taking, receiving stolen property, and unauthorized use of a motor vehicle and is free on $40,000.00 unsecured bail.
In a tragic case earlier this month, three children died in southern Michigan when the Amish-horse drawn carriage they were riding in was hit by a driver believed to be drunk.
Lillian Graber, 6, and her brothers, Moses, 4, and Jacob, 2, were killed in the crash that also seriously injured the mother, the Associated Press reported.
The driver 21-year-old Tyler Frye, has been charged with drunken driving causing death and serious injury.
Last June, Clarissa Smith, 83, rear-ended an Amish buggy only months after she was involved in a fatal collision with another member of the conservative religious sect.
Smith, 83, told ABC News she had trouble seeing the horse and buggy when she ran into it in Licking, Missouri. No one was injured.