Amish Teens Embracing TikTok, Finding Fame on the Social Media App
A 14-year-old girl from Pennsylvania is finding fame on TikTok, the social media app where users record short videos, often set to music. A teenage girl finding some level of fame on the viral app isn't necessarily surprising in-and-of-itself, but it gets more interesting when you consider that young girl is Amish, a religious community who famously forbid all forms of modern technology.
Rebecca Fisher from Lancaster, Pennsylvania, has become arguably the most famous Amish user on the platform. Using the handle @AmishBek, she's raked in over one million views on TikTok and has more than 12 thousand followers.
Her videos went viral from the very first one she uploaded, which showed Fisher explaining to viewers how to properly pronounce "Lancaster" (LANG-kiss-ter not Lang-KAS-ter).
"I wasn't going to post anything [on TikTok], but then I saw [Pennsylvania] was trending," Fisher told Pennsylvania's LNP/LancasterOnline.
But Fisher isn't the only Amish TikTok user. Videos have surfaced on TikTok and Twitter of Amish users doing everything from riding a horse and buggy to Lil Nas X's "Old Town Road," building to the song "Barbie Girl" and some who just answer questions about Amish life.
So how can these users even create these videos if the Amish shun technology? Turns out it's not that simple.
Some users are on their "Rumspringa," a right of passage for Amish youth. In their later teen years, Amish youth are allowed to leave their isolated Amish community (if they wish) and experiment with the modern world. After their "Rumspringa" is complete, the youth then decide whether or not they wish to be baptized fully into the isolated religious community.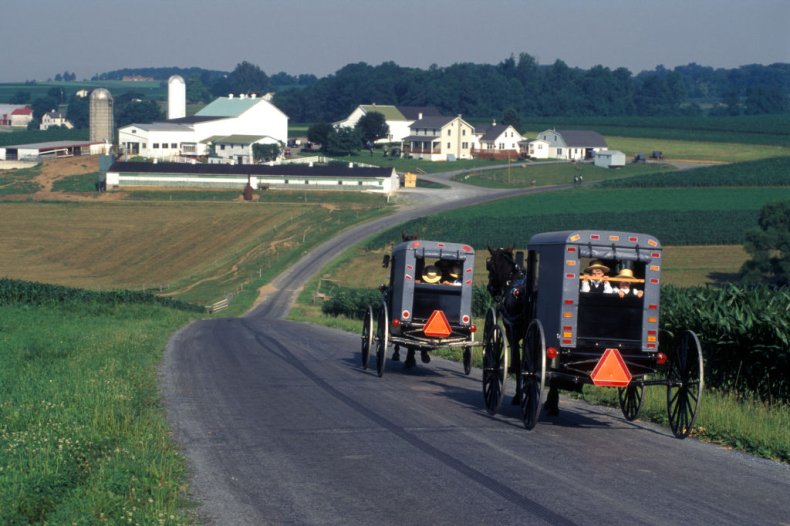 Users could also be part of religious communities like Old Order River Brethren, Mennonite and many other sects affiliated with the Amish, whose roots go back to the Christian movement Anabaptism.
But Fisher represents part of a rather controversial section of the community, one affiliated with the Amish community but not necessarily part of the religion. Her parents left the church when she was three and raised her under Amish values and in the lifestyle, but with certain modern amenities.
In a video where she took questions from fans, she said she's "absolutely Amish," but then followed up with, "well, not exactly."
"We consider ourselves Amish," Fisher said in the TikTok video. "I'm still Amish. I still have Amish blood."
But Fisher isn't concerned about the people who question her Amish credentials, telling LNP/LancasterOnlineshe doesn't give any energy into comments that question "what I am and what I'm not."
In the Amish faith, a person who doesn't conform to the community's lifestyle expectations and refuses to repent could face excommunication and be shunned, shutting off contact between the excommunicated individual and their family.
Pennsylvania has the highest percentage of Amish people in the United States, followed by Ohio and Indiana. Lancaster County, where Fisher lives, is home to the largest settlement of Amish people in the U.S., according to the Young Center for Anabaptist and Pietist Studies at Elizabethtown College.
This article has been updated to reflect that Fisher originally spoke with LNP/LancasterOnline, not The Patriot-News.