Ammon Bundy Arrested During Protest at Idaho House of Representatives
Ammon Bundy, the former militia leader who led an anti-federal standoff at the Malheur National Wildlife Refuge in 2016, was arrested at the Idaho Capitol by Idaho State Police troopers late Tuesday afternoon following a sit-in protest by him and others against a coronavirus-related state civil liability bill.
The COVID-19 Limited Immunity Act, according to National Public Radio, would allow Idaho schools, businesses and individuals to be subject to litigation if they don't follow laws and ordinances issued by public health districts meant to prevent the spread of coronavirus, such as mask mandates.
Some critics of the bill say it would provide some cover to groups and businesses that disregard policies meant to prevent COVID-19 outbreaks. Others, like Bundy, say the bill is "government overreach" that would force citizens to comply with health mandates that violate their personal freedoms.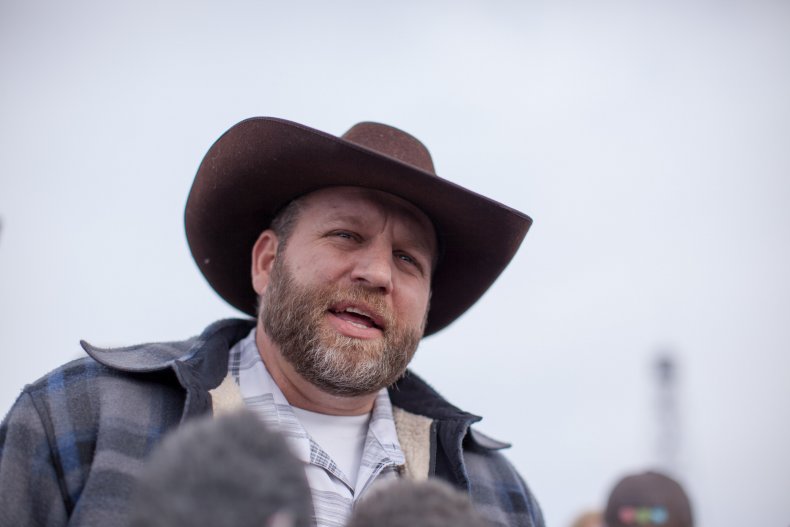 Bundy testified Monday in front of the House Judiciary Committee against the bill, according to Idaho Press, saying, "The Idaho people are more than capable of keeping themselves safe... We the people are tired. We are tired of government force, and we will only take it for so long. I recommend you act wisely, because we will not live in fear."
Bundy was among a group of protesters made up of far-right militia and anti-vaccine advocates who on Monday resisted police, forced their way into the House gallery, smashed the glass in a door leading into the gallery and tore up signs telling guests to leave an empty seat between gallery audience members.
They also laughed at a Democratic state lawmaker who said they wouldn't participate in the hearing because of the maskless protesters and legislators who were also ignoring social distancing protocols. No one was arrested that day.
During his sit-in protest on Tuesday, Bundy sat in a rolling chair at the Lincoln Auditorium press desk surrounded by several fellow protesters and refused to leave hours after the hearing he had attended finally concluded, even after the House and Senate had adjourned for the day.
Bundy told Idaho Press he was upset about "citizen journalists" having been removed from the hearing earlier. When Idaho State Police troopers asked him to stand, Bundy refused, stating, "I'm going to sit right here." Officers then handcuffed him to the chair and rolled it out of the building.
Two others were arrested as well. All three were charged with misdemeanor trespassing.
The legislature is expected to continue discussing the COVID-19 Limited Immunity Act in the coming days.