Ammon Bundy Says He's Tired of 'Political Garbage,' 'Corruption' in Declaring Run for Idaho Governor
Ammon Bundy, a conservative and anti-government activist announced his plans to run for Idaho governor on Saturday afternoon through videos posted to his campaign site, and to hundreds of people at Kleiner Park in Meridian.
"I'm running for governor because I'm sick and tired of all of this political garbage just like you are. I'm tired of our freedoms being taken from us and I'm tired of the corruption that is rampant in our state government," he says in a campaign video.
Bundy filed as a conservative on Friday, but did not announce his campaign publicly until Saturday, local news station KTVB 7 reported.
He is currently banned from the Idaho State Capitol Building after being arrested multiple times by Idaho State Police. During an incident in August of last year, Bundy refused to leave a committee room following a hearing and was removed by police in the office chair he was sitting in.
This past April, Bundy was arrested twice in a matter of hours on trespassing charges for returning to the statehouse when he isn't allowed inside, reported KTVB.
This is not the first time Bundy has had run-ins with the government. The Bundy family drew attention in 2014 when they engaged in an armed standoff with the Bureau of Land Management at their Bunkerville, Nevada ranch.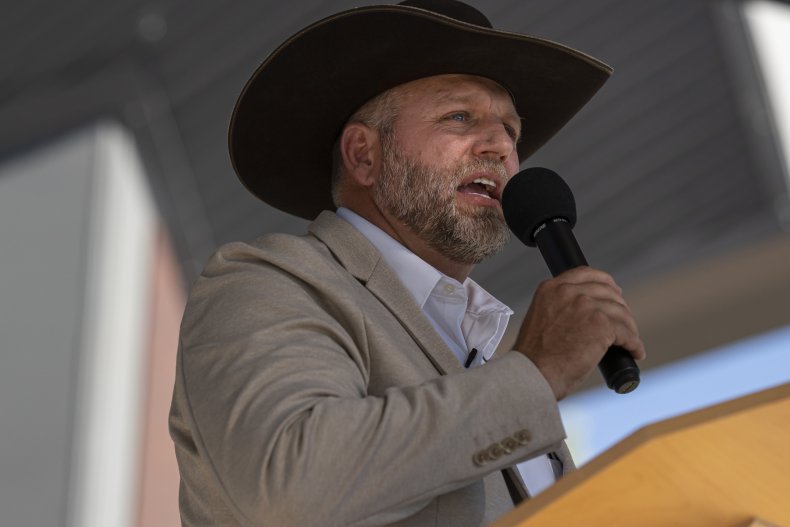 "It's an unfair fight when the federal government unlawfully attacks the people—believe me, I know, as my family and I experienced this firsthand when we were unlawfully attacked by federal officials at our family ranch in Nevada in 2014," Bundy says in the video.
"But we did not back down, and thankfully, like-minded patriots across the country stood with us, as we fought back against federal tyranny to protect our land and our rights."
The dispute started over his father, Cliven Bundy, refusing to pay grazing fees, the Guardian reported.
Ammon Bundy's plans to run for governor have not been accepted by the Idaho Republican Party, who issued a statement on June 5 pointing out Bundy is not registered to vote in Idaho and would "divide our party."
"Mr. Bundy is currently not registered to vote in Idaho, and he is not even registered as a Republican. Furthermore, we do not support his antics or his chaotic political theater. That is not the Idaho Republican Party, and we will not turn a blind eye to his behaviors," Idaho Republican Party Chairman Tom Luna said in the statement.
"Republicans are the party of law and order, and Ammon Bundy is not suited to call himself an Idaho Republican let alone run for Governor of our great state."
Bundy responded by saying "I never planned on their support in the first place," and that he would continue his campaign. Bundy's website included links to "Top 5 Reasons to Support Ammon Bundy," and a download of his plan for the state of Idaho.
Newsweek reached out to the Idaho GOP for comment.