A high school football game in Idaho was cancelled after Ammon Bundy, an anti-mask and anti-government activist, refused to wear a mask, prompting threats from others towards the school.
According to the Idaho Statesman,the Caldwell School District was forced to end its football game against Emmett High School at halftime, after Bundy appeared at the game and refused to wear a mask or leave school grounds.
"A small group of visitors refused to wear face coverings as required of spectators on our campus. They were denied admittance to the game. These visitors were directed to a neighboring park where they could watch without face coverings," the Caldwell School District wrote in a statement. "This group did not leave and instead loitered in an restricted area on our property and refused to leave when asked to do so."
The statement goes on to note that at halftime, the Caldwell School District was informed by the Caldwell Police Department "about a threat against the school called into 911."
A police spokesperson told the Idaho Statesman that "Canyon County dispatch began receiving multiple calls from unidentified callers threatening acts of violence at the game stemming from the dispute over masks."
According to NBC News, Bundy wanted to watch his son, who is a member of Emmett High School's team, play in the game.
KTVB News in Idaho reported that according to police, Bundy was asked by Caldwell's principal and athletic director to wear a mask upon entering the game but continued to refuse. According to KTVB News, officers refused to arrest Bundy because he "wasn't out of control and didn't appear to be a threat to anybody."
After the game's cancellation, Emmett High School's Superintendent Craig Woods released a statement, saying, "We were the visitors. We should respect the host's policies and procedures."
"Whether you agree or not when it comes to masks, the football team should not have to suffer the consequences," the statement added. "They did not ask for this."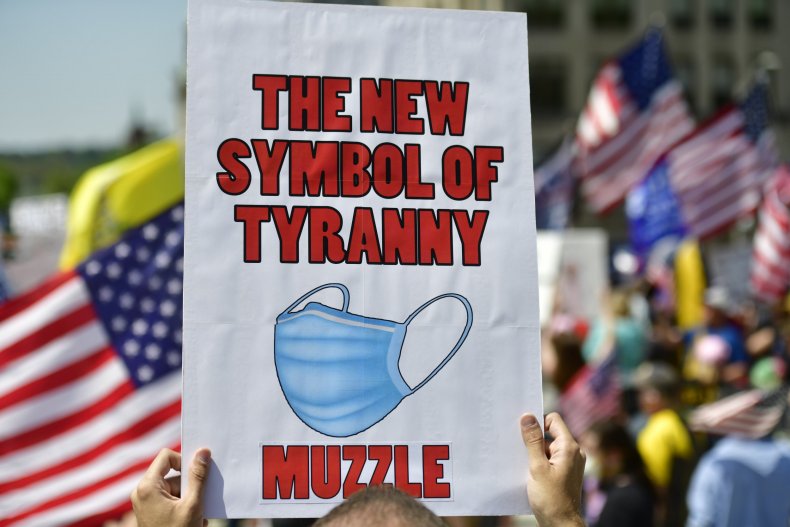 The incident was documented in a number of videos posted to Bundy's Facebook page, and in one of the videos he can be seen arguing with an Emmett football coach, asking him, "When are you going to stand for freedom, Coach?"
A day after the game's cancellation, Bundy live-streamed himself on his Facebook page to speak about the incident.
"When I was standing there, and my family was standing there, I honestly could imagine, accurately I believe, what a Jewish person felt in the '30's in Germany," Bundy said in the video. "How they were discriminated against, they were told it was a health crisis to have them in their society because their genes were inferior."
Bundy also stated that after studying the novel coronavirus in great depth, he "knows that wearing a mask has nothing to do with safety and has everything to do with grooming a populous, the people, to complying to unjust policies."
While speaking with NBC News, Bundy was asked about what he will do in the future if he is told to wear a mask at another high school football game, to which he responded by saying, "I have a strong belief in my right to choose to wear a mask or not."
"And if they think somehow there's a safety issue, then they need to section off a part of the bleachers to accommodate for those of us who believe differently than others," he added.
Newsweek reached out to Bundy for comment but did not receive a response in time for publication.