'Ammonite': Did Mary Anning and Charlotte Murchison Really Have an Affair?
Ammonite tells the moving tale of acclaimed (yet often overlooked) fossil hunter Mary Anning (Kate Winslet) and her affair with Charlotte Murchison (Saoirse Ronan). Set on England off the coast of Lyme Regis in the 1800s, Anning is offered a job to look after Murchison (who has been diagnosed with melancholia) by her wealthy husband, geologist Roderick Murchison. Strapped for cash, Anning reluctantly accepts the job, and takes his wife in.
Anning and Murchison initially clash, as two women who come from completely different worlds would. Eventually, they realize their attraction to each other, and embark on a passionate love affair. Ultimately, Anning's love for her work trumps the love she has for Murchison.
So, is Ammonite a true story? The short answer: kind of.
For starters, fossil hunter Mary Anning was a real person. She lived from 1799 until 1847, and was credited with the discovery of several dinosaur specimens, which helped fuel modern paleontology. As per the BBC, Anning regularly "risked her life" looking for fossils, and made remarkable discoveries. However, because she was a woman (and a poor one, at that) in Victorian England, Anning never received the credit for her work.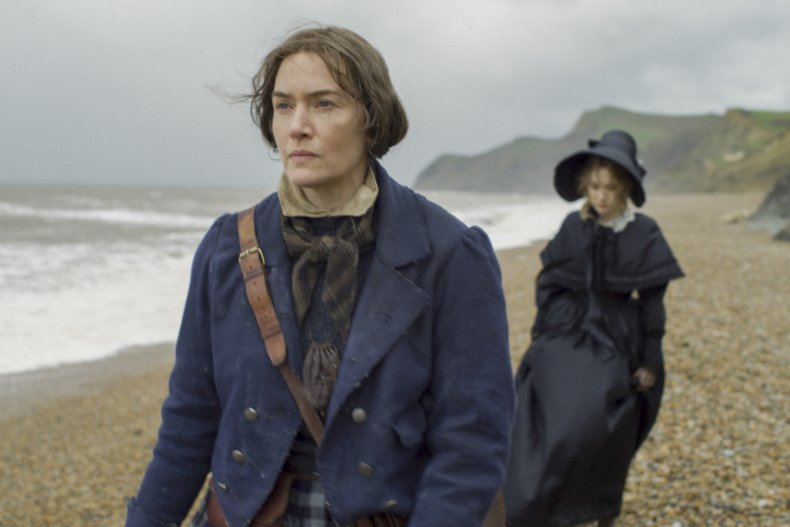 Anning's passion for fossil hunting came at a very young age. Before her father died in 1810, she helped him hunt for fossils in Lyme Regis, Southwest England. After his death, she continued to dig for them, selling them to tourists and curators to make ends meet.
"Mary Anning had very little formal education," Emma Bernard, London's Natural History Museum's curator of fossil fish, told the BBC. "However, she did educate herself on geology and anatomy and would dissect modern animals like fish and cuttlefish to better understand the fossils she found."
When she was 11 years old, she discovered the 17-feet-long skeleton of an ichthyosaur, a prehistoric creature that resembles a crocodile. She also found the first complete skeleton of a plesiosaur, a prehistoric sea creature in 1823. Five years later, she discovered the first pterosaur outside of Germany. This winged creature was later coined a pterodactyl.
Despite her groundbreaking discoveries, Anning was not credited with her work during her lifetime. After finding, cleaning and identifying her specimens, male scientists would take credit for the discoveries she made. Anning never married, and died in 1847 from breast cancer. Today, the Natural History Museum houses many of her discoveries.
As for her relationship with Murchison, it remains highly disputed, along with whether or not Anning was a lesbian. Murchison was a real-life geologist, and helped her husband, Roderick, in his studies and work. As per New Scientist, Murchison "seems unlikely to have been her [Anning's] lover." However, Anning and Murchison did exchange many letters over the years. In reality, Anning was also 12 years younger than Murchison, unlike depicted in the film.
Ammonite premieres in theaters on November 13 and will be available on demand starting December 14.