Amnesty Calls for Germany, France and UK to Take Action on Migrant Deaths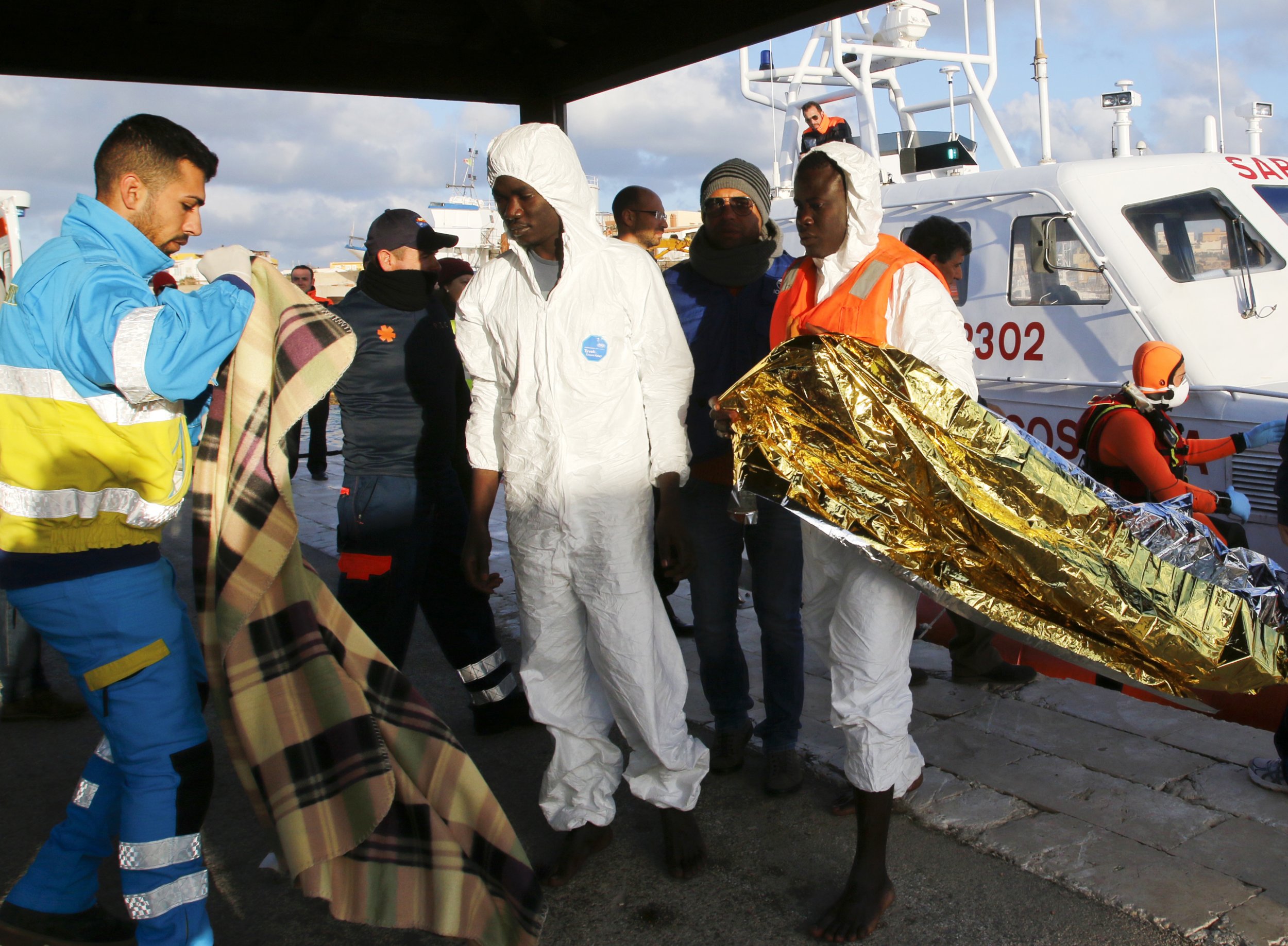 The European director of Amnesty International is calling on all EU member states to take action on EU migration, singling out France, Germany and the UK, and demanding more vigorous search and rescue systems following the deaths of up to 300 migrants in the Mediterranean over the last week.
Nine survivors, all thought to be from west Africa, were rescued by the Italian coast guard in winds exceeding 120 kilometres per hour and waves up to eight metres high and brought ashore to the island of Lampedusa on Wednesday.
The refugees were from two of four 12ft long dinghies which set off from Libya on Saturday, each carrying around 100 passengers. The first dinghy was picked up on Monday, with 29 of those on board succombing to hypothermia, and the remaining passengers on the other three dinghies are presumed to have died.
An estimated 3,200 migrants are thought to have died while attempting to cross the Mediterranean in 2014.
Amnesty International's Europe and Central Asia director, John Dalhuisen, told Newsweek he believes it is the responsibility of all EU member states to respond.
"There should be a collective responsibility, but certainly those who are bigger drivers of EU migration policy - Germany, Britain and France - should play a significant role.
"This can't be brushed off as just a responsibility for coastal states, there needs to be a collective response of search and rescue services across the entire zone at which people are at risk," he said.
He added that increasing numbers of refugees are a consequence of an EU migrant policy that has sealed off safer land borders and progressively reduced the avenues for safe and legal passages for asylum seekers.
"If you're going to push people down dangerous routes, you can't then wash your hands of any responsibility for people who die taking them," he said.
Numerous organisations have criticised the demise of the former Italian search and rescue operation Mare Nostrum, which saw the safe passage of around 150,000 so-called 'irregular' migrants, and feel the newly imposed operation run by European Union border control agency, Frontex, is not fit for purpose.
A spokesperson for the European Council on Refugees and Exiles, a pan-European alliance of 85 non-governmental organisations, said the smaller Triton operation does not have the mandate Mare Nostrum used to have.
"We need more resources for a proper search and rescue operation in the Mediterranean, which has the mandate of search and rescue and saving lives," she said.
Jesuit Refugee Service expressed its frustration at the tragedy, citing it as a 'twofold demonstration of the failure of European border policy'.
Its Europe director, Fr Jean-Marie Carrière, said: "Italy demonstrated that it is possible to save lives. Imagine what could be achieved if all 28 EU member states really worked together for refugees. We must open safe and legal channels for protection seekers as well as boost search and rescue capacity.
"These are European borders and all member states should help face the humanitarian crisis in the Mediterranean with all possible means."
However, a spokesperson for Frontex, Izabella Cooper, said Triton was never meant to replace Mare Nostrum. She said: "The operation was set up with the purpose of border control, providing Italian authorities with additional technical equipment and patrol boats to assist them in border surveillance.
"Although our primary responsibility is border control, obviously search and rescue is a crucial element of it. Since November 1, 19,000 people have been rescued - 6,000 saved using vessels financed for Fortex, so we take the obligation to save human lives very seriously."
In light of today's tragedy, she said: "We are clearly talking about a very dramatic situation. I cannot talk about search and rescue because this is not our mandate. Search and rescue is the responsibility of individual countries.
"This is a discussion on a political level on whether there should be an EU position on search and rescue."
A spokesperson for the European Commission's Migration, Home Affairs and Citizenship department acknowledged that more needs to be done to address the issue of migration within the EU and said the Commission is approaching the issue 'with its eyes open'.
She said: "Pointing fingers is not going to get us anywhere. Tackling this common challenge has to be a joint effort, the Commission and the member states working together.
"It is also time we were honest: Frontex is not a European border guard system. If we want a European border guard system then we would have to create one."