Police Violated Human Rights of George Floyd Protesters 125 Times: Amnesty International
Police across the U.S. violated the human rights of peaceful protesters, journalists and bystanders more than 100 times during protests sparked by the death of George Floyd, according to analysis by Amnesty International.
The organization has documented 125 separate instances of police violence against people in 40 states as well as Washington, D.C. between May 26 and June 5—a period in which hundreds of thousands of people took to the streets across the country to protest police brutality and racism following Floyd's death after a white Minneapolis officer kneeled on his neck for eight minutes and 46 seconds.
On Tuesday, Amnesty International launched an interactive map marking incidents of unlawful use of force, which included beatings, misuse of tear gas and pepper spray and the firing of less-lethal projectiles such as rubber bullets. The abuses were committed by officers from state and local police departments, federal agencies and the National Guard, according to Amnesty International.
In order to evaluate the instances of police violence, Amnesty International's Crisis Evidence Lab collected almost 500 videos and photographs from social media and its investigators verified, geolocated and analyzed the content.
In some cases, researchers also interviewed victims and confirmed inappropriate conduct with police departments.
For instance, during a joint patrol of a neighborhood in Minneapolis on May 30, Minneapolis police and Minnesota National Guardsmen unlawfully shot 37/40mm impact projectiles at people standing on their front porches, the Amnesty International analysis found.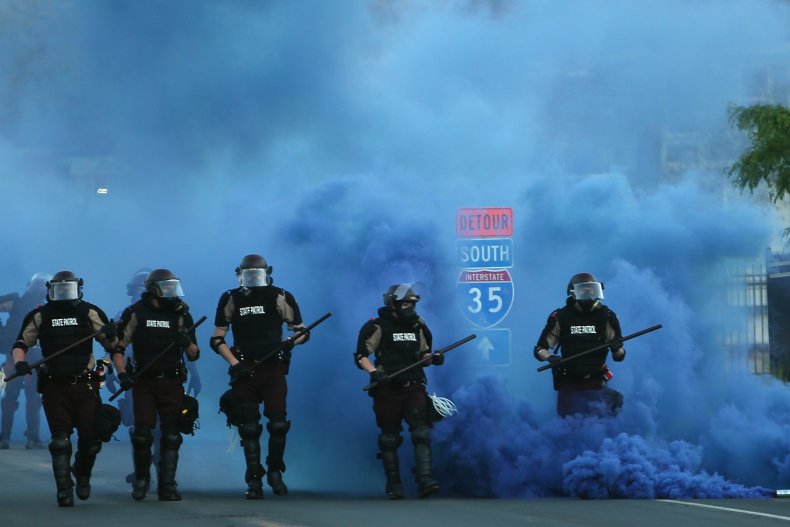 Despite seeing people recording with their smartphones, the forces ordered them to "get inside" and yelled "light them up" before firing the projectiles.
Another instance highlighted was Philadelphia state and city police's use of tear gas and pepper spray to remove dozens of peaceful protesters from the Vine Street Expressway on June 1.
Lizzie Horne, one of the protesters hit by the tear gas, told Amnesty International: "Out of the blue, they started breezing pepper spray into the crowd. There was one officer on the median who was spraying as well. Then they started with tear gas."
Horne said a protester who had a tear gas canister hit his head had a seizure and as other protesters were trying to move him out of the firing line, police started firing more tear gas.
"They started gassing in a kettle formation—we were against a big fence that people had to jump over, up a steep hill. The fence was maybe six feet tall. People started putting their hands up—but the cops wouldn't let up. It was can after can after can. We were encapsulated in gas. We were drooling and coughing uncontrollably," she said.
"Then the cops came from the other side of the fence and started gassing from that direction. After that, the police started coming up the hill and ... they were hitting and tackling people. They were dragging people down the hill and forcing them down on their knees, lining them up kneeling on the median on the highway with their hands in zip ties, and pulling down their masks and spraying and gassing them again."
According to Amnesty International's analysis, the majority of protesters have been peaceful, but some have resorted to violence.
But in many cases, rather than respond to individual violations, police and security forces used "disproportionate and indiscriminate force against entire demonstrations."
Brian Castner, Senior Crisis Advisor on Arms and Military Operations at Amnesty International, said: "The analysis is clear: when activists and supporters of the Black Lives Matter movement took to the streets in cities and towns across the USA to peacefully demand an end to systemic racism and police violence, they were overwhelmingly met with a militarized response and more police violence.
Amnesty International said urgent reform to U.S. policing is needed across the board, starting with an end to the "extrajudicial executions of Black people" by police.
The organization also called for independent, impartial investigations into police killings of Black people that lead to reparations for the victims and survivors; an end to "qualified immunity" and the passing of federal legislation and state laws to restrict police use of force.
It also said the right to peaceful protests must be ensured without the threat of protesters, journalists and bystanders being targeted by police violence.
"The time for applying band-aids and making excuses for a few 'bad apples' has passed," Castner said. "What's needed now is systemic, root-and-branch reform of US policing that brings an end to the scourge of police use of excessive force and extrajudicial executions of Black people.
"Communities should not live in fear of being harmed by the very officers that have sworn an oath to protect them. Officers responsible for excessive force and unlawful killings must always be held accountable."
Brian Griffey, USA researcher and advisor at Amnesty International, added: "Real, systemic and lasting police reform is needed at all levels to ensure that people across the country feel safe to walk the streets and express their opinions freely and peacefully without facing a real threat of harm from the very officers that are supposed to protect them.
"This is a Constitutional right that is mirrored in international human rights law; to deny this right with physical violence, tear gas and pepper spray is a hallmark of repression."