Billboards Calling On Trump Administration To Stop 'Locking Up' Kids Go Up Across Florida On World Children's Day
Drivers in Florida will be forced to reflect upon their country's treatment of migrant children on Wednesday thanks to a series of billboards erected across the state by immigration advocates to mark World Children's Day.
"We don't believe in locking up children. Do you?" one billboard erected by Amnesty International USA in Orlando, Florida, just 10 miles away from Disney World, asks.
"You are now 7 miles away from where kids are locked up," another put up in Miami reads.
The billboard is just miles away from Homestead, Florida, where a temporarily empty facility used to house detained immigrant children sits.
Earlier this year, Amnesty accused the government of violating children's rights by holding them at the facility in prolonged and indefinite detention and keeping them in conditions that did not meet U.S. or international standards, violating the best interests of a child."
While the Homestead detention center was temporarily shut down following widespread protests after tens of thousands of children were detained there, taxpayer dollars continue to be funelled into the facility to keep it staffed.
The below chart from Statista shows the disparity between the detention of migrant children in the U.S. compared to other countries around the world.
In an interview with Newsweek, Denise Bell, Amnesty International USA's researcher for refugee and migrant rights, said immigration advocates want to see the site shut down permanently.
"This is not a home for children," Bell said. And, she added, "the government is not a parent."
While the researcher said she believes that children should not be detained "on account of their immigration status," period, she said that if they are going to be detained, they should be held in the "least restrictive" manner and "for the least amount of time."
However, Bell said, that is not what's happening, with children being kept in federal custody for weeks and months at a time.
Instead of funelling taxpayer dollars into keeping the Homestead facility running, Bell said, "that money should be prioritized for the faster release of children to appropriate family members...and caregivers."
"They have caregivers and families waiting for them," she said.
Amnesty International USA's billboard campaign is part of the organization's "I Welcome Campaign."
In addition to launching billboards, Amnesty will also see trucks driving throughout Florida with signs reminding residents that children are still being detained across the country because of their immigration status.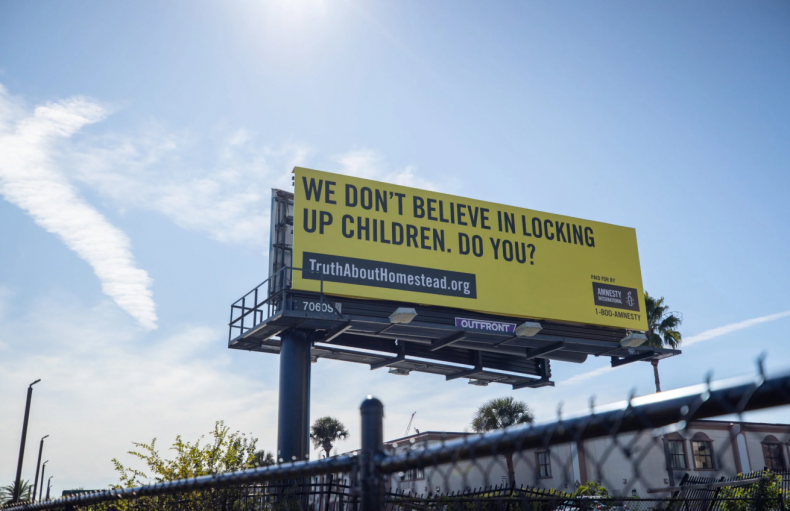 Amnesty chose World Children's Day to hold the billboard campaign as the day marks the United Nations General Assembly's 1959 decision to adopt the Declaration of the Rights of the Child.
Children's rights, the organization has argued, have been violated in the U.S. at the immigration facilities meant to oversee their care.
In a statement sent to Newsweek, Patrick Fisher, a spokesperson for the Health and Human Services department, which is tasked with overseeing the care of immigrant children held in federal custody, said that such statements "perpetuate erroneous and irresponsible statistics and stories which only hinder our ability to run this program successfully and unify children with their parents, family member or other suitable sponsor."
"Our top priority at HHS' Office of Refugee Resettlement (ORR) is to unify unaccompanied alien children (UAC) with their parents, family members or other suitable sponsor as quickly and safely as possible," the spokesperson said, adding: "While we are working to identify a sponsor, each child is provided a safe and healthy environment that ensures access to nutritious food, clean clothes, education and medical services."
Fisher said that "since the beginning of Homestead operations as a temporary emergency influx shelter in 2016, the shelter operator has helped unify 16,618 unaccompanied children with parents, relatives or other appropriate sponsors," including "4,668 unifications from 2016 to 2017, and 11,950 unifications from reactivation in 2018 to 2019."
"Temporary facilities like Homestead," he said, "have been crucial during periods of influx as was done in 2012, 2014, 2016, and 2018/2019."
According to Fisher, there are currently approximately 3,900 unaccompanied minors in the HHS's care.
"The system wide average length of care for minors discharged from ORR in the month of September 2019 is 57 days, down from the recent high of 93 days in November 2018," he noted, however.
"We are committed to further reducing length of care in ways that do not jeopardize the safety or welfare of the children," he said.
This article has been updated with a statement from the HHS.