In an unprecedented move, Amnesty International has issued an "urgent action" notice for Lahore, Pakistan, after the city's smog levels rose two times above hazardous levels and put the lives of over 11 million people at risk.
The step, usually reserved for severe human rights violations, calls on workers and supporters of the organization to mobilize efforts in order to pressure the Pakistani government into taking action—something it has so far neglected in doing.
Islamabad even attempted to blame neighboring India for the worsening conditions, stating that "fast blowing winds" brought the thick smog across after the country failed to properly control its air pollution.
Pakistani residents largely rejected that claim and criticized the government for its continued inaction.
"I can show you several factories releasing smoke in the heart of Lahore," 23-year-old Mohammad Abdullah told VOA News, as he sat in bed in a Lahore hospital while receiving treatment for breathing problems.
"I can show you brick kilns on the outskirts of Lahore and you can see smoke-emitting vehicles everywhere," he added.
Amnesty also directly criticized the Pakistani government for failing to take appropriate steps.
Rimmel Mohydin, South Asia campaigner at the group, said: "The government's inadequate response to the smog in Lahore raises significant human rights concerns. The hazardous air is putting everyone's right to health at risk.
"The issue is so serious that we are calling on our members around the world to write to the Pakistani authorities to tell them to stop downplaying the crisis and take urgent action to protect people's health and lives."
The move by Amnesty came as figures showed only one day in the last month recorded air quality levels that were considered safe.
Air is considered unhealthy when the Air Quality Index (AQI) rises above 100 and is considered hazardous when it rises above 300.
Lahore's air quality was consistently over the 300 mark and even reached 598 on November 21.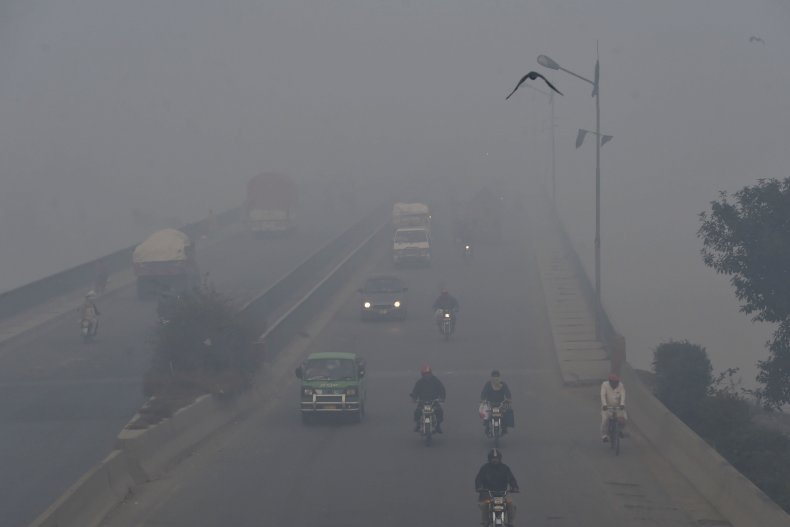 The problem, however, is not constrained only to Lahore and effects the entirety of Pakistan's Punjab province, which Lahore is the capital of.
A number of other south Asian countries also experienced hazardous air quality and Amnesty said the problem was increasing. It added that low income workers—such as labourers, construction workers and farmhands—were the most likely to be affected as they are exposed to the air for longer periods of time.
It also added that low-income families also suffered disproportionately due to their lower access to healthcare.
"The government must not waste time," Mohydin added.
"A good starting point would be to acknowledge the risks of the quality of air and initiate smog protection protocol as recommended by the court-appointed Smog Commission," referencing a Lahore High Court ruling that was made in December 2017.