Among Us became one of 2020's biggest surprise hit games, and the colorful manipulation experience is about to get a little bit bigger. According to one of the first tweets from the game's brand-new Twitter account, a new map will be revealed during Geoff Keighley's Game Awards set to air December 10. What's more, the development team at InnerSloth has offered up a sneak peek of the new play space.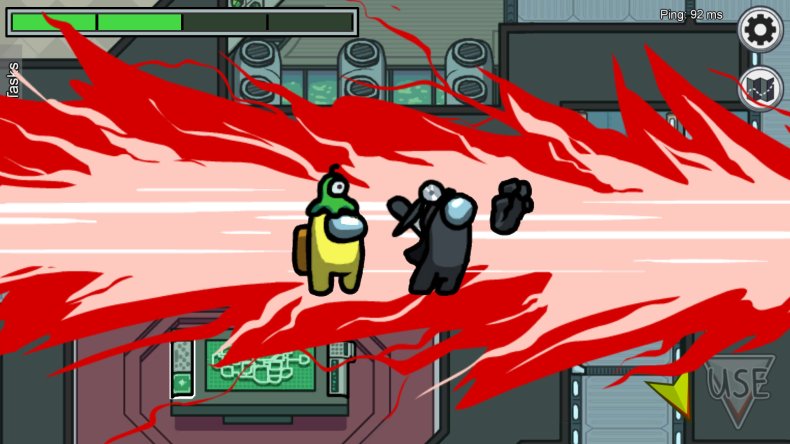 "Here's a special look at the NEW Among Us map," the tweet reads. "Don't show the impostors!" Below is a screenshot of a map that appears to be set on some kind of ship. Eagle-eyed observes also noticed what looks like a new Crewmate costume on the right. Given that Among Us is a social deduction experience focused on sticking with your crew, taking the suspicion to the high seas makes plenty of sense.
But some fans have suggested the setting of the new map goes deeper than taking groups to a generic boat. In fact, it seems likely the upcoming content has ties to InnerSloth's previous Henry Stickmin series. Of most relevance is game four, called Infiltrating the Airship, which released in May of 2013. The Airship is home to the Toppat Clan, an international gang of criminals featured as the main villainous force in the second half of the Stickmin games. Players must choose between an Earpiece, Grapple Gun, Cannon Ball or Sticky Hand as their main tools for entering a ship full of secret documents and dangerous weapons.
With the lore of the Toppat Clan in mind, putting an Among Us map on the Airship seems like a neat idea. After all, what could be more suspicious than making your way around a lawless haven full of clandestine materials? Better yet, the location also gives those who play the Henry Stickmin games a potential edge in understanding the new area. One gets very familiar with the layout of the Airship over the course of the Stickmin story, which might give Imposters a slight advantage when looking for the perfect place to hide their stack of bodies.
Among Us was recently revealed as a nominee for Geoff Keighley's 2020 Game Awards in categories including Best Mobile Game and Best Multiplayer. Despite the fact that the game initially released in 2018, it rose to meteoric popularity earlier this year after being streamed by several popular Twitch streamers like Pokimane, Shroud, Ninja and PewDiePie. Following its viral introduction to millions of gamers, Among Us became one of the summer's most popular titles.
Among Us is available now on PC, Android and iOS.
What are your thoughts on the new Among Us map? Will you tune in to the Game Awards to see the full tease? Tell us in the comments section!