When Is 'Among Us' Out? Xbox and PlayStation 5 Release Time Revealed
After years of being left out, PlayStation and Xbox owners will finally be able to gruesomely betray their friends in Among Us, when the game releases for the consoles on December 14.
Despite initially launching in 2018, the social deduction title really hit its stride during the coronavirus pandemic, as it gave people an opportunity to interact with one another during quarantine in a way that was accessible for those who wouldn't normally classify themselves as gamers. It's still going strong to this day, as evidenced by the fact that it was recently named Google's top trending game of 2021 in the U.S.
While it has been a global phenomenon (which even Fortnite has tried to imitate), Among Us has taken over two years to make the transition to every console. It did release on the Nintendo Switch in December 2020, but it's only just now coming to PS5, PS4, Xbox One and Xbox Series X.
Those with a Microsoft system will be able to get it as part of the Game Pass service on day one, while PlayStation owners will benefit from exclusive content, like Ratchet & Clank-themed cosmetics.
If you are purchasing a digital copy of Among Us on either console without Game Pass, then it will cost you $4.99. Crossplay will be supported across each version of the game, meaning that you will be able to play online with friends on other systems (including PC).
What Time Is 'Among Us' Released on PS5 and Xbox?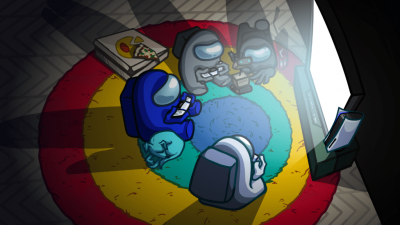 The digital console ports of Among Us will be released on Tuesday, December 14.
In terms of specific timing, the relevant store page listing for the PlayStation version says it will come out at 7 p.m. GMT. This translates to 2 p.m. ET or 11 a.m. PT.
The equivalent page for the Xbox port does not specify a time, but it will likely launch close to the PS4 version.
There are also going to be physical editions of the game that you can get. The first of these, entitled "The Crewmate Edition," will be released in the U.S. on January 11, 2022. Meanwhile, the more costly "Imposter" and "Ejected" editions (which come with steel book cases, plush toys, fleece blankets, pins, posters, beanie hats and much more) are coming in spring 2022.
In related Among Us news, it was announced during the recent Game Awards broadcast that a VR port is in the works. For more information about this and all the other highlights from the show, click here.