Amount of Restrictive Voting Laws Being Considered Across U.S. Increased 43% in One Month
In the wake of the 2020 election, states across the country began to introduce legislation aimed at reforming election procedures and limiting voter access. Today, the number of bills on the books is more than 300.
That's according to a new report released Thursday by the Brennan Center for Justice, a bipartisan law and public policy institute at New York University Law School.
The center found that as of March 24, lawmakers in 47 states had introduced 361 bills that included provisions to limit voting access. The number of bills had increased 43 percent since the organization's last tally on February 19, 2021.
"Most restrictive bills take aim at absentee voting, while nearly a quarter seek stricter voter ID requirements," the report read. "State lawmakers also aim to make voter registration harder, expand voter roll purges or adopt flawed practices that would risk improper purges, and cut back on early voting."
The states leading the way with the highest amount of bills introduced were Arizona with 23, Georgia with 25, and Texas with 49.
Georgia just passed a new 98-page voting law last week that has been criticized by Democrats and voting rights advocates. The legislation will require more voter identification to cast an absentee ballot and will impose a limit on ballot drop boxes. It also makes it a misdemeanor for anyone to hand out food or bottled water to people waiting in long polling lines.
Republican leaders in the Peach State argued the law was needed to boost election security and public trust in Georgia's elections. While former President Donald Trump baselessly claimed he lost Georgia to President Joe Biden because of fraud, election officials have repeatedly said that was not the case.
"After the November election last year, I knew, like so many of you, that significant reforms to our state elections were needed," Georgia Governor Brian Kemp, a Republican, said when he put his stamp of approval on the bill.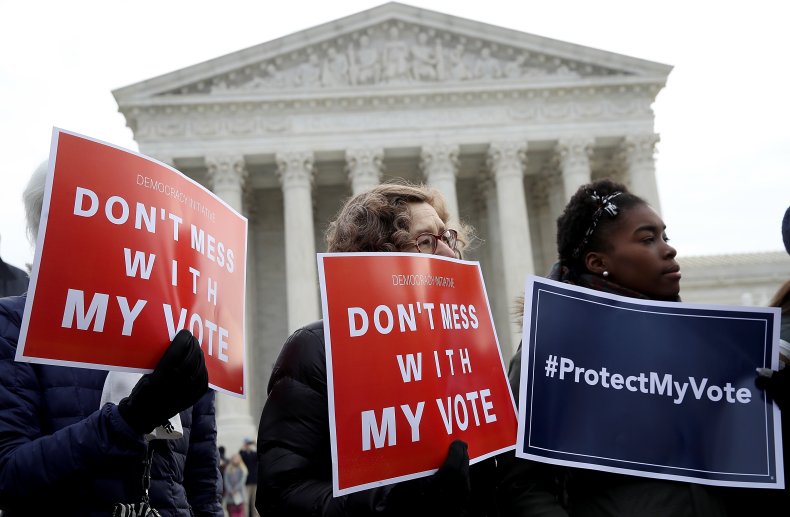 Early Thursday morning, the Texas Senate passed a package of election measures that would put new restrictions on voting. While a final version of the bill wasn't immediately available online, the original version banned overnight early voting hours and drive-thru early voting. If passed by the statehouse, it would also make it illegal for local election officials to proactively send applications to vote by mail to residents even if they qualify.
When asked whether the GOP-led voting legislation could make it difficult for Democrats to retain power in the 2022 elections, President Joe Biden criticized the effort as "un-American" and "sick."
"What I'm worried about is how un-American this whole initiative is. It's sick. Deciding in some states that you cannot bring water to people standing in line waiting to vote? Deciding that you're going to end voting at 5 o'clock when working people are just getting off work? Deciding that there will be no absentee ballots under the most rigid circumstances?" the president responded.
While there are hundreds of bills aiming to restrict voting access, the Brennan Center also found 843 bills with provisions to expand access have been introduced in a different set of 47 states as of March 24.
Newsweek has reached out to the Brennan Center for additional comment on the report.