Sponsored Article
10 Amazing Domestic Vacation Rentals to Check Out Once Travel Safely Reopens
TurnKey Vacation Rentals makes finding a place to stay easy.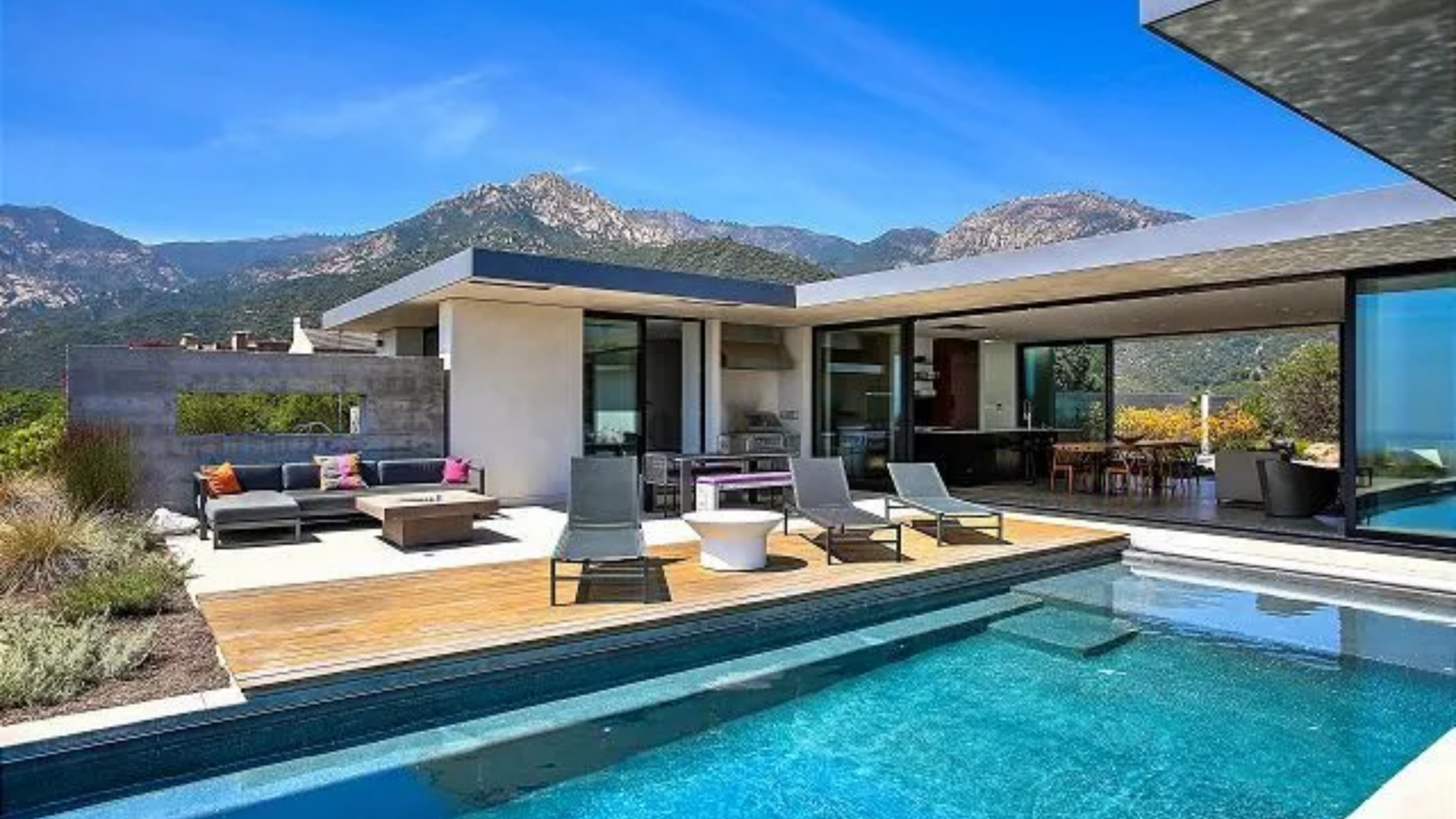 If you have the travel bug, 2020 was probably a very difficult year for you. No new stamps on that passport and no new airline points. It's painful to watch the dust settle on your suitcases, and your travel pillow probably feels pretty ignored. Until you can walk down the aisle and hear those magical words, "This is your captain speaking," the best way to curb your travel cravings is to plan future trips!
Whether you're an international jet setter or like to stay close to home for quick weekends away, there are endless beautiful destinations in the U.S. to choose from. It might be a while before you and your gang can all get together, but it's never too early to start planning your reunion!
If planning stresses you out, we found a new website that takes all the hassle out of your travel preparations. TurnKey Vacations Rentals makes finding a place to stay easy.
Why TurnKey Is the Smarter Way to Vacation Rental
TurnKey is your one-stop destination for finding the perfect vacation. They have an impressive collection of luxury homes in top travel destinations across the country. It is the perfect combination of hotel treatment with the amenities of home. Each house is professionally cleaned before your arrival and outfitted with hotel-grade linens and a starter set of toiletries. No messing around with hotel mini-fridges, each house has fully equipped kitchens so you can prepare meals for family and friends. No matter how remote you want to travel, you don't have to disconnect! Every house has high-speed Wi-Fi, so you never have to worry about your teenagers complaining they can't open TikTok. They also have seamless check-in, ensuring you have clear arrival instructions and easy-to-use digital locks. Just in case something does go wrong, TurnKey has 24-hour customer support to solve any issue.
"Impeccably clean and comfortable. We were especially happy with the complimentary early check-in and later check-out. I also LOVED how responsive TurnKey was via text; all questions and concerns were addressed immediately! We will certainly rent from TurnKey again." — Megan P.
Ready to see the awesome rentals TurnKey has to offer? Let's check out 10 of their coolest vacation rentals for you and your whole crew:
1. Luxe Hilltop Lodge: Stunning View, Private Hot Tub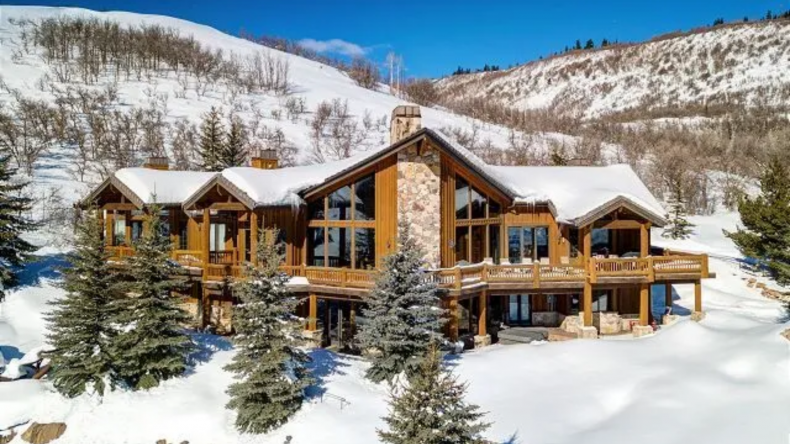 Gather all your friends and family for the ski vacation of your dreams in Park City, Utah. This huge 6-bedroom, 5-bathroom hilltop home in Park City (sleeps 18) is a massive upgrade from your usual log cabin. Perfect for a multifamily getaway or reunion with all your pals, this gorgeous property features five acres of land, three living areas, a gourmet kitchen, a hot tub, and stunning mountain views. Ready to hit the slopes? This stunning alpine lodge-style home is within a 25-minute drive to three world-class ski resorts -- Deer Valley, Park City, and Canyons Resorts.
"Beautiful home!! Gorgeous home with amazing views with wildlife all around!! We had such a wonderful time on our trip to park city Utah! We rented this property for a family-friendly getaway with friends. My kids adored the "bear room" and didn't want to leave. Super comfortable beds, we felt right at home. It is so spacious even with 4 families staying together we all had our private rooms and bathrooms and didn't feel at all cramped. Loved that they have more than one master bedroom, we didn't have to fight over rooms with the other families we vacationed with. The kids had a blast playing downstairs, and roaming outside, they even saw a moose and her baby every day 4 days in a row drinking from the fountain out front. We had so much fun staying at this property we hardly wanted to leave to explore Park City. We can't wait to go back!!!!" -By TurnKey Guest
Click here to book!
2. Private Tropical Paradise With Pool & Courtyard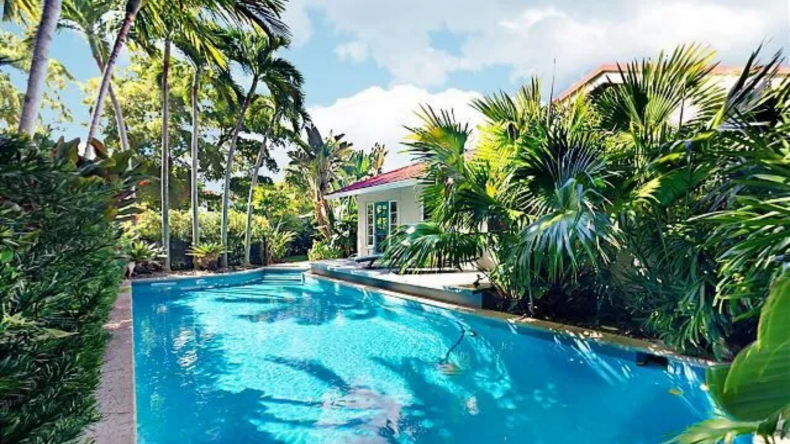 Welcome to West Palm Beach! Originally built in 1926, this beautifully remastered 4-bedroom, 4-bathroom property is an ultra-secluded tropical paradise. Want to hang out with your whole group, but have your own space to unwind? This dreamy property is perfect for you. Three separate rentals, the main house, and a detached two-apartment guest duplex combine around the pool to create a beautiful escape. This property is located in the historic El Cid district, conveniently situated just one block from the Intracoastal, two miles from downtown, and three miles from the beach. This listing is even pet friendly, so get ready for fun walks on the beach with your furry friends.
"Perfection: Location, Amenities, Relaxation. This property in West Palm Beach was the perfect choice. There was plenty of space for us. The location was a 5-minute drive to Downtown WPB making it easy to get around using Lyft. Coming back and relaxing poolside was fantastic!" - by TurnKey Guest
Click here to book!
3. Hacienda Estate - Games Galore! Pool, Spa - Huge Yard!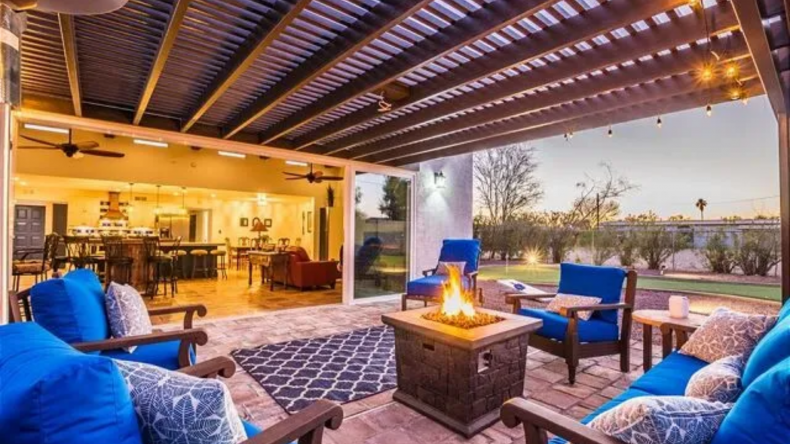 This is the ideal location for an active bunch ready to hike, bike, and play in Scottsdale, Arizona! The main house has 5 bedrooms and 3 bathrooms, while the separate guest house has another bedroom and bathroom. This property has everything to keep your gang entertained! Amenities include pickleball/basketball court, heated pool, and spa, outdoor covered kitchen, big putting green, horseshoes, ping pong, disc golf, and a wide variety of games. It is perfectly situated on a private cul-de-sac so you have beautiful views of the night sky, while still just minutes from fabulous dining, shopping, activities, and the airport. It's also dog friendly!
"Beautiful Arizona Getaway. My husband and I were looking to stay near Tempe Arizona while my oldest son recovered from shoulder surgery. When we found the Hacienda- we were absolutely thrilled! With a gourmet kitchen, multiple master bedrooms with attached bathrooms, the Casita, outdoor dining area, putting green, outdoor games and pool (and more) —it was much more than we were hoping for! My son was so impressed with the property when he arrived that he called his younger brother who flew out a few days later with his girlfriend to join us. This was a very special week for me to have my boys and their LOVES in this beautiful and serene space. I would highly recommend this property!" - by Terri R.
Click here to book!
4. Private Estate on the Beach W/ Casita, Pool & Spa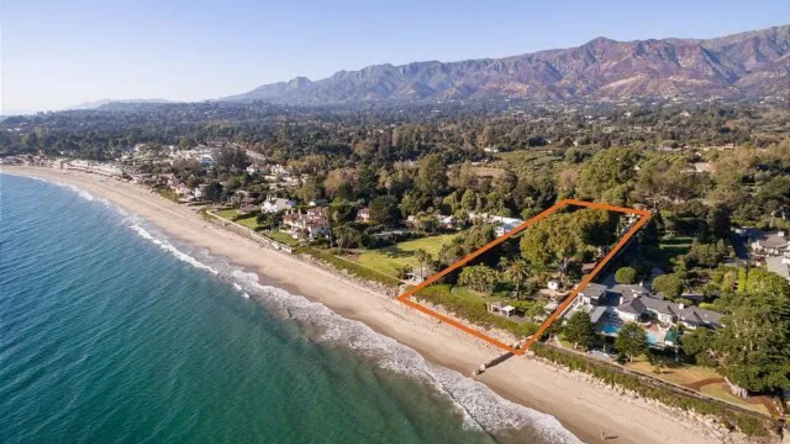 Decadence and luxury are synonymous with this beautiful six bedroom, five bathroom estate in Santa Barbara, California. Situated on two-acres of ocean-front property, this sprawling estate offers your own private slice of paradise. Take a walk on your own secluded beach or hang out by your private pool and spa. Interior amenities include a well-appointed chef's kitchen, dual master suites, and 4,077 square feet of upscale living space with beautiful ocean views. The main house and detached guest house sleeps 14, perfect for a multi-family stay.
"If you are looking for an idyllic vacation spot, then look no further than this private beachfront property in Santa Barbara. It's the type of place where lines grow thin between heaven and earth. The palatial estate, expansive grounds, amenities, private beachfront and location would all be impressive individually, yet collectively they create a true celestial escape. This property is not simply a slice of paradise, but paradise itself. The house itself was pristine and perfect. It's large enough to create privacy for each guest, but it's laid out in such a way to create a sense of community and connections for its visitors. The amenities were spot on. We could kick back and watch sports on the big screen tv, make mixed drinks at the bar, utilize the expansive kitchen and dual fridges for meals or step out on the back patio to fire up and the grill as the sunset on the horizon. Add in all the other amenities - pool, casita, hot tub, sufficient parking and it all adds to the comfort of the estate. Stepping outdoors doesn't minimize the experience by any means, but simply adds to the allure of the property. The perfectly manicured grounds, surrounded by palms and privacy hedges leads straight down to the private access of Miramar Beach. Go lay in the hammock or sit in the cabana and watch the sunrise or set. You won't regret it. The property is also in the most amazing location. You can take a stroll down Miramar Beach to the Rosewood Resort, or grab one of the bikes provided to make your way into Montecito or simply take a quick drive to downtown Santa Barbara. To top it all off, the management company was incredibly professional and responsive. I will definitely be back in the very near future and can't wait to expose more people to this hidden gem that won't remain hidden much longer. At the end of our trip, I was disappointed that I had to wake up from the dream of this." - by Scott, Turnkey Guest
Click here to book!
5. Beachfront Condo With Panoramic Ocean Views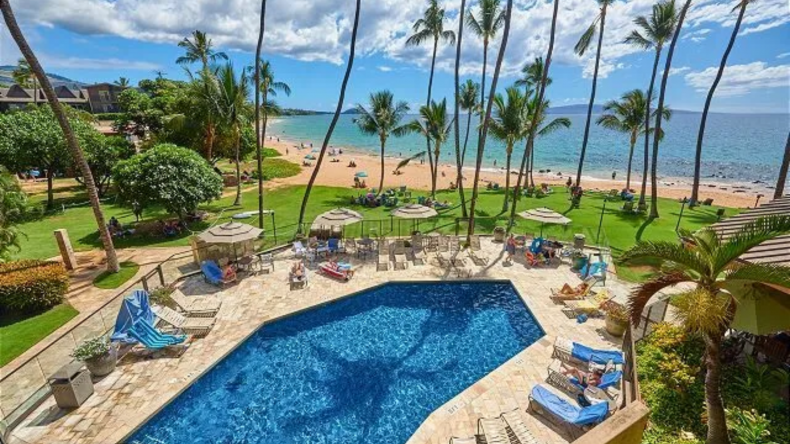 Leave the group at home and take a much-needed break at the popular Mana Kai Maui condominiums in Hawaii. Situated on one of Maui's most picturesque beaches, this two-bedroom, 2 bathroom condo is perfect for your ocean-loving family (sleeps 6). Spend your days soaking up the sun with direct beach access or at the oceanfront pool. Then, relax on your private balcony and take in the gorgeous sunset views. Enjoy the shared grills, outdoor shower, or swimming pool during the day, or head to the activities center in the lobby to book your next adventure.
"Mana Kai is special to us...this is the first place my husband & I stayed when we started dating 26 years ago. Condo 207 had everything we needed, especially the view & the sound of the ocean that lulled us to sleep and woke us up in the morning. 5 Palms restaurant at Mana Kai was superb. Great Happy Hour! Enjoyed meeting all the locals and renters as we watched the spectacular sunsets from the lawn. Already planning our next visit." - by Karen B
Click here to book!
6. Luxe West Vail - Private Patio W/ Hot Tub & Grill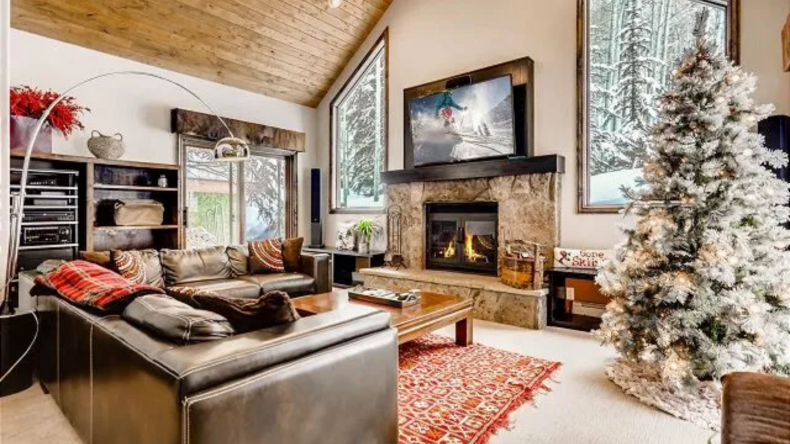 Upgrade your next ski trip with this beautiful 3-bedroom, 3-bathroom house, nestled in the exclusive West Vail Area in Colorado (sleeps 10). This house offers the perfect escape from the hustle and bustle of the city, the White River National Forest is directly behind the property and a nature preserve is out front. Enjoy the great outdoors without sacrificing convenience! Right down the street is a bus stop that provides easy access to local attractions, and the ski lifts of Vail Village are just minutes away. Amenities include a large back patio complete with a grill, alfresco dining, fire pit, and private hot tub.
"Stunning high-end home with room to spread out and enjoy time with your family. The pictures on VRBO accurately reflect the quality of this magnificent home. We travel with a dog and have never found a home as nice as this one that allows dogs. We so appreciate all the special touches in this high-end home such as plush towels, comfortable bedding, ample cleaning supplies, and convenient trash receptacles. We especially enjoyed soaking in the large hot tub located on the patio. The home also has a large kitchen area which was well stocked with cookware and utensils. We prepared all our meals using the fabulous gas Viking stove and oven and had a room at the large round dining table for our family of 8. We are so grateful to find a home like this for our annual family ski trip. Thanks again!" - by TurnKey Guest
Click here to book!
7. Hip Haven With W/ Rooftop Patio - 1 Mile to Downtown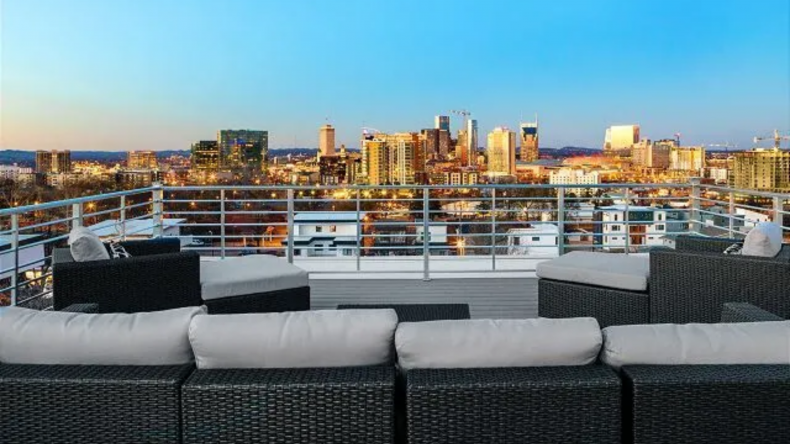 Say howdy to Nashville, Tennessee from this incredible 3-bedroom, 3.5-bathroom unit (sleeps 8). Situated conveniently between Nashville's historic Gulch District and the trendy neighborhood of 12South, you'll have easy access to fabulous dining, shopping, and nightlife from this prime location. Completely renovated, this gorgeous unit features 2,231 square feet of luxurious living space and top-of-the-line finishes across three floors. When you're done exploring Nashville, spend your evenings relaxing on the expansive rooftop patio that boasts incredible skyline views.
"We stayed in this lovely home for 3 nights which easily accommodated our group of 6 women. Dealing with the property manager was very easy and my questions were always answered immediately. The home is decorated beautifully. The top deck has amazing views of downtown Nashville (which is just a short drive away), and if it weren't so hot, we would have spent much more time up there. I highly recommend this place and hope to come back!" - by TurnKey Guest
Click here to book!
8. Quaint Beach House, 1 Block to Bay, Near Disneyland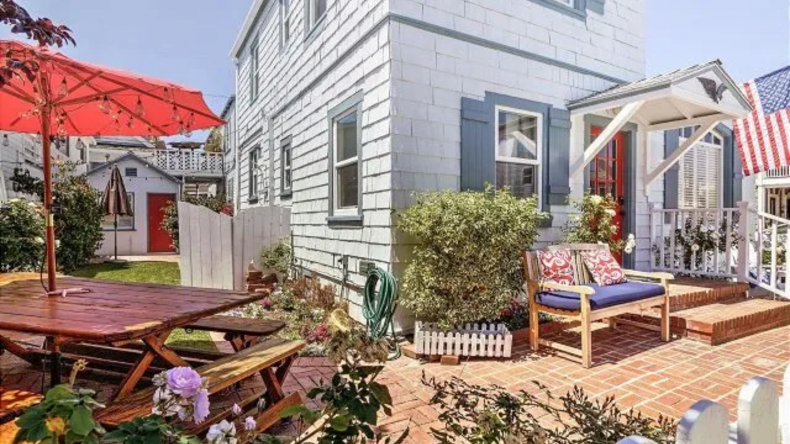 Did someone say Disneyland? That's right! Beaches, food, and fun are all within minutes of this three-bedroom, two-bathroom beach cottage (sleeps seven). Nestled right in the heart of Balboa Island, this 1929 charmer is just one block from the bay and a quick ferry ride to the beautiful beaches of Newport, California! Enjoy easy access to cafes, fine restaurants, world-class shopping, and golf courses. Or, enjoy a bit of adventure with fishing and sailing trips.
"My family and I had a lovely stay here in mid-June 2020. The house is spacious, charming, and nicely appointed. The kitchen has everything we needed to make meals while the bedrooms were very comfortable with hotel-like beds. My three-year-old son loved the backyard, especially the assortment of beach toys, the red wagon, and the outdoor shower. The house is close to both sides of the island, a block or two in either direction. We had a great time and will be booking again." - by TurnKey Guest
Click here to book!
9. Water-View Gem With Upper Deck - Near Cape Cod Bay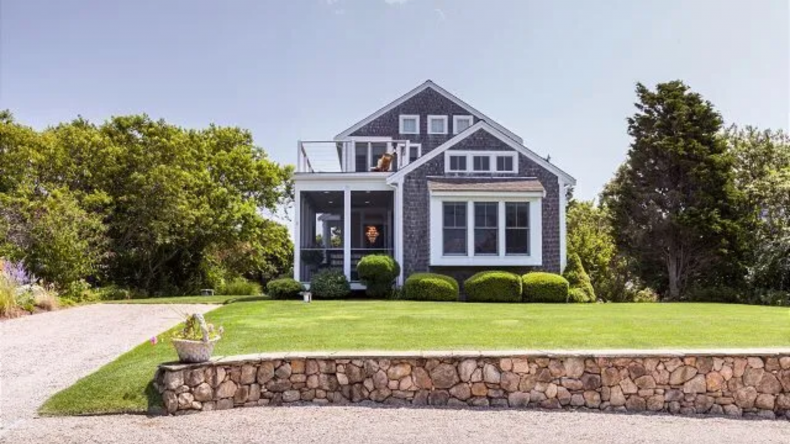 Cape Cod is calling for your next 4th of July extravaganza! This elegant three-bedroom, three-bathroom house is ready for you to make memories (sleeps 8). A quick stroll down the walking path takes you right to the beach. After your day in the sun, spend your evenings cooking dinner in the gourmet kitchen and watching the sunset over Cape Cod Bay from the upper deck. Head into Eastham to enjoy a lobster roll at The Friendly Fisherman, go antique hunting at the Wellfleet Flea Market, and visit the Lighthouse at Nauset Light Beach.
"We truly enjoyed staying in this home. It was extremely clean and very comfortable. The kitchen was fully stocked with any item you would need. There were small but important details that we enjoyed. There were toiletries and kitchen essentials such as garbage bags, dishwashing, and laundry detergent, in the home when we arrived so we didn't feel like we had to race out to buy a bar of soap and a few rolls of toilet paper! We have stayed in other rental properties where they didn't leave a thing so this was a huge convenience. The best part was the view from the rooftop. It was lovely and we could see fireworks from the rooftop along the entire coastline. Beach access is right across the street and you didn't have to walk far which is fantastic. We would have loved it if there were some beach chairs and an umbrella for the sand, as we couldn't fly with those items, but other than that, we highly highly recommend staying at this beautiful, cozy home." - by Lisa P.
Click here to book!
10. Casa Las Rosas: Adorable Adobe With Rooftop Deck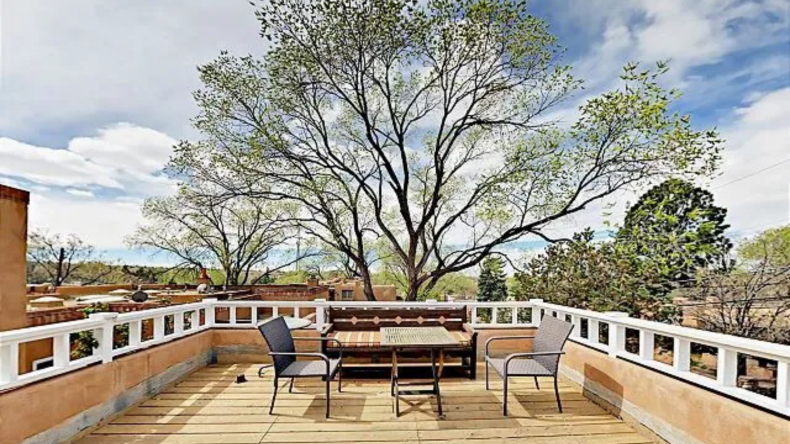 Take in the culture and beauty of Santa Fe in this wonderfully restored two-bedroom, two-bathroom, Adobe style condominium (sleeps four). The two-story 'Casa Las Rosas' condo features authentic brick floors, vintage Mexican tiles, vigas ceiling beams, and a wood-burning kiva fireplace. It also includes access to a shared garden courtyard with alfresco dining and a private rooftop deck with comfortable lounge furniture and expansive tree-top views. This condo is perfectly situated just a half-mile from the historic downtown Plaza, within walking distance of a plethora of restaurants, shops, and fine art galleries.
"This was the perfect size for a getaway to explore Santa Fe, hike, and enjoy delicious food. Very clean. Super cute and cozy for a girls' getaway. The patio was perfect to enjoy the weather with some wine. It is walking distance to the plaza and everything it has to offer. A short drive to several hikes. And, close walk to a park for dog walks." - by TurnKey Guest,
Click here to book!
Ready to plan your next epic vacation? Click here to get started with TurnKey Vacation Rentals!