Sponsored Article
10 Best Blenders for 2021 Under $150
Create Sauces, Dips, Spreads, Soups, Beverages, And Desserts With Nutribullet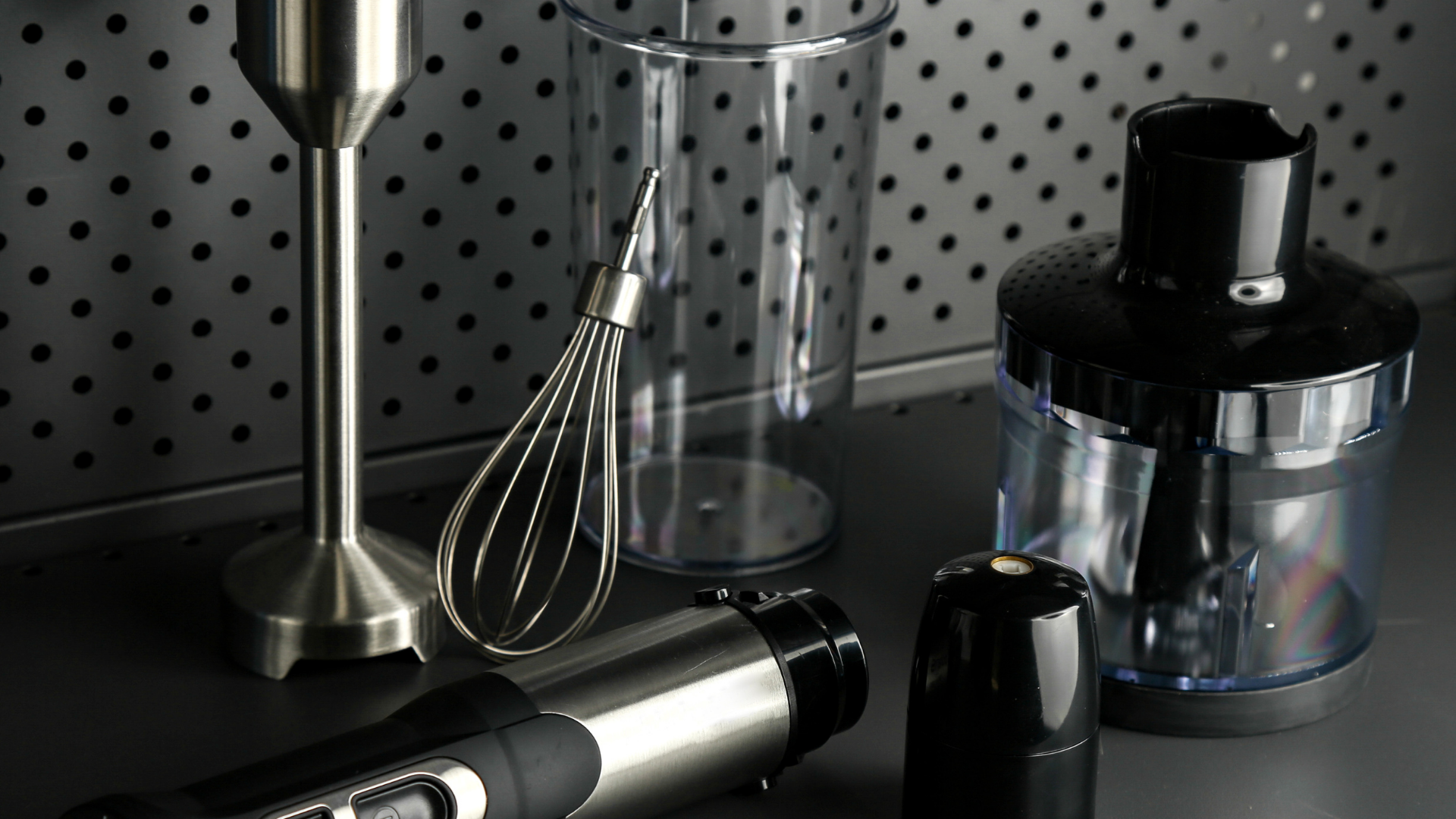 Blenders are one of the absolute must-haves in your kitchen. These countertop tools don't just make smoothies, they are also used to concoct sauces, dips, spreads, soups, beverages, and desserts. Whether you plan to puree, crush, or blend food and ingredients, a powerful blender is indispensable.
From the NutriBullet Pro juicer to the Instant Pot Ace cooking blender, the 10 best blenders for 2021 under $150 are listed below.
10 Best Blenders for 2021
1. NutriBullet 600W Personal Blender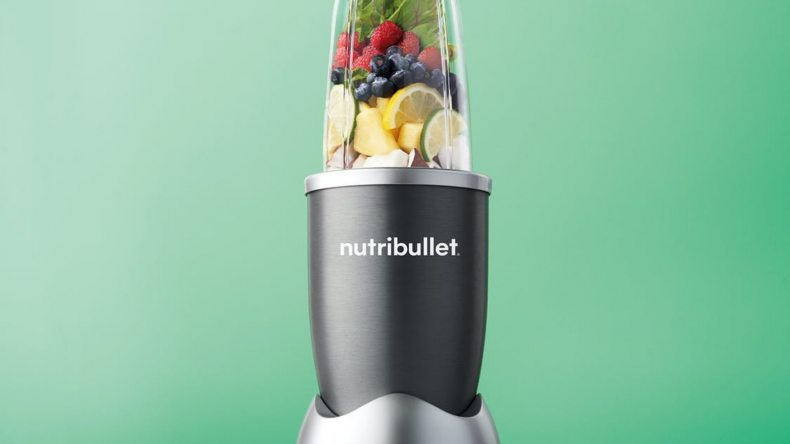 Price: $59.99
The NutriBullet 600W Personal Blender is the original NutriBullet. Its compact yet powerful 600 watts of power turns anything from papayas to strawberries into smooth, sippable nutrition in under 60 seconds. The NutriBullet 600W is also designed in the simplest, most intuitive model that is easy to use and effortless to wash. To use, just push and twist the cup. To wash, just twist the blades, then wash with soap and water.
2. Cuisinart Hurricane Compact Juicing Blender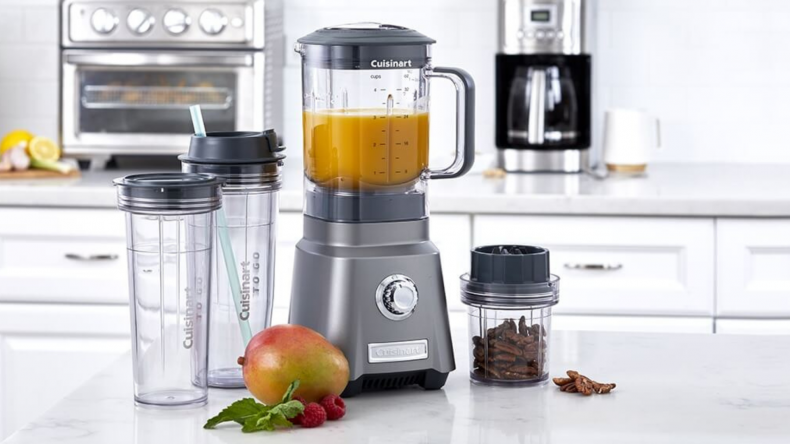 Price: $99.95
The Hurricane Compact Juicing Blender includes four heavy-duty reusable straws, a 32 oz BPA-free Tritan jar, a 16 oz double-wall travel cup with lock lid, a 16 oz single-wall travel cup with lock lid, and an 8 oz chopper cup. These 32 oz and 16 oz choices mean that the Hurricane Compact Juicing Blender can be used for either big-blender or "to-go" duty. Break down whole fruits and vegetables for the whole family or use a single cup for yourself.
3. Black + Decker XL Blast Drink Machine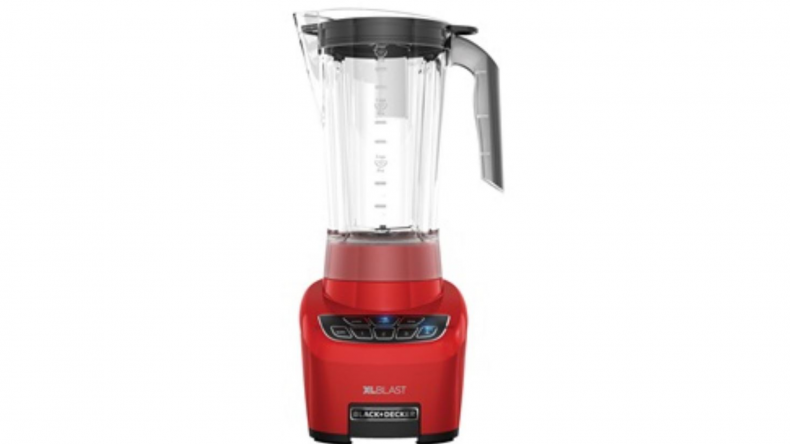 Price: $59.99
The Black + Decker XL Blast Drink Machine is perfect for family use. Its powerful 650-watt motor easily tears through the ice and frozen fruits, with a 4-speed setting and a pulse function so you have control over consistency. An XL capacity means that the Black + Decker Drink Machine comes with a party-sized pitcher that can hold up to 72oz. The jar's re-closeable no-drip pour sprout ensures fast pouring and less spilling so you can keep the party going.
4. Homgeek Professional Blender 1450W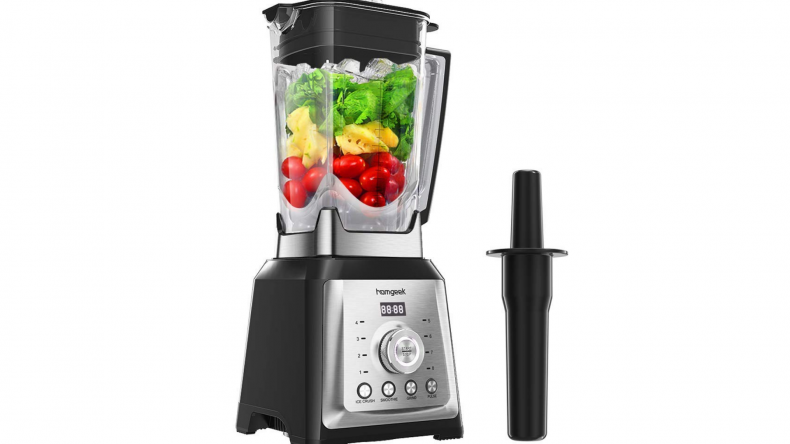 Price: $100
Homgeek's Professional Blender is a high-speed blender mixer with 8-speed control. It comes with a 64 oz container, which makes it ideal for large households or for preparing food and beverages for parties. The settings are also perfect for making steaming hot soup without using a stove in 10 minutes or less. The friction from the blades produces the heartiest soups that are served in warm temperatures right from the container.
5. NutriBullet Pro 900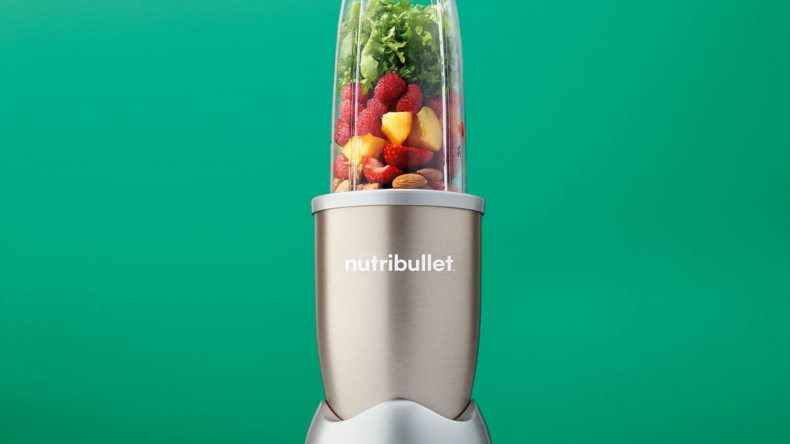 Price: $89.99
The NutriBullet Pro 900 is a workhorse that is definitely worth the price. You can make smoothies with this blender perfectly in under 60 seconds. Since it's powered by 900 watts, fruits, vegetables, and nuts are crushed and blended in just one round. This makes morning smoothies easier for those who want to eat healthily but find them themselves always on the go. If you like blending multiple fruits with a couple of ice cubes and some cream, then the NutriBullet Pro 900 is an investment you can go for.
6. Oster My Blend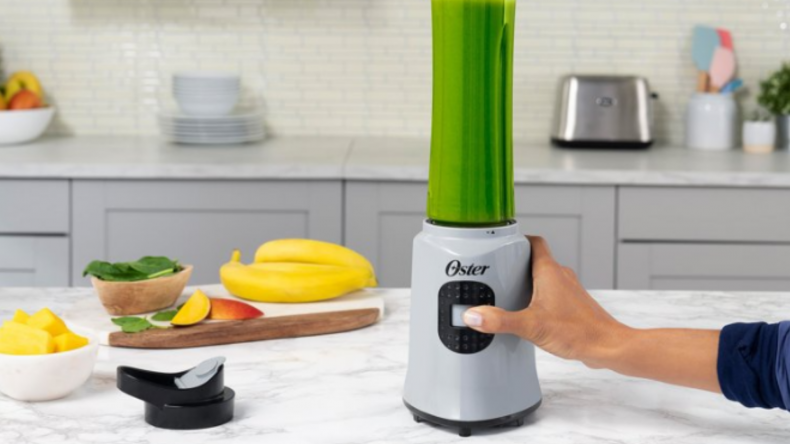 Price: $25.99
The Oster My Blend is an affordable, single-user blender for smoothies or protein shakes on the go. Drinks can be blended directly into the portable sport bottle, which means that there is one less extra container to wash. A few ice cubes can be added since it runs on 400 watts of power and 250 blending watts. All it takes to make your smoothie is one press of a button. After finishing the contents, the bottle can be refilled with water or juice for the rest of your day.
7. Hamilton Beach Professional 1500W Quiet Shield Blender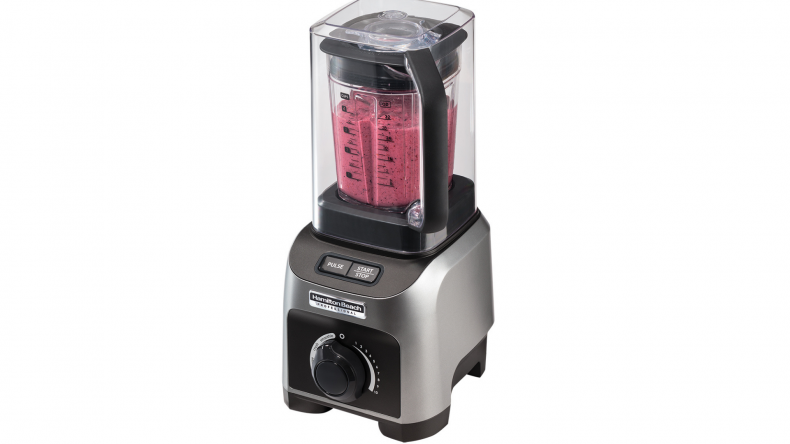 Price: $149.99
The Hamilton Beach Professional Blender includes a quiet shield that reduces the noise from the blender. With rubber-mounted components, a motor designed with optimal airflow, and a removable shield, the Hamilton Beach Professional Blender is sure to reduce noise during blending. The quiet shield also doubles as a serving pitcher.
8. Instant Pot Ace 60 Cooking Blender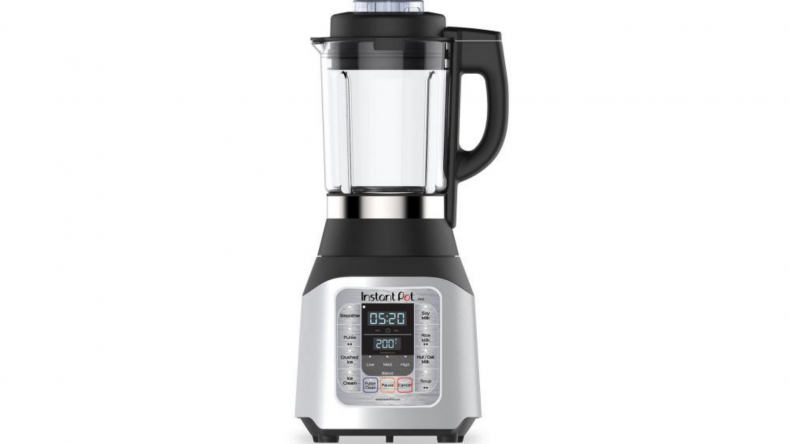 Price: $99
The Instant Pot Ace Cooking Blender is one of the best daily use blenders. It is designed with eight smart one-touch programs that can prepare your favorite smoothie, as well as cook hot soups, rice, vegetables, and baby food. The one-touch programs either belong to the cold blending programs or the hot blending programs, which means that both time and temperature can be controlled depending on which program you select. Should you need to stop the blender while the program is ongoing, there are "cancel" and "pause" buttons.
9. Ninja Professional Countertop Blender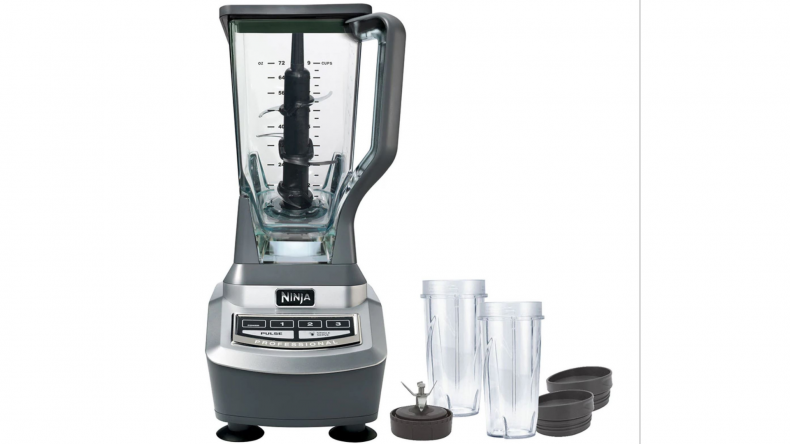 Price: $119.99
The Ninja Professional Countertop Blender is powered by its 1100-watt base with one 72 oz total crushing pitcher and two 16 oz cups for frozen drinks and smoothies. Its total crushing features pulverize ice to snow within seconds for a creamy frozen drink. Afterward, the blended smoothies can be poured into the 16 oz cups to take on the go.
10. NutriBullet Blender Combo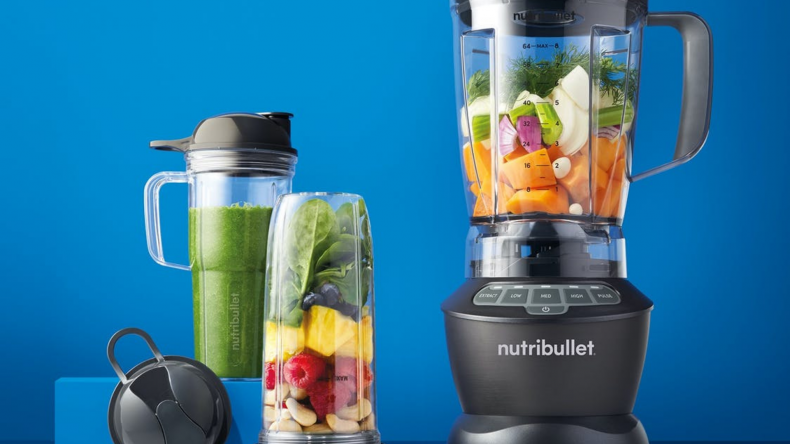 Price: $139.99
The NutriBullet Blender Combo allows you to switch between single-serving cups and a large capacity pitcher depending on your need. Blend fruits, vegetables, nuts, and ice at multiple speeds, along with pulse function and extraction capabilities for endless delicious possibilities. Whether you need a to-go cup or you need an extra-large container to blend smoothies for the family, the NutriBullet Blender Combo is a must-have.
The Winning Brand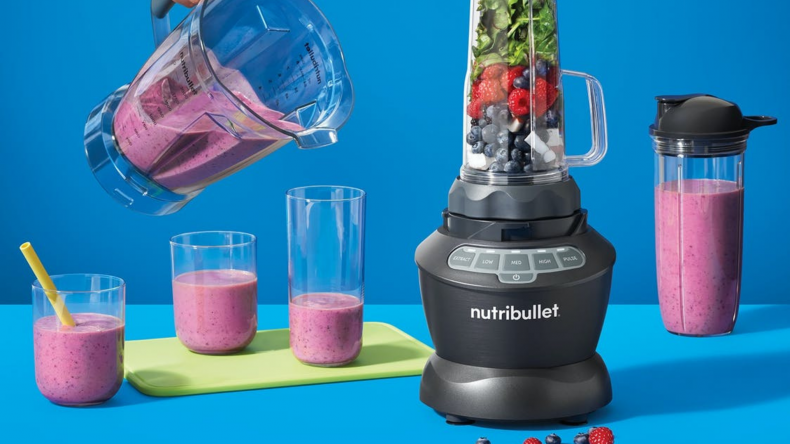 With tons of choices in the blender section, NutriBullet comes out as the obvious winner. The blades and containers are easy to clean; its models are powerful enough to crush ice, fruits, vegetables, and nuts in less than 60 seconds, and there is no need to wash extra cups since you can blend your smoothie in the container size that you need and drink straight from it.
NutriBullet offers personal blenders running on 600 watts, or variants in 900 watts for a more effortless crushing, or a blender combo for an endless array of smoothies, soups, sauces, nut butter, and beyond.