Sponsored Article
10 Gorgeous Fruit Baskets You Can Order Online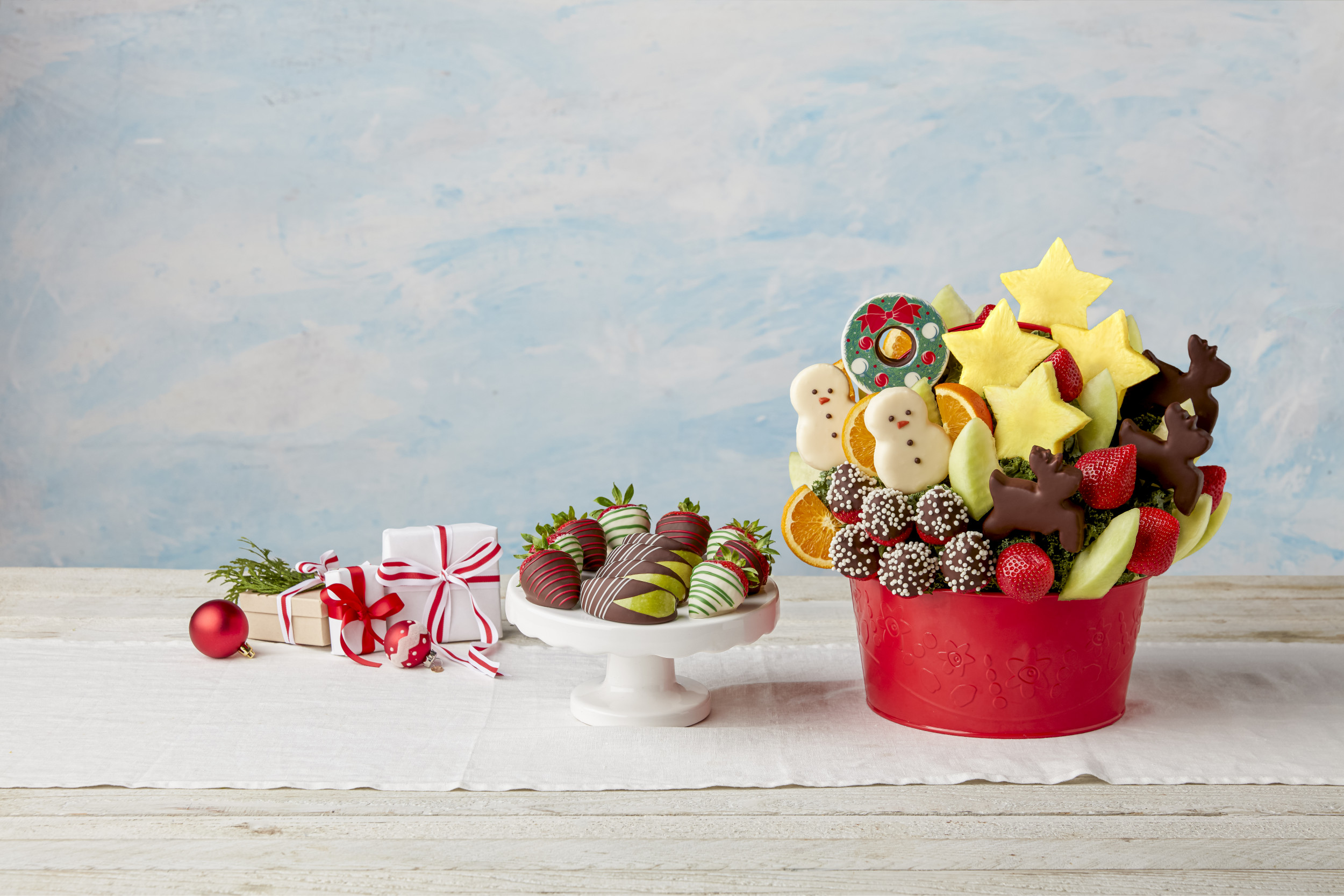 No matter what season or half of the year it is, there's always something worth celebrating. It doesn't even have to be a big holiday like Thanksgiving or Christmas; simple occasions like getting a promotion, closing a deal, passing an exam, and more are all joyous moments worth getting together for.
But nowadays, one can't simply head over to a friend's house to celebrate the small wins - it doesn't mean there's no other way to show your love or support, though. Enter, Edible Arrangement. With their impeccable knack for creativity and shameless love for fruit, they design unique, edible arrangements that can make anyone smile. These sweet treats are the perfect gift to send someone no matter what the occasion.
Edible Arrangement has expanded their offerings since they began selling edible bouquets in 1999, now serving up sweet treats like brownies, chocolates, cookies, and cheesecakes you can even add on the side with a fruit bouquet. While they have delights for specific occasions, most of them can pass for any reason, whether it's someone's birthday or simply just because you feel like making someone's day.
Below are our top picks of delectable fruit baskets that you should send to a loved one today:
1. Simply Edible Bouquet - Edible Donut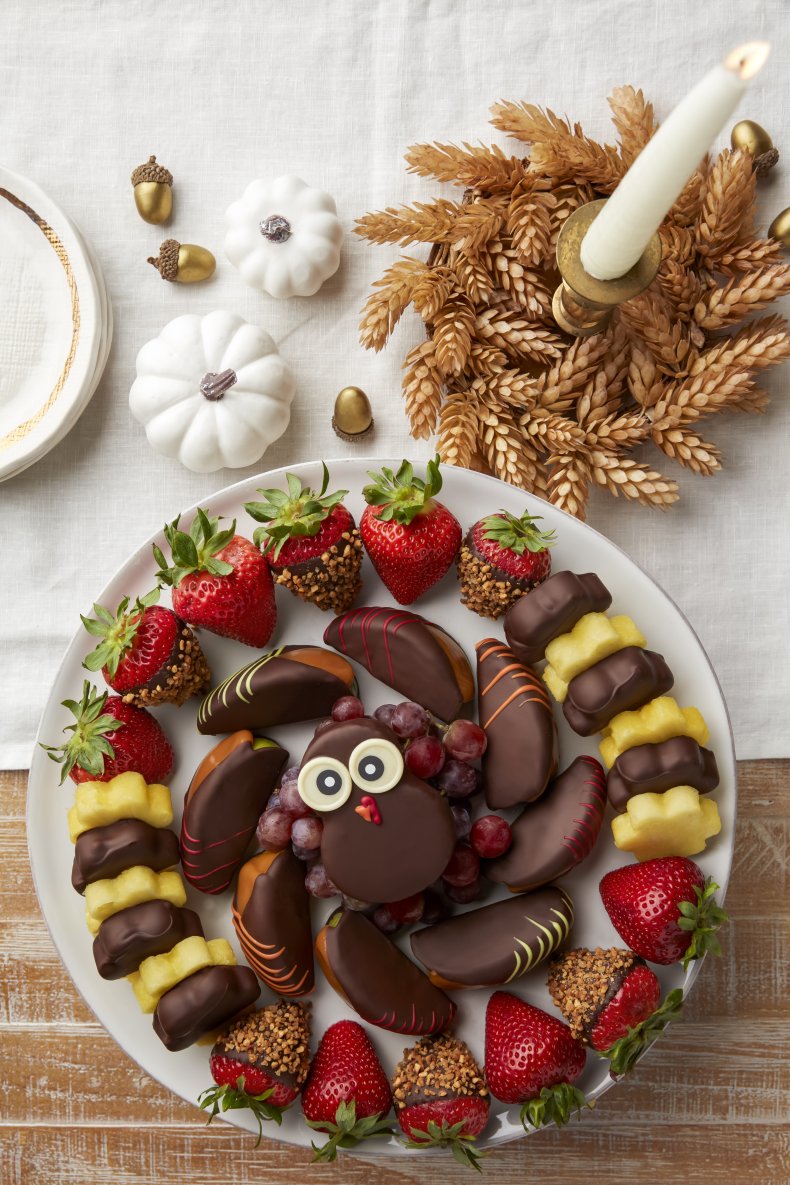 Price: $43.99 (small)
What to Expect: Enjoy this particular arrangement made with strawberries, melon, grapes, pineapples, cantaloupe, and honeydew! Send this over to celebrate a friend's promotion or a cousin's graduation - or for any simple reason, really. The sweetest surprise? This Edible Donut isn't the classic donut you're familiar with; it's made with a round, Granny Smith apple slice that's dipped in gourmet chocolate, decorated with a colorful chocolate glaze, and topped with sprinkles.
2. Salted Caramel Fall Daisy
Price: $44.99 (petite)
What to Expect: What's not to love about the warm colors of fall? Relish in the tastefully crafted combination of leaf-shaped pineapples, salted caramel apple wedges, orange slices, strawberries, and grapes that evoke the captivating gradient of the season's colors.
3. Simply Edible Bouquet
Price: $49.99 (regular)
What to Expect: Sure, flowers are nice, but if you want to make your way to your lover's heart, try through their stomach first. Impress them with this fresh arrangement of cantaloupe wedges and balls, grapes, honeydew wedges, daisy-shaped pineapples, and strawberries.
4. Peace & Doves Daisy
Price: $49.99 (regular)
What to Expect: If you need an assortment to send your well-wishes, Edible Arrangements has just what you need to remind your loved one that you're there for them. The Peace & Doves Daisy bouquet features dove-shaped pineapples dipped in white chocolate, surrounded by a vibrant combination of cantaloupe, grapes, honeydew, and strawberries.
5. Delicious Daisy with Confetti Berries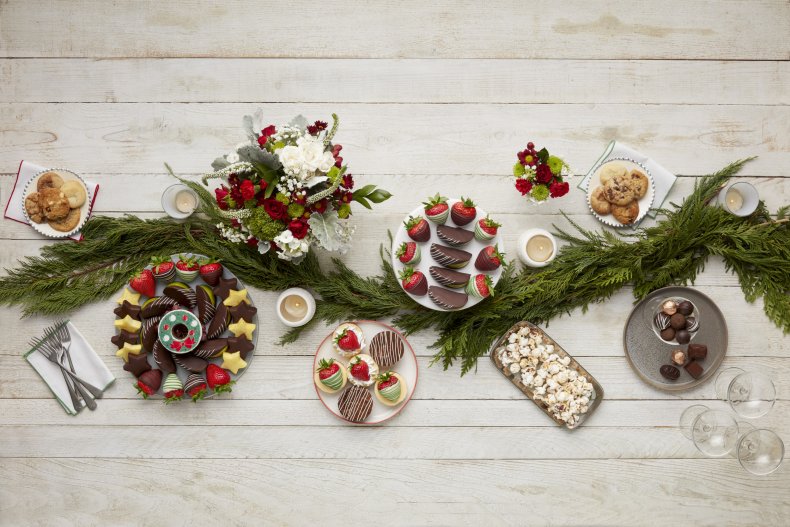 Price: $54.99 (regular)
What to Expect: Consider this a fresh fruit bouquet with a berry sweet surprise. The bouquet itself is a masterclass in fruit arrangement, but what makes this standout is its addition of strawberries dipped in cake batter-flavored white chocolate and rolled in confetti sprinkles. Let your loved one find these sweet surprises amidst offerings of cantaloupe, grapes, honeydew, and pineapple.
6. Just Because Bouquet
Price: $64.99 (large)
What to Expect: A gift for any occasion is considerate and thoughtful, but it's the gifts that are given "just because" that take the cupcake. This indulgent bouquet consists of grapes, strawberries, and pineapples, but what steals the show are Edible Arrangements' signature Swizzle Apple Fruit Truffles, and cupcake-shaped pineapples dipped in semisweet and white chocolate, with the "frosting" topped with colorful sprinkles.
7. Delicious Fruit Design - Edible Apple Donuts
Price: $69.99 (small)
What to Expect: An upgraded version of the Edible Donut bouquet mentioned earlier, this fresh arrangement will catch anyone's attention with its selection of three donut-designed apple rings made with semisweet chocolate, colored glaze, and dot sprinkles.
8. Rainbow & Butterflies Bouquet
Price: $69.99 (large)
What to Expect: Perfect for a baby shower or a child's party, the Rainbow & Butterflies bouquet is sure to brighten up the celebration of new life. The fresh fruit bouquet includes chocolate-dipped strawberries topped with brightly colored Swizzle drizzle; pineapples shaped into daisies, butterflies, and hearts; and honeydew, cantaloupe, and grapes to complete the arrangement.
9. Confetti Berry and Chocolate Bouquet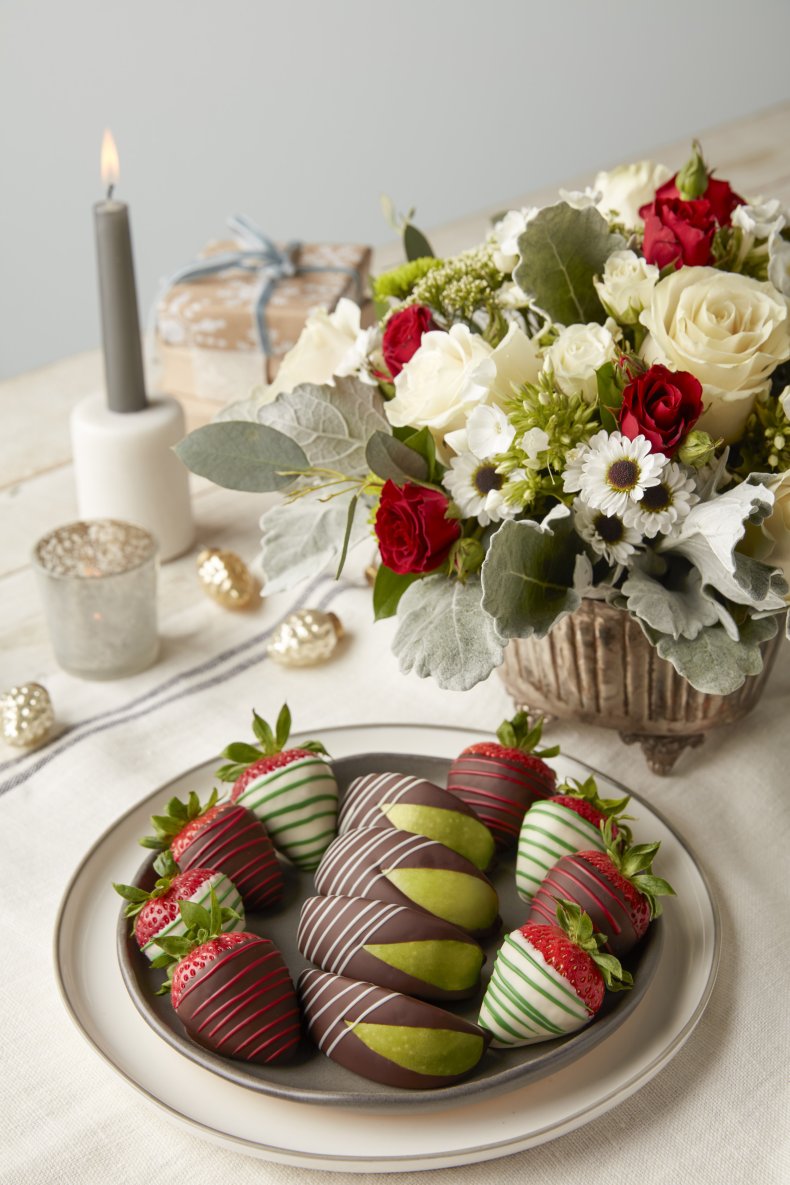 Price: $69.99 (large)
What to Expect: Nothing spells romance better than chocolate-covered strawberries. This simple yet luxurious arrangement pairs Edible Arrangements' signature semisweet chocolate-covered strawberries and white chocolate-covered strawberries, topped with confetti as a decadent expression of love and adoration.
10. Delicious Celebration - Dipped Fruit Delight
Price: $97.99 (small)
What to Expect: As one of Edible Arrangements' beloved fresh fruit bouquets, this has an assortment of strawberries, grapes, cantaloupe, honeydew, white and semisweet chocolate dipped banana slices, chocolate dipped apple wedges, and chocolate-dipped pineapples daisies and stars.
Flowers aren't exactly a thing of the past, but fruit baskets are definitely having their moment in the spotlight. From small wins to big celebrations, Edible Arrangements has delectable displays of affection perfect for every occasion.
Find out more about Edible Arrangements and their products here.